| | |
| --- | --- |
| | Newswatch |
---
2 men rescued after suffering injuries at sea
The Coast Guard rescued two crewmen on separate ships south of Hawaii on Monday night and yesterday morning.
In the first case, the Coast Guard rescued a man from the 65-foot fishing boat Dasher II on Monday night after being advised Thursday about a leg injury he suffered in a fall when his boat was 650 miles south of the Big Island.
A Coast Guard doctor recommended that the man be taken by medical helicopter and the fishing boat was directed to head toward Honolulu.
When the boat was in range, a Coast Guard rescuer was lowered to the boat and helped lift the patient into an HH-65 Dolphin helicopter while a C-130 plane circled overhead to provide communications. The patient was taken to Honolulu.
While those events were under way, the Coast Guard received a call Friday about a crewman aboard the motor vessel Yangtze River, 1,200 miles southeast of Hawaii, injured in both legs when a large wave hit his ship.
An HH-65 responded, accompanied by a C-130 plane. The patient was taken by helicopter to Hilo and then by the C-130 to Honolulu.
Fort Street city hall elevator broken
The elevator at the Fort Street Satellite City Hall is under repair and will be out of operation indefinitely.
The city is advising people with disabilities who need to use the elevator to go to other satellite offices: Ala Moana Center, Pearlridge Center and Windward Mall, Kailua, Kalihi-Kapalama, Kapolei, Wahiawa, Waianae and Hawaii Kai.
Free forum to look at coastal erosion
Problems and potential solutions for coastal erosion in Hawaii will be the topic of a free informational forum tomorrow at the state Capitol auditorium.
The "Shifting Shorelines" forum by the Coastal Society of Hawaii will run from 4 to 6 p.m. and cover issues of public access, beach loss and coastal development.
For more information, contact The Coastal Society of Hawaii at tcs@hawaii.edu or 956-8949.
| | |
| --- | --- |
| | Police, Fire, Courts |
---
A CRASH IN THE SUBWAY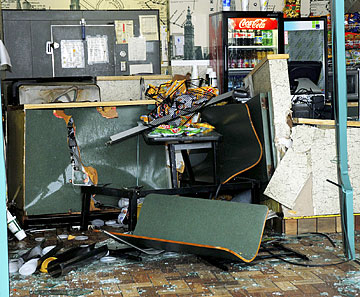 HONOLULU
Public's help sought in finding bank robber
Police want help in identifying a masked man suspected of robbing a teller at gunpoint at a Kapahulu bank yesterday.
Police said a man wearing a black nylon mask over his face entered the American Savings Bank at 737 Kapahulu Ave. about 3:15 p.m.
The man wielded a long gun partially hidden in a nylon bag and demanded money from the teller.
The man was given cash containing a dye pack. After he fled on foot toward Winam Avenue, the dye pack activated, police said.
The man was also carrying a small white duffle bag, police said.
The suspect matches the height and weight description of other bank robbery suspects in the past week.
The suspect is described as in his 20s, 5 feet 8 inches tall, with a slim build, wearing a dark green jacket, dark long pants, a red hood and a black nylon stocking mask.
Anyone with information on this case is asked to call CrimeStoppers at 955-8300 or *CRIME on a cell phone.
Missing woman found OK in Kakaako
A mentally challenged, diabetic woman who had been missing since April 10 was found yesterday by police.
Patrol officers located 41-year-old Lily Puipui of Waianae behind the CompUSA store in Kakaako.
WAIKIKI
Runaway caught again after escaping police
Police arrested a 16-year-old girl twice early today, the second time for allegedly losing a pair of handcuffs that were put on her during the first arrest.
Police said the girl was arrested near Kalakaua and Kaiulani avenues at 3:09 a.m. and identified as a runaway who had been missing since April 13 after she had been ordered to a residential program by a judge.
She fled after being handcuffed and was found about an hour later with no handcuffs.
Police said the girl refused to comply with officers so she was arrested for investigation of resisting arrest, as well as fourth-degree theft because she would not tell police what happened to the handcuffs, and escape.
WINDWARD OAHU
Man, 47, accused of sledgehammering car
Police arrested a 47-year-old man who allegedly smashed a woman's car with a sledgehammer yesterday.
Police said the man and the woman, 32, were arguing in Kailua at about 11 a.m. when the man began hitting her car with a sledgehammer.
The man then threatened the woman while holding the hammer in an aggressive manner, according to police. Officers arrested the man for investigation of first-degree terroristic threatening.
LEEWARD OAHU
Man turns himself in for alleged sex assault
A 60-year-old Pearl City man was arrested for allegedly sexually assaulting a 3-year-old boy in their home.
The man turned himself in at the main police station yesterday and he was arrested for first-degree sexual assault.
Police said the sexual assault allegedly occurred between March 17 and March 19.
The boy is a family member, police said.
The man was released pending further investigation.
WEST OAHU
Boy, 12, is charged in attack on teacher
Authorities charged a 12-year-old Ewa Beach boy who allegedly assaulted his teacher, 39, at a Pearl City school.
The alleged assault took place at 8:55 a.m. yesterday.
Police said the boy became disruptive in class. When the teacher told him to stop, he allegedly kicked the teacher in the shin and threw a shoe at the teacher's head.
When the teacher tried to talk to the student, the boy spat in his face.
Bomb scare turns out to be a false alarm
A bomb scare at the city's HPOWER plant in Campbell Industrial Park ended up being a false alarm yesterday morning.
Fire crews got an 8:38 a.m. call of a suspicious container that was left at one of the plant's receiving areas at 91-174 Hanua St. Fire officials said workers were concerned because the partially crushed 3- to 5-gallon container had some labeling on the side of it that indicated it might have explosive material.
Fire crews called police, who evacuated the facility. HPD bomb squad crews arrived to check out the container and gave the all-clear at 11:52 a.m.
NEIGHBOR ISLANDS
Hilo house fire leaves $50,000 in damage
Fire damaged a Hilo home early yesterday, according to Big Island fire officials.
Fire crews were sent to 1312 S. Kumuwaina St. at 12:32 a.m. and found a fire in the entryway to the single-family home owned by Clarence and Iris Kim.
The fire was extinguished within 25 minutes, officials said.
Damage was estimated at $50,000. The cause is under investigation.
Spanish lottery letter a scam
Big Island police are warning residents about a letter that claims the recipient is the winner of a lottery in Spain.
A Papaikou woman recently received a letter claiming to be from the "El Tital Lottery Board S.L." Police said the official-looking document announces a supposed lottery winning of $888,248 and claims that an agent purchased the winning ticket in the recipient's name.
The letter arrived by mail with what police said is a supposed photocopy of the winning lottery ticket and a "payment processing form," which seeks personal information, including bank account data.
"It's totally bogus," said Capt. Chad Fukui.
Fukui said this kind of scam is part of a growing trend to try to obtain personal information so the scam artist can clean out someone's bank account.
"It's known that they try to target elderly citizens," he said.
Fukui warned residents not to give personal information to someone they don't know, especially by phone, mail or e-mail.
Police ask residents who receive what they suspect may be a fraudulent request for financial information to call their financial institution or the police non-emergency number at 935-3311.