---
FAST FACTS HAWAII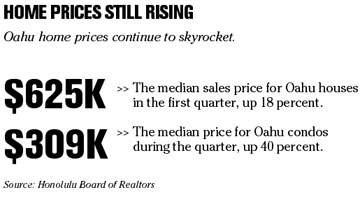 ---
[HAWAII INC.]
NEW JOBS
»
Prudential Advantage Realty
has hired
Annie Kim
as a residential sales professional. She will be responsible for providing quality service to clients.
» Hawaii National Bank has appointed Robert K. Nobriga vice president of finance. He will work closely with the company president and CEO to develop and coordinate the bank's strategic and financial plans. He previously served as the chief financial and operations officer for the John A. Burns School of Medicine at the University of Hawaii.
» Bank of Hawaii has hired D. Scott Helms as vice president and merchant services sales manager. He will be responsible for expanding the merchant portfolio, increasing fee income by managing new business and sales opportunities as well as new account promotions. He previously served as vice president and Japan consumer market manager for Bank of America's overseas military banking division in Tokyo.
» Aqua Engineers has appointed Jim Griffith general manager of Briant Construction Inc. and Kauai Precast LLC. He previously served as an associate with Carollo Engineers in San Diego.
---
NATION
Oil prices jump as high as $71.60
WASHINGTON » Oil prices settled at a new high above $71 a barrel yesterday as supply threats around the world overshadowed a new report from OPEC forecasting weakening global demand.
There was no fresh catalyst for yesterday's buying, but analysts said the market psychology would likely remain bullish until there is some resolution to a variety of geopolitical uncertainties, particularly the West's nuclear dispute with Iran and output disruptions in Nigeria.
Light, sweet crude for May delivery on the New York Mercantile Exchange rose as high as $71.60 a barrel, surpassing the previous intraday record of $70.85 set Aug. 30. Oil settled at $71.35, an increase of 95 cents from Monday's record closing price.
Horton's earnings growth slows
D.R. Horton Inc.
, the largest U.S. homebuilder, said fiscal second-quarter earnings rose at the slowest pace in five years as higher mortgage rates cooled the housing market.
Net income in the quarter ended March 31 increased 20 percent to $352.8 million, or $1.11 a share, from $294 million, or 92 cents, a year earlier, the Fort Worth, Texas-based company said. Revenue grew 25 percent to $3.53 billion.
Mortgage rates at a four-year high are slowing home sales, reducing profit growth at D.R. Horton and rivals such as Pulte Homes Inc. An index measuring optimism among homebuilders this month fell to the lowest level since 2001, according to a report released Monday by the National Association of Home Builders.
U.S.-Asia shippers 90 percent full
Evergreen Marine Corp.
,
Hapag-Lloyd AG
and nine other shipping lines are filling more than 90 percent of space on their vessels to the U.S. from Asia, brushing off concerns the industry faces a capacity glut.
The 11 members of Transpacific Stabilization Agreement are moving their vessels at almost full capacity to the U.S. east coast via the Panama Canal in the first four months of this year, based on forward bookings, the group said in an e-mailed statement today. The group accounts for about 70 percent of trade to the U.S. from Asia.
Container shipping companies, buoyed by expanded global trade, are facing an increase in capacity as record number of vessels from shipyards are delivered this year. That has raised concerns that shipping lines may encounter difficulties to raise rates for the sixth straight year. Shipping lines carry 80 percent of world trade.
Lobstermen reach settlement
FARMINGDALE, N.Y. » Lobstermen have reached a settlement with the final chemical company targeted by a lawsuit that claimed a pesticide may have contributed to a steep decline in the lobster population, they announced yesterday.
The deaths rattled the lobster industry, sending 75 percent of full-time lobstermen in Long Island Sound out of the trade. Lobster catches in the Sound, which separates Connecticut and New York's Long Island, have dropped to less than 1 million pounds a year, compared with 6 million pounds in the late 1990s.
Lawsuits filed in 2000 targeted the makers of chemicals sprayed in and around the New York area in 1999 to combat an outbreak of the West Nile virus, which is spread by mosquitoes. Suits against two companies were settled in 2004.
Talks break down over tobacco settlement
WASHINGTON » The battle over money the tobacco industry owes states under their 1998 settlement intensified yesterday after talks to resolve the dispute fizzled.
A spokesman for R.J. Reynolds Tobacco Co. said yesterday that the weeks-long negotiations between the states and tobacco companies had broken down.
California Attorney General Bill Lockyer sued yesterday to recoup more money from the companies. Attorneys general in Massachusetts, New Jersey and Ohio also sued the industry yesterday.
Officials in New York and Connecticut said they, and other states, would probably take similar steps.
On Monday, R.J. Reynolds and No. 3 cigarette maker Lorillard Tobacco Co. said they had put more than $750 million aside rather than hand it over to the states.
Yahoo earnings meet Wall Street forecast
SAN FRANCISCO »
Yahoo
reported a 22 percent decline in first-quarter profit yesterday but met Wall Street's earnings forecast, helped by solid growth in advertising sales. Yahoo, which runs the largest Internet portal, said profit fell to 11 cents a share from 14 cents a share a year earlier. Revenue in the period, which ended March 31, rose 34 percent.