| | |
| --- | --- |
| | Newswatch |
---
MEAL OF TOGETHERNESS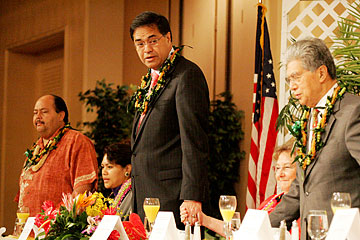 ---
What's inside your Star-Bulletin this weekend:
Saturday
KEEPING FAITH
Colorful Easter egg tradition
More than just a target of kiddie collectors turned loose on the church lawn, the colorful Easter egg comes with centuries of history and depths of spiritual symbolism. Also, a list of Easter services.
Sunday
TODAY
A hula history
The Merrie Monarch Festival takes place next week in Hilo, a celebration of all the color and pageantry of this ancient art form. It's easy to forget that there was a time in Hawaii's history when attempts were made to outlaw public performances of hula.
Art lovers flock to C Lounge
For one night next week, Neiman Marcus transforms itself into the C Lounge, where art and its aficionados converge at the 12th annual ConTempo 2006 Emerging Collectors live and silent auctions.
BUSINESS
Gearing up
Outdoor enthusiasts Teo Clemens and Drae Kahale-Clemens have realized an 8-year-old dream by opening Mauka to Makai Outdoor Gear Hawaii at the high-profile Ward Gateway Center.
Still cautious
Local stock experts say increased mortgage payments, rising interest rates and high oil prices have tempered their outlook for the market.
| | |
| --- | --- |
| | Police, Fire, Courts |
---
WEST OAHU
Firefighters control house fire in Waikele
Firefighters battled a blaze at a two-story single-family home last night in Waikele.
Firefighters were called at 8:46 p.m. yesterday to the fire at 94-1004 Leihaku St.
It was brought under control at 8:55 p.m.
A husband and wife were the only occupants of the home, a fire official said.
Red Cross was called, but the couple had somewhere else to stay last night.
Further details were not available at press time.
HONOLULU
Kalihi man arrested for alleged threats
A 44-year-old Kalihi man who allegedly threatened another man with a tire iron was charged yesterday.
Afaese Tigilau was charged with first-degree terroristic threatening and second-degree assault.
Tigilau allegedly got into an argument with a 40-year-old man at 11 a.m. Wednesday at his Kalihi home, then allegedly threatened him with a tire iron.
He is being held in lieu of $25,000 bail.
Bus rider arrested after altercation
Police arrested a 28-year-old Honolulu man yesterday on suspicion of interference with the 48-year-old operator of a city bus.
Police said the man allegedly got into a verbal argument with a city bus driver over a transfer ticket, which led to a physical struggle at about 8:15 a.m. yesterday.
The bus driver called police and the bus rider was arrested.
WINDWARD OAHU
Teen allegedly admits to breaking windshield
A tour bus driver reported that at 2:55 p.m. Monday something shattered his windshield as he drove past a school bus in Kahuku, police said.
Glass fragments hit the 45-year-old bus driver in the face, injuring him, police said.
Police said a safety officer from a high school reported that a 16-year-old boy came forward and admitted to the incident.
Police arrested the teen Wednesday on suspicion of first-degree criminal property damage. He was released pending investigation.
LEEWARD OAHU
Couple allegedly abused 5 foster kids
Police arrested a Waianae couple Wednesday for allegedly abusing their five foster children for a year.
The suspects, a 29-year-old man and a 25-year-old woman, continuously abused the children from 2004 to 2005, according to police. The children ranged in age from 8 to 15.
Both suspects were arrested for investigation of two counts of second-degree assault, one count of endangering the welfare of a minor in the first degree, seven counts of abuse of a household member and one count of endangering the welfare of a minor in the second degree.
NEIGHBOR ISLANDS
House destroyed in fire near Pahoa
PAHOA, Hawaii » A fire destroyed a two-story house Wednesday night in Lanipuna Gardens, a small subdivision four miles east of Pahoa in the Puna District, the Hawaii County Fire Department said.
Damage from the 11:43 p.m. fire was put at $204,000. The house, at 13-3970 Lauone St., was owned by Joan Denn. There were no injuries.