---
FAST FACTS HAWAII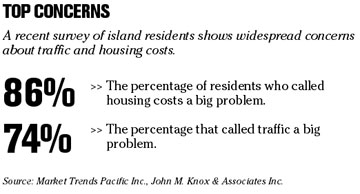 ---
HAWAII
Hawaiian Airlines offers mainland discounts
Hawaiian Airlines
is offering a new program that will allow its HawaiianMiles members to earn up to $100 in discounts for mainland flights when they fly interisland on Hawaiian through Sept. 30.
The program, called "Fly Your Way," lets HawaiianMiles members earn a $10 credit on any interisland flight, $20 for a round trip, that can be used for travel to the nine cities Hawaiian serves on the mainland -- Los Angeles, San Francisco, Sacramento, San Diego and San Jose in California; Seattle; Portland, Ore.; Phoenix; and Las Vegas.
"Fly Your Way" allows a maximum discount of $100 per mainland ticket, including one-way fights. Mainland travel using the savings must be completed by Dec. 14.
SuperGeeks opens fourth center
Hawaii computer-service company
SuperGeeks
is opening its fourth location today, part of what its founder James Kerr calls a bid to "build the Starbucks of tech support."
The newest location, at the site of the old Punchbowl copy center on the corner of Queen Emma and School streets, will be open Monday to Friday from 9 a.m. to 6 p.m. and on Saturdays from 9 a.m. to 3 p.m.
Kerr, who founded SuperGeeks in 1998, said he plans to follow the latest expansion with additional centers in Mililani, Kailua and Hawaii Kai. Its current sites are in the McCully-University area, Pearl Harbor and Kapolei.
SuperGeeks offers flat-rate hardware and software repair for laptops, desktops, Macs and PCs. Additional services include upgrades, data recovery, security and network design and installation.
Purchase of KUPA-AM is complete
A $650,000 deal for the purchase of KUPA-AM 1370 made in July has finally closed, according to
Kalil & Co.
, the Arizona-based broker in the transaction.
Broadcasting Corporation of America, headed by Utah-based attorney Nathan Drage, plans sports programming for the station, according to a statement from Kalil.
Drage said in July he was considering Hispanic programming for the station and was reviewing a variety of programming sources. He could not be reached for comment yesterday.
KUPA, formerly owned by Utah-based Legacy Communications Corp., has been simulcasting the traditional Hawaiian music format of KHUI-FM 99.5, owned by Calif.-based Salem Communications Corp.
[HAWAII INC.]
PROMOTIONS
»
Hawaiian Host Inc.
has promoted
Chad Kawai
to accounting supervisor. He will be responsible for managing staff and all functions of the accounting department. He previously served as senior accounting clerk.
» Island Air has promoted Lisa Mendez to quality service manager. She will be responsible for training front-line staff to ensure professional and friendly service. She joined the company in 2001 as a customer service agent and flight attendant.
» The Gas Co. has promoted Sharon Shigemoto to sales supervisor. She will be responsible for supervising sales activities. She has been with the company for more than 25 years.
» Bank of Hawaii has promoted Stephanie L. Saito to executive vice president and manager of Hawaii Commercial Banking. She will be responsible for managing the commercial banking division. She previously served as the company's senior vice president and manager of the commercial deposit management center.
» Prudential Locations LLC has promoted Jason Ross to interactive services director. He will be responsible for leading the company's online initiatives. He has six years of experience in Web technology and marketing.
» Oahu Transit Services Inc. has promoted three employees to senior management. Kenneth G.M. Hong has been promoted to senior vice president and assistant general manager. He has 40 years of experience in the Honolulu transit industry. Hong also will be chief operating officer for TheBus. Robert Yu has been promoted to senior vice president of finance and special operations. He will be responsible for overseeing finance and the Handi-Van operations. Jon Y. Nouchi has been promoted to senior planner. He has worked for the company since 1998.
NATION
Katrina couple lose against Allstate
A Mississippi couple suing
Allstate Corp.
over Hurricane Katrina suffered a setback when a federal judge ruled that tidal-water damage isn't covered under their home insurance policy.
U.S. District Judge L.T. Senter in Gulfport, Miss., ruled that the water that damaged Elmer and Alexa Buente's home constituted flooding, a hazard excluded from their policy and most homeowners' coverage.
Katrina victims suing their insurers may shift their focus in the wake of the ruling. John Barrett, the Buentes' attorney, said most of his clients lost their homes to wind damage hours before the water arrived. Katrina, which struck the Gulf Coast Aug. 29, was the insurance industry's most costly disaster.
Patent win aids TiVo's survival
SAN JOSE, Calif. »
TiVo Inc.
just got a new lease on life.
A jury's $73.9 million damage award yesterday to the digital video recording pioneer in its patent lawsuit against EchoStar Communications Corp., gives the struggling company not only a welcome cash infusion but also new leverage to seek licensing revenue from the growing number of other DVR providers.
TiVo-based DVRs account for less than one-third of the more than 15 million American homes that have some kind of digital video recorder box, but Forrester Research predicts that DVRs will be found in nearly half of U.S. households by 2009.