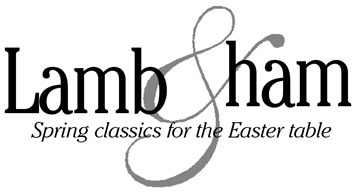 UNLIKE Thanksgiving, when turkey is the undisputed star of the holiday meal, Easter is the province of two classic centerpieces: ham and lamb. Both dishes symbolize springtime and the emergence of new life, and both are delicious focal points for a meal rich in tradition.
Easter is the central holiday of the Christian calendar, though it takes its name from the much earlier pagan festival of Eostre (the goddess of spring) and falls during the Jewish feast of Passover.
The holiday marks Christ's resurrection, thus symbols of rebirth are abundant. Many foods have special significance: Easter eggs symbolize fertility and new life, as do rabbits and spring lambs. Lambs were sacrificed during the time of Moses, and the Paschal lamb, eaten during Passover, has been a part of Jewish Seder meals for centuries. Since the Middle Ages, Christian Easter feasts have also included lamb.
In Europe, lamb is still the meat of choice on most Easter tables, but Canadians and Americans are more likely to opt for ham.
Pork, of course, is restricted in the Jewish diet, so this meat was not a part of the Judeo-Christian tradition, but nonreligious connections between ham and Easter are based in history. And in practicality. Legs of pork, or hams, were springtime favorites even in the time of the Romans, who placed them in the sea to cure in the winter. After months, delicious, perfectly preserved hams were ready for spring celebrations.
Even schoolchildren know that American Pilgrims supplied us with the Thanksgiving turkey, but few realize that Easter hams were also a part of the early colonists' legacy. The pork that they began hand-curing in the fall produced an ideal dish for Easter. Records show that in those pre-refrigerator days, cured hams were among the first items regularly traded by Americans.
We now may dine on ham and lamb at any time of year. No longer must we roast an entire lamb in a fire pit, or wait through winters to place a fragrant glazed ham in the center of a platter of spring vegetables. We've an abundance of cuts of meat to choose from. Still, during this special holiday, we can prepare ham, lamb, Easter eggs and hot-cross buns, thankful to ancestors who made these foods meaningful to our celebrations.
SWEET EASTER TRADITIONS
» The first chocolate eggs date back to the early 19th century in Europe and remain among the most popular Easter treats.

» Some 90 million chocolate bunnies are made annually for Easter and more than 75 percent of people say they eat the ears first.

» More than 85 percent of adults carry on the tradition or creating Easter baskets for their children.

» In the United States, more than 16 billion jelly beans are produced just for Easter. Red jelly beans are kids' favorites.

Sourec: National Confectioners Association
PICTURE an Easter dinner table. Oval serving dishes holding tiny, well-scrubbed new potatoes, colorful carrots, peas and spring onions seasoned with fresh mint. And in the center, one of the most picturesque of meats, the holiday ham, its surface scored in a diamond pattern and studded with whole cloves. Perhaps you're visualizing a "Hawaiian" ham covered in pineapple rings, cherries in their centers beneath a brown sugar and mustard glaze.
The lovely thing about today's hams is that they can be simply wonderful while remaining wonderfully simple. Most come fully cooked, needing just a warm-up in the oven. Some are already sliced into perfect spirals, practically falling off the bone and making carving as simple as preparation.
Over the years, I've purchased expensive honey-glazed hams, canned hams, salt-cured Southern hams and a great variety of brands, sizes and cuts of these smoked meats. My favorites of all, for moistness, flavor, price and consistency (no overly salted or dry meat surprises) are still the Ashley Farms bone-in whole or butt-end hams that I find at my nearby Safeway. They come spiral-sliced, with a packet of ingredients that makes a tangy honey glaze. Unsliced Butcher's Cut hams, also made by Ashley Farms, will also be available at Safeway this Easter.
The packaging tells you all you need to remember about preparation, and sliced or unsliced, they're ready for the oven. You won't need to trim off a leathery rind or a thick layer of fat. Just place them in the oven and bake for an hour or two. You're heating them up, basically, but you will receive all the credit when you open the oven, pull out this aromatic roast, and carry it to your Easter table.
If you're a novice ham preparer, here's the easiest recipe I can come up with for a perfect baked ham.
Baked Easter Ham
1 5- to 6-pound bone-in, fully cooked, refrigerated ham
1 tablespoon whole cloves
That's it -- you don't even need the cloves if you don't have them on hand. And the instructions are almost as uncomplicated.
Preheat your oven to 325 degrees and line a heavy roasting or broiling pan with foil. Unwrap the ham. If you like, you can cut diagonal lines across the fat that's on top, forming a diamond pattern, and center a clove, stem down, in each diamond. If the ham has just a thin layer of fat, don't score it, or the meat won't be as moist. Place the ham in the pan.
If you have a meat thermometer, put its point into the center of the meat, but not touching the bone or it won't work right. Put the ham in the oven and heat it to a serving temperature of 140 degrees. No thermometer? A fully cooked ham needs only about 15 to 20 minutes per pound, so 1-1/2 to 2 hours should be perfect for a 5- to 6-pounder.
Assume that with a bone-in ham you'll get 2 to 3 servings per pound for your guests, but don't forget tomorrow's ham sandwiches in your estimate or hard-boiled Easter eggs may be all you have to dine on. Serves 10.
Approximate nutritional analysis, per serving: 250 calories, 11 g fat, 4 g saturated fat, 115 mg cholesterol, 75 mg sodium, no carbohydrate, fiber or sugar, 35 g protein.
Getting creative: Six simple glazes
Because Easter is such a special holiday, you might vary the above recipe by combining a few ingredients and brushing them over your ham 20 to 30 minutes before you take it out of the oven. A glaze can create a beautiful, shimmering brown crust and add your own special touch to the holiday meal.
Guava glaze: Combine 1 cup guava jelly with 2 tablespoons Dijon mustard and brush ham with the mixture. This is a variation on a glaze that uses orange marmalade or currant jelly. If you like, mix in 3 tablespoons dark rum to add even more flavor.
Apricot glaze: Drain a 16-ounce can of apricots (reserving syrup) and put it in a blender with 2 tablespoons brown sugar, 2 teaspoons dry mustard and 1 tablespoon lemon juice. Purée the mixture, then put it in a small saucepan with reserved syrup and cook on medium heat about 5 minutes, until thick enough to brush over ham.
Sweet-sour glaze: Combine 1/3 cup red wine vinegar, 1/3 cup brown sugar, 1 teaspoon prepared mustard and 1/2 teaspoon ground cloves. Taste to see if it's as sweet or sour as you like before glazing.
Pineapple glaze: Mix 1 drained 20-ounce can crushed pineapple, 1 tablespoon lemon juice, 1/2 teaspoon grated lemon zest, 1/2 cup passion fruit or guava jelly, 1/4 teaspoon cinnamon and 1 tablespoon cornstarch in a saucepan, stirring until cornstarch has dissolved. Bring to a boil and simmer to reach desired thickness. Brush over ham.
Bourbon and molasses glaze: Simmer 1/2 cup apple juice and 1/3 cup bourbon in a small saucepan until thick and syrupy, about 5 minutes. Add 1-1/2 cups brown sugar, 1 tablespoon dry mustard and 1/4 cup light molasses to apple juice/bourbon syrup. The glaze that drips into ham juices makes a savory sauce to drizzle over ham slices.
Cranberry glaze: Combine 1 14-ounce can whole-berry cranberry sauce with 2 tablespoons brown sugar and 1 tablespoon prepared mustard. Brush over ham.
Note: "Dry" mustard comes in cans, not jars. Coleman's, in a bright yellow can, is the best known brand, but Japanese dry mustards make zesty substitutes. Mustards that come in condiment jars to put on hot dog buns are called "prepared" mustards.
IF YOU LOOK for lamb recipes in older cookbooks, you'll find many ways to prepare the large, bone-in cuts. If boneless lamb is mentioned, however, the recipes will probably begin with, "Have your butcher trim, bone, butterfly, roll and tie a (whatever sized) leg of lamb for you." Even a few decades ago, mild-tasting, easy-to-prepare boneless roasts were not readily available. Today, processing has mellowed the flavor of the meat, and many cuts, from shanks to chops, are available in supermarket meat departments.
Just as you can add creative touches to hams with glazes, you can marinate a lamb roast, take off the webbing and stuff or rub spices into it before tying it back up, or use the pan drippings as the base for countless sauces. But this classic roast takes little preparation time and makes a perfect centerpiece for a traditional Easter dinner.
Roasted Boneless Leg of Lamb
1 boneless leg of lamb, 4 to 6 pounds
1/4 cup olive oil
2 garlic cloves, minced (finely chopped)
Leaves from 2 sprigs fresh rosemary, minced
1 teaspoon each, salt and freshly ground pepper
Preheat oven to 325 degrees.
In a small bowl, combine oil, garlic, rosemary, salt and pepper and rub mixture over all sides of meat. Place lamb on rack in foil-lined roasting or broiling pan. Insert meat thermometer into center of meat and roast until it reaches 140 to 145 degrees for medium-rare, about 20 minutes per pound, or, for medium, about 25 minutes per pound.
Remove from oven, cover with foil and let it sit at least 15 minutes before slicing. Serves 10.
Approximate nutritional analysis, per serving: 280 calories, 13 g total fat, 3.5 g saturated fat, 115 mg cholesterol, 320 mg sodium, no carbohydrate, fiber or sugar, 37 g protein.
FOR A SMALLER, more contemporary and even more elegant Easter dinner, you might substitute rack of lamb for leg of lamb. This simple and scrumptious recipe comes from Hawaii chef Roy Yamaguchi's kitchens. Roy's corporate executive chef Jackie Lau shared the recipe in the first volume of Foodland Super Market's "Maika'i Favorites" book.
Roy's Mongolian Rack of Lamb
4 racks of lamb
» Marinade:
1 cup hoisin sauce
1/4 cup honey
2 tablespoons chopped ginger
1 teaspoon chopped garlic
1 bunch cilantro, chopped
Combine marinade ingredients and marinate lamb 1 hour.
Remove from marinade and grill whole over medium-high heat 8 to 10 minutes per side, or until desired doneness. Cut open lamb to see if meat is cooked to your preference. If not, and outside of lamb is already cooked, bake in a 350-degree preheated oven an additional 5 to 10 minutes. Serves 4.
Approximate nutritional analysis, per serving: 590 calories, 25 g total fat, 8 g saturated fat, 150 mg cholesterol, greater than 1,000 mg sodium, 46 g carbohydrate, 0.5 g fiber, 37 g sugar, 45 g protein.
CHOOSING A HAM
Hams are labeled according to the amount of water added during the curing process. Hams are dry-cured by rubbing salt and spices into the meat's surface, or wet-cured with a brine solution containing water, salt, sugar and spices.
Ham with natural juices: A favorite main-dish dinner choice, this ham has little water added in the curing process. Its velvety texture and attractive appearance make it a good choice for holiday meals.
Ham, water added: Suitable for steaks, thin slicing and shaving. It retains more water during the curing process than ham with natural juices.
Old-fashioned, Country-style or Southern-style: This is a Southern specialty, a style of ham that's dry-cured and contains no added water. It is extremely salty and is usually served in small portions, very thinly sliced.
Ham and water product: Useful for sandwiches, this ham is commonly found in the deli and has the most water added. It is used for cold cuts, either shaved or sliced.
BONE-IN OR BONELESS?
» Each ham variety comes with or without the bone, but the flavor is the same. Bone-in hams add style to the occasion, but can be tricky to carve. Boneless hams are considered more informal and easier to serve.

» When serving bone-in ham, plan on 2 to 3 servings per pound. A boneless ham will yield 4 to 5 servings per pound.
CARVING A HAM
Be prepared with the right tools and techniques for the job. Use a high-quality, freshly sharpened carving knife and cut only enough ham for immediate needs so that the remaining ham stays moist and juicy.
Bone-in ham: Place ham on its side. Cut several long slices off the thin side and turn the ham onto its cut surface. This will make the ham sit steadier. Make perpendicular slices to the leg bone. To loosen slices, cut along the leg bone, removing each slice with the fork.
Boneless ham: Cut several long slices off the side; turn onto its cut surface to keep it steady. Slice to desired thickness.
Source: Associated Press
---
Nutritional analyses by Joannie Dobbs, Ph.D., C.N.S.