---
FAST FACTS HAWAII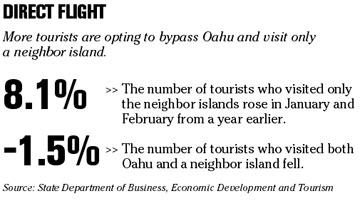 ---
NATION
Delta Air union sets aside $10 million for possible strike
Delta Air Lines Inc.
's pilots union said it received $10 million from its parent labor group to prepare for a potential strike against the bankrupt carrier as early as next week.
The union reiterated that it will walk out if Atlanta-based Delta rejects its contract to cut pay and benefits. Moak can call a strike anytime after next Monday if an arbitration panel lets the airline void the contract, the union has said.
Delta, the third-largest U.S. airline, sought permission to scrap the contract in bankruptcy court last year, and the two sides agreed in December to let three arbitrators rule on the issue if there's no accord by April 15. The union for the 6,000 pilots has offered to provide less than half of the $305 million a year in concessions sought by the company.
Chrysler executive attacks Big Oil
Taking an unusually public swipe at another industry, Chrysler's chief spokesman slammed major oil companies yesterday, accusing them of greed and indifference to the environment.
The blunt remarks by Jason Vines, vice president of communications for DaimlerChrysler AG's Chrysler Group, are bound to fuel tensions between Big Oil and the auto industry that have been rising in step with higher gas prices at the pump.
"Big Oil would rather fill the pockets of its executives and shareholders, rather than spend sufficient amounts to reduce the price of fuel, letting consumers, during tough economic times, pick up the tab," Vines wrote on a company Web diary used to communicate with journalists and financial analysts.
Alcoa posts record quarterly profit
Alcoa Inc.
, the world's biggest aluminum maker, said its first-quarter profit more than doubled to a record $608 million, beating analysts' estimates, as metals prices surged. The shares rose more than 5 percent.
Net income rose to 69 cents a share from $260 million, or 30 cents a share, a year earlier, Pittsburgh-based Alcoa said yesterday in a statement. Sales rose 16 percent to a record $7.24 billion from $6.22 billion.
Automakers still big on luxury
Despite consumers' growing affection for smaller and more fuel-efficient cars, luxury vehicles are holding their own in the U.S. market, and automakers hope to maintain that momentum with new models that will be introduced this week at the New York Auto Show.
Mercedes-Benz plans to simulate an electrical storm with lightning bolts to debut the redesigned E-Class sedan. Lexus will show a hybrid sports car, while Audi AG will introduce the redesigned 2008 TT coupe and Infiniti will debut the 2007 G35 sedan. BMW AG's Z4 coupe will make its U.S. debut, and Acura will show a production-ready version of its RDX crossover vehicle.
Few execs see health quality data as good
NEW YORK » Only about one-quarter of executives believe they are doing a good job of providing employees with health care quality data that is easy to access, understand and implement, according to a study released yesterday.
Such data are a cornerstone of consumer-driven health plans, which many companies are adopting in an effort to lower spiraling costs.
But only 24 percent of top executives at 135 large U.S.-based multinational companies thought their information was good, according to a study released by PricewaterhouseCoopers.
Forty-seven percent called the information mixed while 10 percent said it wasn't good.
WORLD
Japan leaves rate policy unchanged
TOKYO » Japan's central bank left interest rates at zero today, deciding to wait on raising interest rates after abandoning its supereasy monetary policy a month ago.
The Bank of Japan's unanimous decision today, which came at the end of a two-day policy board meeting, was in line with market expectations, because the bank had made clear the transition to raising interest rates would be very gradual.
BNP doubles stake in South Korean lender
BNP Paribas SA
, the French owner of First Hawaiian Bank, paid $983 million to more than double its stake in
Shinhan Financial Group
, cementing its ties with South Korea's second-largest lender.
The Paris-based bank bought 20.12 million shares, or a 5.6 percent stake, in Shinhan from Korea Deposit Insurance Corp., the Korean state agency said in a statement today. The acquisition makes BNP the biggest shareholder in the Seoul-based lender, with a 9.4 percent holding.