| | |
| --- | --- |
| | Island Mele |
---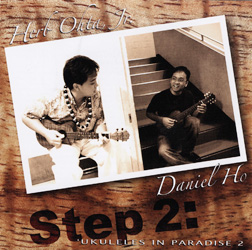 "Step 2: Ukuleles in Paradise 2"
Herb Ohta Jr. and Daniel Ho
(Daniel Ho Creations)
This second album by Herb Ohta Jr. and Grammy award-winning producer Daniel Ho is as exquisite as their debut album of last summer. Once again the impact is heightened by the contrast between Ohta's conventional four-string ukulele and Ho's custom-made six-string instrument. The difference is further accented, and increases the sense of enjoying a live performance, by isolating the instruments to their own separate stereo channels.
The mood of the music is soothing throughout. "Ka'anapali Sunset," a contemporary tune that Ohta and Ho play utilizing slack-key techniques, catches the ear even though it might take a few plays to figure out what they're doing. The duo's imaginative arrangements are heard in the tempo changes that spice the title song, and in their take on "Over the Rainbow."
The most talked-about track, though, is certain to be "A Song for Anna" as the duo welcomes Ohta's father, Herb "Ohta-san" Ohta, in revisiting Ohta-san's biggest international hit.
Informative liner notes add the final touch to this beautiful, Grammy-worthy album.
---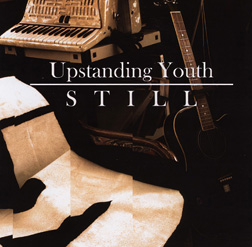 "Still"
Upstanding Youth
(self-release)
It took several years, but Upstanding Youth has finally followed up its 2003 EP, "Kam Highway Catharsis," with a full-length album. "Still" proves worth the long wait and shows that original ska/punk music continues to thrive in Hawaii.
The arrangements are tight and energetic, with the basic guitar/drums/bass lineup enhanced by a three-man horn section. Composers' credits aren't included, but the lyrics are worth a careful listen by anyone who shares the opinion that the world is a dark and depressing place. Two general themes are heartbreak and the need to "find mental liberation" while living in an oppressive society. There are a couple of songs, however, that express a guarded optimism, or at least the determination to survive another day.
Vocalist Marc Allred breaks up potentially long lyrical lines into effective sound bites. They occasionally change perspective from first person to third person in midsong. Add the unconventional spellings in the printed lyrics, and there are some cryptic statements to consider.
The final track revisits two of the songs in an acoustic approach. They work well in that format, too.
---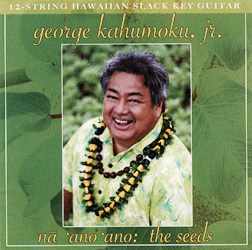 "Na 'Ano'ano: The Seeds"
George Kahumoku Jr.
(Daniel Ho Creations)
Kahumoku was one of the artists on this year's Grammy award-winning Hawaiian album, "Masters of Slack Key Vol. 1," but because the album was a compilation, the award went to the producers rather than to the participating artists.
This album, however, could make Kahumoku a Grammy winner in his own right. It is better, overall, than the compilation, and a excellent showcase of Kahumoku's talents as a singer and slack-key guitarist. His son Keoki sits in on one song, but other than that, this is a solo project.
Most of the songs are Hawaiian standards, and Kahumoku's back-porch arrangements provide some fresh insights. "He 'Ono," for example, might be best known these days as an up-tempo hapa-haole hula song, but Kahumoku's take suggests a far more relaxed experience.
Lyrics and translations aren't included, but Kahumoku explains the personal significance of each song in his liner notes.
John Berger
, who has covered the local entertainment scene since 1972, writes reviews of recordings produced by Hawaii artists. See the Star-Bulletin's Today section on Fridays for the latest reviews. Reach John Berger at
jberger@starbulletin.com
.