---
FAST FACTS HAWAII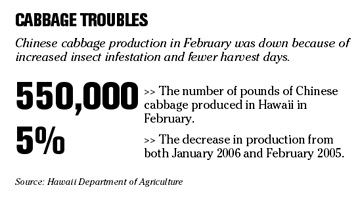 ---
HAWAII
Bankruptcy filings up third straight month
Statewide bankruptcy filings picked up in March for the third consecutive month, but still remained far below year-earlier numbers when Hawaii residents sought financial relief ahead of a stricter law that went into effect in mid-October.
The first quarter ended with 177 filings, a drop of 77.2 percent from the 778 cases during the first three months of 2005, according to data compiled from the Web site of the U.S. Office of the Trustee.
Chapter 7 filings, which involve liquidation, were off 77.9 percent to 153 from 691. Chapter 13 filings, which allow individuals to set up plans to pay creditors over time, decreased 71.4 percent to 22 from 77.
And Chapter 11 filings, which involve business reorganizations, fell 80 percent to two from 10.
For March, there were 88 filings, an increase from the 32 in January of this year and 57 in February. But last month's filings were still down 72.6 percent from a year earlier when there were 321 cases.
In the month, there were 79 Chapter 7 filings, down 72.4 percent from 286 a year ago; two Chapter 11 filings, off 71.4 percent from seven; and seven Chapter 13 filings, down 75 percent from 28.
You might want to go! to job fair
Mesa Air Group Inc.
's entrant into Hawaii's interisland airline market, named go!, is hosting a job fair to find employees.
The fair runs from 9 a.m. to 6 p.m. tomorrow and Monday at the Ala Moana Hotel, 410 Atkinson Drive.
The company, which plans to begin scheduled flights June 9, is offering advancement opportunities and a perks package that includes free interisland and mainland travel.
WORLD
Toyota to offer hybrids in all models
TOKYO » Toyota plans to introduce hybrid technology across its entire lineup and target global sales of 1 million hybrid vehicles by 2012, a news report said today.
Toyota Motor Corp., global leader in the new market for energy-efficient hybrid cars, initially developed its hybrid system for the Prius compact car. The Japanese automaker now plans to introduce hybrid technology in all classes of vehicles, from luxury cars to compacts, and aims to top annual global sales of 1 million hybrid cars by 2012, according to the Nihon Keizai Shimbun.
Toyota will concentrate on lowering production costs so the technology can be used in cheaper models, according to the report.
Toyota has said it is targeting global sales of 5,700 hybrid vehicles this year -- 2,000 vehicles in North America, another 2,000 in Europe, 1,500 in Japan and 200 elsewhere.
Music sales drop for 6th year
LONDON » Global sales of music CDs and DVDs dipped for the sixth consecutive year last year and surging digital music sales failed to offset the decline, a trade group said yesterday.
Global music sales, including "physical" and digital formats, fell to about $21 billion in wholesale revenue, a decline of 3 percent. Measured in units, CDs fell 3.4 percent and music DVDs were flat, according to an annual report released by the trade group, the International Federation of the Phonographic Industry.
Sales of digital music, included in the annual report for the first time, are rising sharply but did not compensate for the decline of CDs, which have been the industry mainstay for two decades. The number of single songs downloaded online or to mobile phones rose more than 190 percent, to 470 million units, the report said. Revenue from digital sales nearly tripled, to $1.1 billion from $400 million.