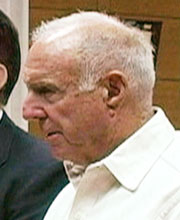 James Pflueger
Pflueger drives wide emotions on Kauai
KILAUEA, Kauai » Few names on Kauai's north shore elicit a reaction like retired auto dealer James "Jimmy" Pflueger.
Even before the March 14 dam break at Ka Loko Reservoir, Pflueger, who turns 80 this month, has been hailed on the Garden Isle as a misunderstood, kind-hearted grandfather or derided as an environmental terrorist.
Pflueger, who owns at least a majority of the dam, is already on felony probation for violating water pollution laws. So when Ka Loko Dam burst, many in the small town of Kilauea jumped to the conclusion that it was November 2001 all over again. That's when a heavy rainstorm triggered a landslide on Pflueger's land and buried the pristine Pilaa reef in mud and silt.
Within months of the 2001 event, the mudslide was determined to be caused by Pflueger's workers clearing of a bluff overlooking the beach and creating a new road that blocked natural stream access.
The work was done without any permits. Pflueger has since been assessed more than $12 million in fines and penalties for the 2001 mudslide.
While engineers have inspected the Ka Loko Dam and the state attorney general is investigating, no one has determined that Pflueger is liable for the dam break that left three dead and four missing and presumed dead.
The state may also be liable, since Department of Land and Natural Resources Director Peter Young has said that Ka Loko was supposed to be inspected every five years, like every other dam in the state. But no inspection was ever done.
And part of the reservoir, and perhaps part of the dam, is owned by the Mary Lucas Trust. Pflueger was a trustee for the trust until 2004.
While Pflueger's name on Oahu has been most associated with the family-owned car dealerships that he once ran, his land-rich family has a long history in Hawaii dating back to the early 1800s.
Mary Lucas, Pflueger's grandmother, apparently bought what is now the trust's part of the reservoir between 1895 and 1915, said the current court-appointed trustee, Carroll Taylor. The Lucas trust still controls about 1,000 acres on Kauai, most near Ka Loko, which they use as pasture land for their cattle.
Pflueger bought the rest of the reservoir from C. Brewer Co., owner of the former Kilauea Sugar Co., in 1987. He bought the 400-acre Pilaa property from his grandmother's trust in 1997.
Pflueger now raises pigs and cattle in the Pilaa area.
All of the Lucas land was rented to Kilauea Sugar until the company stopped production in the 1970s.
JoAnn Yukimura, former Kauai mayor and a current county councilmember, said Pflueger, whom she has known for years, means well.
"I think a part of him wants to help," she said, adding that she thinks "he didn't always know the implications of his actions."
In a 2000 interview with the Star-Bulletin, Pflueger said, "I'm not a developer. I'm just a yard man."
When he pleaded guilty in 2004 to the environmental felonies, he told the judge that the work that got him in trouble was "to help an elderly man gain access to his home by offering to build him a road."
His lawyer, William McCorriston, did not return repeated calls for comment.
Some of Pflueger's neighbors at Pilaa have a different view of their neighbor: as a vindictive, petty developer. Attorney Theresa Tico represents a half-dozen Pilaa residents who say their property was damaged in the November 2001 mudslide.
"They've been totally harassed" by Pflueger's workers, Tico said, with blocked roads, fires, and the newest addition -- a pig sty directly upwind from Amy and Rick Marvin. The Marvins have been the most reliable witnesses for the state against Pflueger, taking video and photographic evidence of water diversion and silt reaching the ocean.
The day after a productive mediation session March 20, Tico said that another of her clients in the Pflueger lawsuit, Jeffrey McBride, was arrested for trespassing.
McBride was leaving a home near Pilaa Beach and walked over Pflueger land to reach the sand. He was stopped by workers at Pflueger's Pilaa property and eventually the police arrested him for trespassing, Rick Marvin said.
Workers have also begun running chainsaws and weed whackers continuously on a disputed parcel of land near the Marvin property.
"I'm saddened it's come to this," Tico added. "I can't get into his head (to explain) why he does what he does."
TIMELINE
A retired Honolulu car dealer's family land on Kauai becomes the hot-button focus of land-use allegations
Between 1895-1915: Mary Lucas, James Pflueger's grandmother, acquires most of the land near Ka Loko Reservoir, more than 2,000 acres near Kilauea.
1987: Pflueger buys his half of the Ka Loko Reservoir from C. Brewer & Co.
1997: Pflueger buys 393 acres at Pilaa for $6.4 million
1998: Engineers from county planning, state Department of Health and Army Corps of Engineers inspect Pilaa property, send letters telling Pflueger to stop work on ponds and grading.
2000: Pflueger gets tentative subdivision approval for Pilaa property. He starts work on berm near Kuhio Highway without permit; residents complain when berm blocks ocean view from highway; workers shave it to 5 feet.
1999-2001: Pflueger tries to get other after-the-fact permits from the state and county for an irrigation system and man-made ponds built for cattle. Workers begin building a road to beach for elderly neighbor, grading land at plateau overlooking beach.
Nov. 26, 2001: Heavy rains cause mudslide from plateau overlooking the Marvin property tons of mud wind up on the reef.
January 2002: Workers install culvert built beneath new access road.
May-June, 2002: County, state and federal governments begin to investigate. Pflueger agrees to remediation work.
January 2003: Pflueger billed by county for misdemeanor grading violations related to 2001 mudslide.
March 2003: Pflueger pleads no contest to three misdemeanor counts, receives 30 days, suspended sentence, $3,075 in fines and 450 hours of community service.
August 2003: Pflueger is fined $46,500 by Department of Land and Natural Resources; a contested case hearing to be held to administer more fines for damage to Pilaa Reef.
September 2003: State attorney general charges Pflueger with 14 felonies for building a culvert beneath the new road, causing mud to go into the ocean.
May 2005: In a deal, Pflueger pleads guilty to 10 felony charges, receives three years, probation, and is ordered to pay $500,000 fine.
July 2005: DLNR, after contested case hearing, orders him to pay $4 million in fines; Pflueger appeals to 5th Circuit Court.
March 10, 2006: Pflueger agrees to pay more than $7.8 million in fines, including $5 million in mediation work to be done at Pilaa and the far side of Ka Loko Reservoir.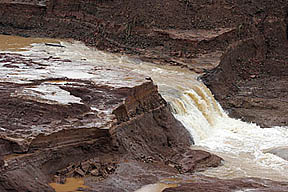 STAR-BULLETIN FILE

March 14, 2006: Dam breach at Ka Loko Reservoir, owned by Pflueger, washes away two homes and seven people. Three bodies have been found, while the four other victims remain missing and are presumed dead.

Jan. 8, 2007 (scheduled): Jury trial for Marvin/ McBride lawsuit vs. Pflueger for damage done by 2001 mudslide.