| | |
| --- | --- |
| | Newswatch |
---
TEA TOAST TO A PRINCE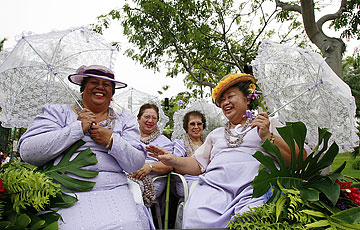 WHAT'S OPEN AND CLOSED FOR KUHIO DAY
| | |
| --- | --- |
| | Police, Fire, Courts |
---
CENTRAL OAHU
Hit-and-run victim aids driver after fiery crash
The victim of a hit-and-run collision pursued the offending driver on the H-2 freeway Friday and then pulled him from burning wreckage after he crashed.
Police said the 34-year-old pickup driver died after he lost control and struck the roadway's barrier four times before flames engulfed the 2002 Ford Ranger.
He was identified as Casey Carter, of Aiea.
Near the Ka Uka Boulevard overpass, Carter struck a 1992 Toyota Corolla, and then fled the scene, police said. Traveling north on the freeway about 9:52 p.m., Carter's vehicle lost control on the wet roadway near Kipapa Gulch Bridge, hit the barrier and caught on fire.
The driver involved in the hit-and-run had pursued Carter and, along with another witness, helped pull him out of the burning truck, police said. Carter was taken to Wahiawa General Hospital, where he was pronounced dead.
Police said speed was a factor in the crash. It's unknown if alcohol or drugs were involved.
HONOLULU
Wrong-way collision injures 3 on Nimitz
A 58-year-old man drove his pickup truck into oncoming traffic on Nimitz Highway near Sumner Street yesterday and crashed head-on into a van, seriously injuring himself and two women in the van.
All three were taken to the Queen's Medical Center after the 3:58 p.m. collision.
It's unclear why the pickup was driving the wrong way.
Dad with baby in car gives robber his wallet
Police are looking for a man who robbed a 33-year-old man at 7:45 p.m. Thursday outside Kam Bowl, 1520 N. School St.
With his baby in the car, the man was standing outside the car, waiting for his wife to pick up dinner when a man came up from behind, poked a sharp object in his back and demanded his wallet.