---
FAST FACTS HAWAII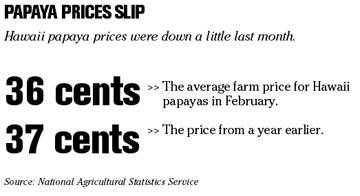 ---
HAWAII
Hawaii construction boosts Ameron profit
The manufacturer
Ameron International Corp.
cited Hawaii's booming construction industry as part of the reason for its earnings growth in its first fiscal quarter.
The company, based in Pasadena, Calif., posted a net income of $3.6 million for the quarter ending March 5, up from $481,000 for the same quarter in 2005. Sales were $175.3 million, a 26 percent rise from $138.8 million last year.
The company's infrastructure products group, which includes its Hawaii unit, had a 31 percent increase in sales. "The construction sector remains very active in Hawaii, and Ameron's Hawaiian ready-mix concrete and aggregates operation on Oahu, and especially on Maui, experienced increased demand," Ameron said in its earnings report.
Nation
FedEx increases profit 35 percent
FedEx Corp.
, the second-largest U.S. package-shipping company, said fiscal third-quarter profit rose 35 percent, beating analysts' expectations, as demand enabled the company to raise prices more than in recent years.
Net income rose to $428 million, or $1.38 a share, in the quarter ended Feb. 28, from $317 million, or $1.03, a year earlier, the company said.
Merrill gets TRO against poaching
Merrill Lynch & Co.
obtained a temporary restraining order barring former brokerage chief James Gorman from trying to lure employees to
Morgan Stanley
, where he took over as head of the individual investor unit last month.
Gorman, 47, has hired at least three senior Merrill employees since joining Morgan Stanley, violating a noncompete contract preventing him from doing so for a year, Merrill said. On Tuesday, New York Supreme Court Judge Emily Jane Goodman temporarily barred Gorman from hiring more Merrill employees until a hearing next week, according to a copy of the order.