WATERSPOUT SWIRLS IN KANEOHE BAY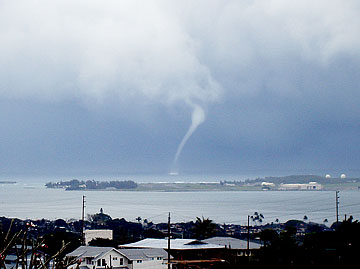 More heavy rain likely for Kauai and Oahu
Kauai and Oahu are at greatest risk of heavy showers and thunderstorms today
Weather officials said Kauai and Oahu were at greatest risk of being hit by heavy showers and thunderstorms last night and today.
A flash-flood watch remains in effect for all islands through late Thursday night.
Waterspouts were reported at 3:55 p.m. yesterday near Kaneohe. A National Weather Service weather spotter said the waterspout was about 100 yards wide. The Marine Corps Base Hawaii at Kaneohe reported the waterspout just offshore and north of the base.
A Kona low-pressure system to the northwest of the islands was expected to produce waves of heavy rain in the next few days, said Robert Ballard, lead forecaster for the National Weather Service.
The atmosphere is unstable and moist, and heavy showers and thunderstorms could develop over any of the islands at any time, he said.
Kauai was expected to receive heavy showers and storms last night, and Oahu is right behind, Ballard said. Oahu could expect more localized heavy showers, but most of the showers were offshore last night.
No flooding problems had been reported to the National Weather Service or Kauai Civil Defense by 9 p.m. yesterday.
Ballard emphasized using common sense and urged motorists not to cross water-covered roads.
"No matter how large your vehicle, it doesn't take much flowing water to be lifted up," he said.
In another weather-related development, the Department of Agriculture diverted water flowing into the 182 acre-foot Waimanalo Reservoir this weekend, after finding its water level about 6 inches below its spillway, according to the Department of Land and Natural Resources.
Private owners of the Oahu, or Waiahole, Reservoir in Kunia also diverted inflow from that reservoir, a DLNR release said.
The department also said it will hire a contractor to remove two large trees that fell into Kaluanui Stream (Sacred Falls).