---
SWAPPIN' STUFF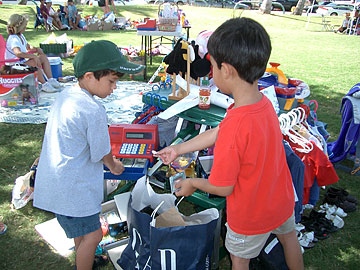 ---
[ MORSELS ]
Hit the salon
A beauty salon is where you go for pretty hair and nails. A culinary salon is where you go for pretty food.
See lots of pretty food, as it's created and on display at Kapiolani Community College's Culinary Expo, a Kuhio Day bonanza of cooking demonstrations, competitions and displays, Monday on the KCC campus.
The event also marks the return to Hawaii of chef Tony Liu, formerly of Roy's Restaurant, now executive chef of August in New York, after a stint at the side of no less than Mario Batali, at Babbo.
But central event of the day is the salon, a competition in which culinary students show off their mastery of cooking techniques with an eye toward a $1,000 scholarship prize. This happens behind closed doors under the strict eyes of judges, but the finished dishes will be on display from 10 a.m. to 2 p.m. in the Ohia Cafeteria.
Other highlights:
Cooking demonstrations: Liu will prepare Tokyo Negi with Romesco Sauce, Blistered Green Peppers and Fideous (a type of paella), 10:30 a.m. to noon; George Mavrothalassitis and Kevin Chong of Chef Mavro will feature Roasted Kurobuta Pork Loin and Kau Yuk, 12:30 to 2 p.m.
Other demonstrations: Vegetable carving, 10 to 11:30 a.m.; ice carving, 12:30 to 2 p.m.
Tickets are $10, which includes $5 in script for the food booths. Call 734-9483.
Benefit event
Louisiana chef Paul Prudhomme joins Hawaii's Sam Choy Saturday for a cooking demonstration and dinner at Sam Choy's Diamond Head, partly to benefit the victims of Hawaii's recent floods.
The five-course menu will include specialties of both chefs served in pairs: Tequila Poke Shooter, Kalua Pork Spring Roll, Chicken and Andouille Gumbo with Leek and Shiitake Mushroom Champagne Cream Soup, and dual entrée of Blackened Beef Tenders with Debris Sauce and Bronzed Fish Fillet. The double dessert will be Banana Bliss and Dark and White Chocolate Barquettes.
The event runs 6 to 9 p.m. Cost is $75, to benefit the American Red Cross Hawaii Chapter for Hawaii for programs for victims of the flood and other disasters. Call 732-8645.
Classes
Sub-Zero/Wolf Showroom:
Chef Alan Wong hosts a free cooking demonstration, 10 a.m. to 11 a.m. on Saturday, to be broadcast live on Jo McGarry's "Tabletalk" radio show. The showroom is at 938 Piikoi St. Call 597-1647.
Shanghai Bistro: Chef Chih Chieh Chang's monthly Chinese fusion cooking classes will feature sweet sesame balls (jin dui) and spring rolls, at 10 a.m. Saturday. Cost is $25, which includes lunch. The restaurant is in Discovery Bay, 1778 Ala Moana. Call 955-8668.
Chinatown Tours: Walter Rhee of the University of Hawaii Food Science Department is hosting two tours daily on Saturday and Monday through March 31. "A Cook's Tour," with cooking tips and advice on selecting fresh meat, seafood, vegetables, fruits, sauces, herbs and spices, is from 8:30 to 10:30 a.m.; $15. "Honolulu's Best Unexplored Asian Restaurants" covers where to go and how to order, 11:30 a.m. to 2:30 p.m.; $59. For either class, meet at corner of King and Smith streets. Tour fees must be paid in cash on meeting date. E-mail eat_hawaii@yahoo.com or call 391-1550. The classes will continue weekly on Saturdays through May.