Mystery winds hammer Waianae
Live electrical lines threaten motorists as tornado-like gusts topple utility poles
High winds -- and what witnesses described as a "tornado" -- toppled 12 utility poles onto Farrington Highway within minutes yesterday, injuring two people, damaging 17 cars, backing up traffic for miles and leaving more than 700 people without power.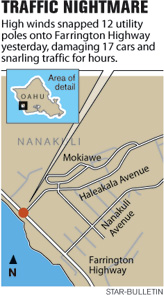 Live wires dangled on a stretch of highway between Haleakala Avenue and Lualualei Naval Road for at least an hour after the incident, trapping some people in their cars and creating hazards for rescuers and residents.
Police said a woman and child in one of the damaged cars were taken to Waianae Comprehensive Center with minor injuries. Others were treated at the scene.
"I thought it was the end of the world," said Lezlie St. Germain, a Mililani resident who was driving toward Waianae when the poles snapped and live, sparking wires fell on her sport utility vehicle. "I saw the pole lift up. I thought I was going to die."
Officials said yesterday's atmospheric conditions could not have created a tornado or funnel cloud. It is likely the weather phenomenon witnesses saw just before the poles went down was a "rotor," caused when a strong gust of wind rounds a corner, National Weather Service forecaster Ray Tanabe said.
Hawaiian Electric Co. wood poles and steel traffic light poles were toppled almost simultaneously in the incident at about 1 p.m. Last night, they haphazardly littered the roadway, mingling with wires, street signs and traffic lights.
Residents marveled from afar at their absence from the skyline.
"It was like dominos," said Chris Wheeler, who was outside a nearby store when the incident happened. He saw a wood pole smash a van's roof. "That van is dead."
Teipe Kerita Reupena, who was heading town-bound on Farrington to drop off seven children at their home after church, said he saw a "tornado coming straight from between the mountains" right before a wooden pole snapped and fell in front of his van.
Live wires danced on the roof of the vehicle, but Reupena was able to get the children out safely and warn others to stay in their cars because they were too close to the lines.
The weather service said winds on the Waianae Coast were at about 35 mph yesterday, with the possibility of localized gusts to 50 or 60 mph.
Tanabe said that recent rainy weather could have saturated the ground, causing the poles to come down more easily. And residents noted that some of the wood poles were badly termite-eaten. A few snapped in half, exposing nearly hollowed-out shells.
Hawaiian Electric crews restored power to about 475 Nanakuli customers by late last night, said spokeswoman Sharon Higa. The remaining 225 customers were expected to get power again today.
HECO crews were also working to clear the road in time for weekday traffic, but it was unclear if both lanes would be open this morning.
During the closure yesterday, police diverted traffic through Kolekole Pass, but for about two hours, traffic was almost at a standstill. At one point, passengers on city buses were told to walk through the closed area to get to a bus on the other side.
And some drivers parked alongside the road or in lots and got out of their cars to watch the commotion. Residents also lined the streets. Some even pulled up chairs and arranged impromptu tailgate parties to watch crews dismantle the poles.
Pearl City resident Linda Keough was attending church services in Waianae yesterday when she heard the whistling of strong wind. Then, she heard a crash.
"When I came out, I thought it was a terrorist attack," said Keough as she stood beside a toppled pole. "I've never seen anything like this in the world."
Nearby, Tim Marcos sat at a bus stop with his 3-year-old grandson. The two had been walking to the bus stop when the poles went down. Marcos said he felt the wind moving in a circular direction and then saw pole after pole snap.
"It felt like a tornado wind," Marcos said. "I saw the poles going on cars. I thought they were dead for sure. I haven't felt something like that before."
---
Star-Bulletin reporter Rosemarie Bernardo contributed to this report.