3 males sought in fatal shooting
Witnesses see a black Nissan Maxima flee the Makiki scene
Police were searching last night for three suspects seen fleeing from a Makiki apartment building after a 31-year-old man was fatally shot yesterday afternoon.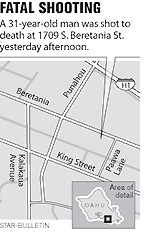 Witnesses said three males got out of a black Nissan Maxima and approached the man in the parking area of 1709 S. Beretania St. just before 4 p.m., police homicide Lt. Bill Kato said.
"There was an argument, and from that argument, shots were fired," Kato said. One of the suspects might have been wearing a mask, he said.
A black Nissan Maxima with license plate GEB 930 was seen fleeing the building heading Ewa on South Beretania, then turning mauka on Punahou Street. Last night, police found a vehicle matching the description on fire on Hokuliilii Street in Mililani.
"Everybody heard. Nobody actually saw it," Sgt. Victor Mattox said at the scene. "They heard the shot, saw the car reversing, and it peeled out."
The victim was found on the grassy area behind his dark blue Lexus sedan, parked in the open street-level parking area below the three-story walk-up. One of the car's rear doors was ajar.
Lopaka Becker, a visiting emergency medical technician from Albuquerque, N.M., heard the gunshot, rushed to the scene from a rear apartment building and administered cardiopulmonary resuscitation.
Becker said the man was on his belly going into shock.
When Becker turned the man over, he saw a gunshot wound to the left side of his neck, he said. Becker took off his shirt, used it as a bandage and applied pressure to the wound.
"He was bleeding quite a bit," Becker said. "His eyes were rolled up in the back of his head, and his lips were blue."
The man was not breathing and had no heartbeat, he said.
The victim was taken to the Queen's Medical Center, where he was pronounced dead at 4:30 p.m., police said.
Dan Itoman, 24, who lives in a house next door, called Becker a "real hero."
"For him to just jump in and (try to) save a total stranger, that's unbelievable," he said. "We need more of that."
About the shooting, Itoman said, "I heard some arguing, then just that one gunshot. You always hear arguing, but I'm not saying it's that same people."
The area, which is across the street from Central Union Church, is usually quiet, he said.
Becker's girlfriend, Kyra Alvarado, 24, said the victim's girlfriend arrived at the scene screaming and was trying to get hold of his mother.
Police said they did not know the circumstances of the shooting or what led to it.
"This is not very often we get something like this in broad daylight," Kato said.
Police are asking anyone who might have seen the suspects or their car to call police at 911 or CrimeStoppers at 955-8300.