| | |
| --- | --- |
| | Island Mele |
---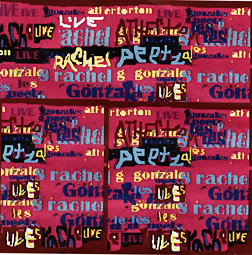 "Rachel Gonzales &
Les Peetz Live at Atherton"
Rachel Gonzales & Les Peetz
(self-release)
The line that once separated commercial from bootleg recordings and artists' demos has faded with the advent of home recording studios and CD burners. This album is a step or two above demo quality -- it has no marketing bar code on it, and it's only available only at Gonzales' gigs -- but knowledgeable jazz fans probably won't quibble. Gonzales is Hawaii's best "unknown" female jazz vocalist, and this live album is a welcome memento of what must have been a great night at Hawaii Public Radio's Atherton Studio.
Gonzales and pianist Peetz share an interest in unconventional arrangements and relatively obscure material, a new arrangement of "Twisted" being a good example. The duo's reworking of "Our Love Is Here to Stay" and "Sweet Georgia Brown" shows how a little imagination can create new perspectives on pop standards. "Maiden Voyage" displays Gonzales' ability to sing notes rather than lyrics. This isn't scat-singing in the dramatic style of, say, Natalie Cole, but it is impressive nonetheless.
There are places where the piano pegs the recording volume meter for a note or two, but if you want a sample of Gonzales' music, this is pretty much it. Nobody else in town is doing what she's doing, anyway.
---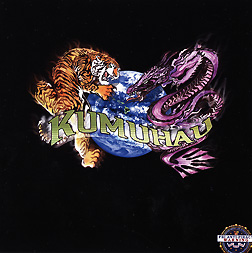 "Kumuhau"
Kumuhau
(Tiki Entertainment)
The record label has been known, until now, as a bastion of local-style hip-hop and karaoke-grade pop. This debut by the duo of Lonnie Brown and Keith Omizo is a significant step forward for executive producer Doug Farrar and producer Samson "Spookahuna" Malani.
Brown and Omizo are so self-effacing that the only place their names appear is in their acknowledgments where each thanks the other. Although producer Farrar provides no composer's credits, careful reading of the liner notes reveals that Omizo wrote the title song for "God's Country," and one more each for his wife and son. Another was written by his wife's great-grandmother.
No other musicians are credited, but drums, bass and keyboards give the guitar-playing duo the sound of a contemporary quintet. The title song evokes memories of Steve & Teresa, and "To Be True" is nicely done in memory of Mackey Feary. "Matsonia" and "Sanoe" show that Brown and Omizo also have a feel for Hawaiian music.
They do a surprisingly good job with a fresh arrangement of the Bee Gees' 1977 hit, "How Deep Is Your Love," but "Your Kiss," a Jawaiian song featuring a faux-Jamaican named Kane Fyah, belongs on another album.
---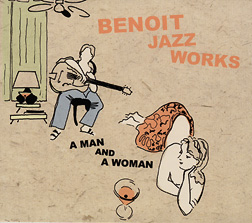 "A Man and a Woman"
Benoit Jazz Works
(Benoit Jazz Works)
The husband-wife duo of Phil and Angela Benoit, with the addition of other talented musicians, play a sophisticated style of jazz that embraces Latin rhythms and American pop standards in roughly equal measure. Angela's voice is the focal point on almost all the selections -- "Besame Mucho" has never sounded more inviting -- but the rest of the musicians get their fair share of the spotlight as well.
Guitarist Phil and the guys work without Angela on the title track and "Samba de Orpheu." Phil's father, the late Bob Benoit, is heard on the intro to "Stella by Starlight."
Phil is also a member of Gypsy Pacific, and that group takes over on "What a Little Moonlight Can Do." The Benoits' romantic version of "Embraceable You" shows their strength as a stand-alone duo.
John Berger
, who has covered the local entertainment scene since 1972, writes reviews of recordings produced by Hawaii artists. See the Star-Bulletin's Today section on Fridays for the latest reviews. Reach John Berger at
jberger@starbulletin.com
.