---
FAST FACTS HAWAII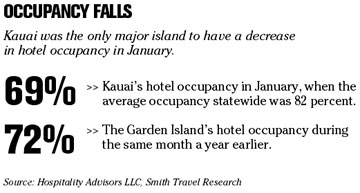 ---
[HAWAII INC.]
NEW JOBS
»
Bank of Hawaii
has appointed
Karolle T. "Josie" Bidgood
vice president and senior real estate officer for its trust and real estate group, and promoted
Diana D. Fujimori
to vice president and process improvement manager. Bidgood previously served as a corporate real estate manager for
CB Richard Ellis
and Bank of Hawaii. Fujimori joined the bank in 1997 as a business loan underwriter.
» Helber Hastert & Fee Planners Inc. has hired Martha Spengler as a senior planner. She will serve as an environmental planner and be responsible for preparing and coordinating environmental assessment documents.
PROMOTIONS
»
Hawaiian Airlines
has appointed
Tasha Eldridge
San Francisco flight operations station manager. She will be responsible for overseeing the service that the airline provides travelers at its terminal in the San Francisco International Airport. She has worked for the company for over six years.
>> Debbie Hogan has been appointed Hilton Hawaiian Village's sales director. She will be responsible for overseeing and leading the sales department for the company's flagship property. She previously served as the Hilton Waikoloa Village sales and marketing director.
» The Hyatt Regency Maui has appointed John Hernstat sales and marketing director. He will be responsible for developing and overseeing the direction of his sales team. He previously worked for the Hyatt Grand Champions Resort and Spa in Indian Wells, Calif.
NATION
HP sued over Fiorina's $21.4 million severance
SAN FRANCISCO » Two large shareholders sued
Hewlett-Packard
yesterday, contending that a $21.4 million severance package for Carly Fiorina, its former chief executive, violated the company's policy on executive compensation.
The lawsuit, filed in U.S. District Court in San Francisco by the pension funds of the Indiana Electrical Workers union and the Service Employees International Union, is the latest example of shareholders trying to limit executive compensation.
The lawsuit says Fiorina's severance pay exceeded a limit shareholders approved in 2003 that restricted such compensation to 2.99 times an executive's base pay plus bonus. The lawsuit seeks to recover the money paid to Fiorina, who was forced to resign in February 2005.
GM switching to lower-cost pension
DETROIT »
General Motors Corp.
yesterday became the latest major employer to convert its traditional pension plan that gives retirees a defined payout to a system in which the company makes a set contribution that supplements workers' savings.
Effective Jan. 1, GM will freeze the accrued pension benefits for approximately 42,000 U.S. salaried employees and put those employees into new plans, a tactic many large companies are using to trim their skyrocketing pension costs. The change won't affect retirees or GM hourly workers.
Salaried employees hired on or after Jan. 1, 2001, will move exclusively to a defined contribution plan. Those newer employees currently have a cash balance plan, which works like a traditional defined benefit plan but allows participants to collect their benefits in a lump sum at retirement instead of in monthly checks.
VCs back clean technologies
SAN FRANCISCO » Venture capitalists are seeing green in clean technologies.
The amount of North American venture capital invested in environmentally friendly technologies jumped 35 percent last year to more than $1.6 billion, according to a report to be released today by the Cleantech Venture Network.
"Cleantech" investments by venture capital firms rose to a record $502 million during the fourth quarter of 2005 -- 18 percent more than the previous quarter and 60 percent more than the same period a year earlier.
Microsoft debuts new Live Search
SEATTLE » In its latest bid to catch up with rivals
Google Inc.
and
Yahoo Inc.
,
Microsoft Corp.
is launching a revamped Internet search engine it says will help computer users find information faster, view it more easily and organize it better.
Debuting in test form today, Windows Live Search is Microsoft's latest move in a major strategy shift that has the world's largest software company focusing more heavily on Internet-based software and services.
The goal of the shift, which includes initiatives dubbed Windows Live and Office Live, is to create online products to complement its main cash cows: the Windows operating system and Office business software.
Windows Live Search will power queries on live.com, Microsoft's Windows Live Web site, beginning today. Once the technology has been fully tested, Windows Live Search will replace the existing search engine that powers MSN.com. MSN spokesman Adam Sohn said the company has not determined how long it will run Windows Live Search as a test.
Google accidentally posts forecast on Web
SAN FRANCISCO »
Google Inc.
advised investors yesterday to disregard an internal financial forecast mistakenly posted on its Web site -- a mix up that included a reference to management's concerns about the online search engine leader's profits narrowing amid tougher competition.
The material, including a projection that Google's revenue will rise by about 55 percent this year to $9.5 billion, surfaced on the Internet briefly last week when the company welcomed stock market analysts for a management presentation at its Mountain View, Calif. headquarters, according to a Securities and Exchange Commission filing.
Besides forecasting its revenue, Google indicated its robust profit margins might weaken this year as more its rivals try to lure away some of its advertising partners. The inadvertently leaked material didn't include any specific earnings forecasts.
Public Storage to buy Shurgard Storage
LOS ANGELES »
Public Storage Inc.
said yesterday it agreed to acquire longtime rival
Shurgard Storage Centers Inc.
for $3.2 billion, creating the largest operator of self-storage centers in the world.
Combined, the two real estate investment trusts will have ownership interest in more than 2,100 facilities in 38 states and seven nations in Europe.
Under terms of the deal, Glendale-based Public Storage will exchange 0.82 share of its stock, worth about $65.16 a share based on the stock's closing price on Monday, for each share of Shurgard, headquartered in Seattle.