---
FAST FACTS HAWAII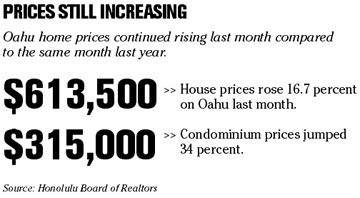 ---
HAWAII
Aloha Petroleum imports 5 million gallons of ethanol
Aloha Petroleum
received a 5 million-gallon shipment of ethanol yesterday in anticipation of an April 2 state mandate requiring 85 percent of all gasoline sold in Hawaii to contain 10 percent ethanol.
Aloha said it will use the ethanol to make its own blends for sale by mid-to-late March, and will supply it to other gasoline marketers.
The ethanol is imported from Jamaica, where it was processed using sugarcane-based materials from Brazil.
Seibu heirs appeal court ruling
Four heirs of the deceased founder of the Japanese conglomerate
Seibu Railway Co.
have asked the Hawaii Supreme Court to overturn a Circuit Court ruling in a dispute involving several major local hotels.
The lower court in January turned down their request for an order establishing the heirs as the owners of Seibu assets in Hawaii, including the Hawaii Prince Hotel Waikiki, the Maui Prince Hotel, the Hapuna Beach Prince Hotel and the Mauna Kea Beach Hotel.
---
[HAWAII INC.]
NEW JOBS
»
Hawaiian Airlines
has appointed
Michael Wing
director of properties and facilities. He will be responsible for ensuring that the company meets its employees' facility needs. He previously worked for
Island Air
for 10 years.
» The Hilton Waikoloa Village has appointed Kana "Monica" Fujimoto Far East sales manager. She previously interned with the sales team from July 2004 through May 2005.
PROMOTIONS
»
Nishihama & Kishida CPAs Inc.
has promoted
Shanelle Kanoa
to supervisor. She will be responsible for tax return preparation and tax planning.
» Classic Resorts has appointed Kyle Donlon marketing manager. He will be responsible for implementing and maintaining marketing initiatives. He has eight years of experience in marketing and event management positions with the resort.
AWARDS
»
Century 21 All Islands'
Hawaii Kai Office has announced that
Amado Cacho
has earned the Century 21 System's Centurion Producer Award for his sales production in 2005.
ON THE BOARD
»
AlohaCare
has appointed
Susan Hunt
president of the company's board of directors. She previously served as the board's vice president. She replaces
May Akamine
, who was recently named executive director of the Koolauloa Community Health and Wellness Center.
» HMAA has appointed John Henry Felix, Warren Price III and Fred Trotter to its board of directors. Felix currently serves as Eagle Corp. chairman and CEO. Price has more than 30 years of experience in Hawaii's legal community. Trotter was a trustee of the Estate of James Campbell for more than 20 years.
---
NATION
Northwest, pilots still negotiating
MINNEAPOLIS » The threat of mutually assured destruction kept
Northwest Airlines
and its pilots at the bargaining table yesterday.
Though Northwest had the power to impose a cost-cutting contract of its choosing, the pilots' threat of a strike that could wreck the nation's fourth-largest airline made that unlikely.
The company wants $358 million in concessions from pilots, their union said last month. But the union and the company said last week that they had reached a framework for an agreement on who would fly small jets for Northwest, which had been at the heart of the pilot's strike threat. Pilots are also pressing for protection if Eagan, Minn.-based Northwest is sold or split up, and for a share in the company once it emerges from bankruptcy.
$100 billion possible, Google says
SAN FRANCISCO »
Google Inc.
executives provided investment analysts with a bright outlook yesterday in a display of confidence that appeared aimed at defusing growth concerns raised by the search engine leader's chief financial officer earlier this week.
In his opening remarks, Google CEO Eric Schmidt assured the roomful of analysts that he sees "tremendous headroom" to develop better advertising formulas, in turn generating more of the commissions that account for most of the company's profits.
Schmidt underscored his optimism at one point by saying Google someday might generate $100 billion in annual revenue as it expands into a variety of new advertising channels, including television, radio and publishing. The 7-year-old company's revenue totaled $6.1 billion last year.
Ford to spend $1 billion on revamp
DETROIT »
Ford Motor Co.
expects to spend $1 billion before taxes this year on restructuring in North America and Europe, according to the company's annual report.
The No. 2 U.S. automaker also said it doesn't expect to make a profit this year as it continues to struggle with declining U.S. market share and rising costs.
Ford said the $1 billion charge includes $250 million to cut hourly workers in North America and $250 million to write off assets at North American plants.