Hawaii Grown: College Athletics
---
BULL MARKET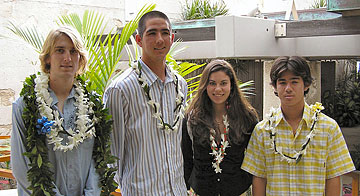 ---
McAngus' home run rallies Cougars to win
Zach McAngus came through in the clutch Sunday for the Washington State Cougars.
The senior third baseman belted a pinch-hit, three-run homer in the eighth inning as the Cougars rallied from a four-run deficit for a 7-6 victory over the University of San Francisco at the River City Classic at Sacramento State's Hornet Field.
McAngus (Kamehameha '02) has lettered the past two seasons for WSU after transferring from the Air Force Academy.
He is hitting .273 with two homers and 10 RBIs, third best on the team, for the 10-2 Cougars.
» Kasey Ko, a freshman first baseman from Punahou, was 2-for-4 with a home run Saturday as Brigham Young ended a season-opening, eight-game losing streak with a 10-5 victory over St. Mary's in the River City Classic. It was the Cougars' worst start in 40 years.
Ko has played in eight games and is hitting .207 (6-for-29).
Apana Nakayama, a senior catcher from Molokai, has yet to see action for BYU.
Anderson wins 5,000-meter run
Nicole Anderson of Kailua (Iolani '05) won the 5,000-meter race at the NCAA Women's Division III New England Regional Championships at Tufts University on Feb. 18, helping Amherst to a third-place finish.
Anderson's time of 17 minutes, 54.14 seconds was 4 seconds faster than her closest competitor.
Last Saturday, she finished 11th in 17:56:53 at the Open New England Championships at Boston University.
» Akoni Clubb (King Kekaulike '03) was fourth in the 60-meter hurdles with a time of 8.76 seconds at the Azusa Pacific Indoor Events Qualifier last Saturday. He also was 12th in the pole vault with a height of 11-feet, 534 inches.
APU teammate Nate Nasca (Pearl City) was timed in 7.22 in the 60-meter dash, good for seventh.
Bryan Carvalho from Kailua was ninth in the 400-meter dash in 53.48.
» Danica Lute, a Ripon (Wis.) College freshman from Lanai, finished 18th in the 800-meter run at the Pointer Invitational at Wisconsin-Stevens Point last Saturday. Her time was 2:47.36.
» Derek Turbin is a tri-captain on the Occidental College men's track team. The senior from Punahou participates in the sprints and jumps.
Ramos coaching at Pacific Union
Rhonda Ramos, a native of Lahaina, Maui, guided the Pacific Union College (Angwin, Calif.) Pioneers to a 5-9 record in her first season as the women's volleyball head coach last fall.
Ramos had two Hawaii players -- senior defensive specialist/libero Tara Higa from Aiea and Moanalua's Kristy Nakamitsu, a junior setter -- on her roster.
Both played in all 49 games. Nakamitsu had a team-leading 372 assists and was second in service aces (19) and digs (17). Higa led the Pioneers with 177 digs.
A 1990 graduate of Pacific Union, Ramos also works as an admissions counselor in the enrollment department.
Ayers, Red Hawks end 9-game skid
Christie Ayers sank nine of 10 free throws and finished with 11 points to help the Saint Francis (Loretto, Pa.) Red Hawks (4-24) end a nine-game losing streak in their season finale Monday night.
The 5-foot-7 junior guard from Pearl City started 21 of 27 games this year. She averaged five points a game and was third in assists (52) and steals (31).