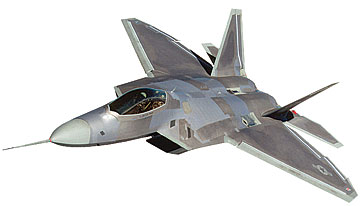 COURTESY OF U.S. AIR FORCE
Flock of Raptors could soon nest in isles
The Hawaii Air National Guard is in line to get 18 state-of-the-art fighter jets
A pilot in an F-22A Raptor traveling at 1.5 times the speed of sound can lock on to an enemy fighter 40 miles away and take it out with a missile before the other aircraft realizes it has been targeted, a Lockheed Martin official says.
Pending completion of an environmental impact study, 18 of the country's most expensive and lethal stealth jet fighters would be assigned to the Hawaii Air National Guard's 199th Fighter Squadron at Hickam Air Force Base, U.S. Sen. Daniel Inouye said yesterday in a news release. The EIS could be done in about five years.
F-22A RAPTOR
Type: Single-seat jet fighter
Length: 62 feet
Wingspan: 44 feet
Cost: $133 million
Power plant: Two Pratt & Whitney turbofans
Speed: Mach 2
Ceiling: above 50,000 feet
Range: 1,995 miles

FIREPOWER
Gun: One six-barrel rotary cannon with 480 20-mm rounds
Weapons load: 3,914 pounds
It can be also armed with:
» Six AIM medium-range air-to-air missiles and two Sidewinder heat-seeking missiles;
» Or two 1,000 pound bombs, two AIM missiles and two AIM Sidewinder heat-seeking missiles.
Source: U.S. Air Force
The Raptors will give another boost to the partnership between the active Air Force and the Hawaii Air National Guard.
The Raptors could replace the Air Guard's current squadron of 18 F-15 Eagles, which has been the workhorse of the Air Force since 1979. The F-22A was only deemed ready for combat by the Air Force in December.
Gen. Michael Moseley, chief of staff of the Air Force, in a separate news release, said another Raptor squadron would be located at Holloman Air Force Base, N.M.
Moseley said the Air Force proposes to have the Hickam and New Mexico units crewed by active Air Force and the Air National Guard.
Maj. Gen. Bob Lee, who heads the Hawaii Army and Air National Guard, said he "could hear the cheering all the way from Washington, D.C.," when he relayed Inouye's announcement to his Air Guard staff at Hickam. Lee is in Washington to attend the annual winter meeting of state adjutants general, which is held in conjunction with the National Governors Association winter conference.
"This seems to be the wave of the future," added Lee, referring to several other partnerships mixing active-duty Air Force and Hawaii Air Guard crews.
A similar affiliation began last summer with Hickam's new C-17 Globemaster jet cargo units. Earlier this month, the first two of Hickam's eight Globemasters were turned over to the active-duty 535th Airlift Squadron and the Hawaii Air National Guard's 204th Airlift Squadron.
The Hawaii Air National Guard's 203rd Air Refueling Squadron is in line to receive four active-duty KC-135 tankers when the Air Force's Ellsworth Air Force Base is closed in South Dakota. As part of the change, the Hawaii Air Guard unit will be aligned with an active-duty refueling squadron.
Lee said talks with Gen. Paul Hester, who commands the Pacific Air Forces from Hickam, began more than a year ago, and through Inouye's efforts it will soon become a reality.
"If I were a young jet fighter pilot in the 199th, today is like Christmas," Lee said.
The Air Force said 188 F-22A Raptors will be built through 2012. Each jet fighter costs more than $133 million.
Currently, the only F-22A squadron, with 20 combat jets, is based at Langley Air Force Base, Va.
Initially, the Air Force wanted to purchase 700 Raptors, but that was gradually cut back to 188. It also was forced to abandon building a FB-22 that would have had twin engines, a two-man cockpit, greater range and more weaponry but with the higher price tag of $150 million a plane.
This month, the Bush administration said it wants to spend $2.2 billion in fiscal year 2007 to purchase 60 more F-22s.
In comparison, the Pentagon plans to purchase 42 F/A-18 Super Hornet jets, used by the Navy and Marines, for roughly $83 million each.
Basing the F-22s at Hickam is contingent on the successful completion and approval of all environmental studies required under the National Environmental Policy Act, Inouye said.
One of the key portions of the environmental statement will be the noise generated by the supersonic jets.
Past Air Force studies have said a Raptor flying 500 feet above the ground sounds the same as a chain saw.
In June, Rob Fuller, spokesman for Lockheed Martin, which is building the Raptor, described the jet as "a first-look, first-shot, first-kill" fighter.
Fuller told the Star-Bulletin that the jet's stealth design reduces the size of the Raptor on enemy radar to the size of a bumblebee, in effect making it undetectable. Its angular design helps to nearly eliminate detection of its sound, heat or turbulence, he said in June when he allowed the media and military representatives to get a feel of flying an F-22 with the use of a $2 million cockpit simulator.
Fuller said the stealth fighter also has supercruise, which allows the jet to fly at supersonic speed without afterburners, conserving fuel. The Air Force also has said the Raptor is faster to the fight, two times more reliable and more than three times more effective than the F-15 it replaces.
Inouye added, "The F-22s will further ensure that the Hawaii Air National Guard will continue to have the best 21st-century military technology that our nation can offer."