---
FAST FACTS HAWAII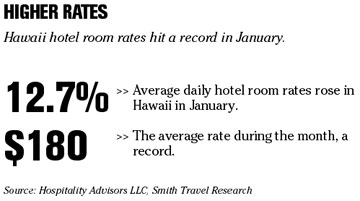 ---
HAWAII
Agency's board OKs Kalaeloa development
The Hawaii Community Development Authority board approved a master plan yesterday for a mixed-use development in Kalaeloa that envisions investment of $3.3 billion over the next 20 years to redevelop the former Naval Air Station at Barbers Point.
The plan includes more than 6,000 new apartments and townhouses, about 1,800 of which would be sold as affordable housing.
Bankruptcy filings way down in '06
Statewide bankruptcy filings, which have dramatically slowed since a stricter law went into effect in mid-October, plummeted 80.5 percent in the first two months of this year compared with the year earlier.
There were 89 filings through February, down from 457 at the same time in 2005, according to court records.
The new law, which made it harder and more expensive to walk away from debt, resulted in a spike in filings last year, including 1,463 in October when it took effect. The number of filings dwindled after that with 14 filings in November and 43 in December.
Chapter 7 filings, which involve liquidation, were off 82 percent to 73 from 405 during the first two months of 2006. Chapter 13 filings, which allow individuals to set up plans to pay creditors over time, decreased 67.4 percent to 16 from 49. There were no Chapter 11 filings during the first two months of this year.
Hilton to manage Kauai resort
Hilton Hotels
will take over management of the Kauai Beach Hotel and Resort this summer after the property undergoes a $14 million renovation, the hotel said yesterday.
The 350-room hotel sits on a three-mile, 25-acre stretch of beach on Kauai's eastern Coconut Coast. The Lihue resort is currently managed by its owner, Anekona Management. The hotel was managed by Radisson until last fall. It originally opened as a Hilton in 1986.
Hawaiian Air dominates rankings
Hawaiian Airlines
dominated service categories in January among airlines that report consumer statistics, finishing first in on-time service, fewest flight cancellations and baggage handling.
The carrier ranked third for fewest complaints and fourth for fewest oversales of seats on flights. It was on time for 95.9 percent of its flights in January, according to the U.S. Department of Transportation's monthly Air Travel Consumer Report.
Aloha Airlines was not included in the rankings, but Mesa Airlines, which plans to start a new interisland carrier in Hawaii during the second quarter, was listed for the first time.
Mesa, which operates in 45 states and can be affected by bad weather, was 16th in on-time performance in January at 73.6 percent. It ranked 19th in cancellations with 4.2 percent of its 25,132 flights terminated. Mesa also was 18th in mishandled baggage reports, with about 14 for every 1,000 passengers, and 19th in complaints.
NATION
Airlines, pilots fail to reach deal
Two of the nation's largest airlines,
Delta
and
Northwest
, failed to reach new contract terms with their pilots yesterday after marathon negotiations.
Without a deal, Northwest's pilots waited for a judge to rule on whether that carrier could throw out their union contract and impose its own terms. In Delta's case, arbitrators will decide that issue after a hearing set to begin March 13.
Northwest Airlines Corp. did reach a tentative agreement with flight attendants yesterday, the day a New York bankruptcy court had set as a deadline.
Ohio judge orders destruction of eggs
COLUMBUS, Ohio » A judge ordered the destruction of 4.3 million eggs that state agriculture officials deemed unfit to eat because they were stored at room temperature at one of the nation's largest egg farms.
Judge Thomas Marcelain of Licking County Common Pleas Court issued the ruling Tuesday, six days after ordering Ohio Fresh Eggs not to sell the eggs. He also ordered Ohio Fresh Eggs to follow all Ohio Department of Agriculture regulations.
EPA wants to allow more ethanol pollution
WASHINGTON » In an attempt to increase domestic production of alternative fuel sources, the Bush administration has proposed allowing ethanol plants to send more hazardous air pollutants into the air.
The Environmental Protection Agency has proposed a rule that would raise the emissions threshold for corn milling plants that produce ethanol fuel.