| | |
| --- | --- |
| | Newswatch |
---
Lingle heads to governors convention
Gov. Linda Lingle left yesterday to attend the National Governors Association annual convention in Washington, D.C.
Lingle said she will return to Honolulu on Wednesday.
The four-day convention includes a meeting with President Bush and a White House dinner.
The governors are expected to discuss local and national health issues with a focus on health in schools, workplaces and communities, according to the National Governors Association.
Lingle said she will also participate in a Department of Defense training exercise to prepare state executives for a possible pandemic disease.
"The exercise will be about what role the governors would play in advising the president and what would happen in our own states," Lingle said.
Also attending the exercise will be Maj. Gen. Robert Lee, Hawaii Civil Defense director.
Lingle said she will not be using the trip for any political fundraising activities.
RALLYING FOR RENTALS
Residents and supporters protest the planned sale of Kukui Gardens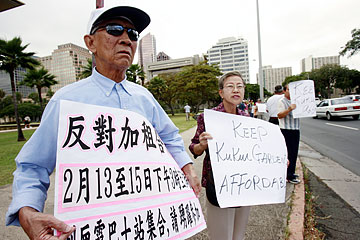 Oceanic will allow upgrades for military
Oceanic Time Warner Cable says it will honor a letter mistakenly sent to some military families that offers a free upgrade.
Several Oceanic customers on Hickam Air Force Base were initially refused the offer because they already have military discounts and the two offers are "not combinable," said Matt Mishina, Oceanic director of marketing.
The mailer was sent to 3,000 people last week. Mishina did not know how many military families received the offer.
"It was just an error in our mailing of this particular letter," he said. "The majority of the customers that received it were the correct group."
Mishina said Oceanic decided to honor the offer after getting several calls from military customers.
Mika Keaulii, who lives on Hickam, got the mailer and was turned down Wednesday for the free upgrade at Hickam's Oceanic office.
"We were obviously not the only ones who received such an offer from Oceanic for there was a line out the door of servicemen and women on Hickam with their digital cable boxes in hand," she said in an e-mail.
She also said the letter did not warn customers about any restrictions.
Humane society offers free neutering of pets
The Hawaiian Humane Society is celebrating Spay Day this year by offering free spay and neuter surgeries for cats.
Spay Day USA 2006 is Tuesday.
Residents who want to get a free surgery for their cats can pick up a coupon at the humane society or download one from the society's Web site. They can make copies if they have more than one cat.
The Hawaiian Humane Society is at 2700 Waialae Ave. Its Web site is www.hawaiianhumane.org. Residents need to fill out the coupon and mail it. The humane society will call to set up an appointment.
Cats must be at least 8 weeks old but no older than 8 years, weigh at least two pounds, be in good health and not on medication.
From July 2004 to June 2005, the Humane Society spayed and neutered 2,871 feral cats. The society sterilized another 740 pet cats for free.
Over the same period, participating Oahu veterinarians sterilized 2,203 cats for pet owners through the city's subsidized Neuter Now Program.
Spay Day USA was started in 1995 by the Doris Day Animal Foundation to save homeless animals through spaying or neutering of pets and feral cats.
---
What's inside your Star-Bulletin this weekend:
SATURDAY
KEEPING THE FAITH
Soul and stroll
Kailua church members combine devotions for the soul with physical exercise in their virtual "Walk to Jerusalem" during Lent.
SUNDAY
TODAY SECTION
Tending her field of dreams
Flora Ramos might have been disappointed to find herself doing yard work when she moved here from the Philippines, but the business that she runs keeps her healthy and her family strong.
Yamanaka unveils new tale
Lois-Ann Yamanaka's new novel, "Behold the Many," is a coming-of-age tale tied up in ghost stories and the cultural history of Honolulu from 1900 to 1940.
| | |
| --- | --- |
| | Police, Fire, Courts |
---
HONOLULU
Man dies in kayaking accident, police say
A 62-year-old man died following a kayaking accident in a stream off Nuuanu Pali Drive on Wednesday, police said.
The man was pronounced dead at Kuakini Medical Center following the 6:30 p.m. incident. The case is classified as an unattended death pending review by homicide detectives.
WINDWARD OAHU
Man accused of 1999 and 2000 molestations
Police arrested a 58-year-old man who allegedly molested a then-7-year-old girl several years ago.
The victim, now 13, said the suspect assaulted her between May 1999 and May 2000 in the Kailua area. Police arrested the man Wednesday for investigation of two counts of third-degree sexual assault and later released him pending an investigation.
LEEWARD OAHU
Crash victim arrested for alleged theft of car
A man injured in the crash of a stolen car last week was arrested after being released from the hospital.
Police said that the 21-year-old man was seen speeding last Friday near the Pearl City Wal-Mart on Kuala Road. The vehicle hit a tree and overturned, police said. The man was taken to the Queen's Medical Center for treatment of his injuries.
Police learned that the vehicle he had been driving was reported stolen on Jan. 27 from the Kapolei area.