| | |
| --- | --- |
| | Newswatch |
---
MARCH REMEMBERS VICTIM OF BEATING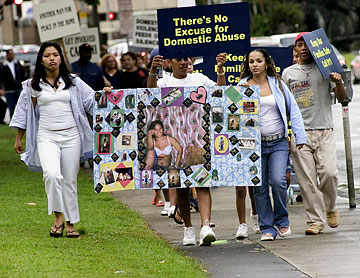 Cruise ship terminal is dedicated at Pier 2
Calling it a "miraculous turnaround" from what the facility looked like less than a year ago, Gov. Linda Lingle and other state officials held a dedication and blessing yesterday for the new Pier 2 cruise ship terminal at Honolulu Harbor.
The former Pier 2 shed was transformed, at a cost of $26.5 million, into a three-tiered, full-service passenger cruise ship terminal complete with check-in, security screening and baggage claim facilities.
The new terminal has 158,000 square feet of floor space and can handle up to 2,500 passengers from a single cruise ship. Construction began in April 2005.
Other improvements include the addition of bus staging and passenger loading areas; parking for vendor trucks, buses and employees; restrooms; and upgrades to infrastructure such as water, sewer and electrical fixtures.
"It is a miraculous turnaround," Lingle said, noting that when passengers come through the terminal, "they're going to feel very comfortable."
Officials said Norwegian Cruise Line intends to operate its entire fleet from the new terminal, but other operators also will be able to use the facility as scheduling allows.
The first scheduled use of the facility is Saturday by NCL's Norwegian Wind.
City youth program fixes up 2 restrooms
What do you get when you combine 25 young adults, two park restrooms and Magic Island?
An extreme makeover -- city style.
By today the city is scheduled to complete the renovation of two restrooms -- called "comfort stations" -- at Magic Island at Ala Moana Beach Park with the help of 25 participants in the current class of the city's YouthBuild Honolulu program.
YouthBuild Honolulu is a program of the city Department of Community Services that provides job training for high school dropouts who are between the ages of 16 and 24 with histories of alcohol and drug abuse, criminal activities and not much money.
The program helps them earn a high school diploma while acquiring construction trades skills.
Parks Director Lester Chang said the comfort station project is a way to partner with other public and private groups to reduce the cost of fixing park facilities.
"We thought we'd take the opportunity to use this youth group for their training and, as the mayor says, making a difference in life. The end result is they can always come with pride and say, 'We did that,'" Chang said.
The city provided materials and its parks tradesmen staff for supervision and further training at a cost of about $15,000 for each comfort station.
---
TAKING NOTICE
» Three young fencers will represent Hawaii at the Junior Olympics tomorrow through Wednesday in Hartford, Conn.
They are Lauren Chinn, daughter of Gwen and Stephen Chinn, and Jarrett Masunaga, son of Kathy and Russell Masunaga, both of Honolulu, and Houlton Mahaney, son of Diana and Mark Mahaney of Kamuela, on the Big Island.
Lauren, a Punahou School sophomore, has been fencing competitively for three years. Masunaga, Punahou freshman, has been fencing for eight years, according to the Oahu Fencing Center.
Mahaney was attached to the Arizona Fencing Center in Mesa, Ariz., but does not have a specific club now, said Bob Farrow, vice president, U.S. Fencing Association, Hawaii Division.
Farrow said other local fencers who qualified for the Junior Olympics but who are not participating are Kyle Louie, Salle Honolulu Fencing Club; Erin Caulfield and Roland Pendleton, both with Hawaii Fencers Club, and Micah Yamamoto, Oahu Fencing Center.
The Hawaii Division of the national association was founded in 1995 to establish qualified fencing bouts for local fencers, the Oahu Fencing Center said. It is part of the USFA Pacific Section, which is part of the national organization that sponsors and sanctions Olympic qualifiers and teams, the center said.
» The Hawaii Building Industry Labor Association has been honored by the Arthritis Foundation with the local chapter's Partners in Progress Award for contributions and leadership in helping those with arthritis.
---
"Taking Notice" also runs on Tuesdays and Saturdays.
| | |
| --- | --- |
| | Police, Fire, Courts |
---
HONOLULU
2 charged in burglary on tip to police
Action by an alert neighbor helped a Honolulu man recover items stolen from his apartment Tuesday by suspected burglars, police said.
Police charged Jody Brehm, 40, and Grant Chang, 31, yesterday with first-degree burglary.
Brehm is being held in lieu of $15,000 bail, and Chang on $10,000 bail.
Police said the neighbor noticed two men going into a second-floor apartment across the street from him at about 1:55 p.m. He later noticed both men leaving the apartment and using staircases on opposite sides of the building, police said. One of the men was carrying a shopping bag, police said.
The neighbor witnessed the men meeting at a car and wrote down the license number and a description of the vehicle as it drove away. He then called police. Officers found the car near Piikoi and South King streets.
One of the men was inside while the other was in a restaurant.
Police contacted the burglary victim, who identified his television, jewelry and other property, which police said were found in the suspect vehicle. Police arrested both suspects for investigation of first-degree burglary.
2 female bar-hoppers held in armed robbery
Police arrested two women, 21 and 23, who allegedly robbed at gunpoint a 26-year-old man they met at a bar.
Police said the women met the man at one bar, and when it closed, he agreed to accompany them to an after-hours bar at Kapiolani Boulevard and McCully Street.
While at the second bar, one of the women pulled out a handgun and demanded the man's money. After giving the women his money, the man fled and called police.
Police officers found the two suspects on Kuhio Avenue. They were arrested for first-degree robbery and released later pending further investigation.
CENTRAL OAHU
Woman's roommate charged in abuse case
Authorities charged a 27-year-old Mililani man yesterday in the alleged abuse of a woman with whom he lived over a period of three months.
Police said Alexander Cheng physically abused the 27-year-old woman on several occasions during a three-month period, police said. The victim also reported being threatened verbally two times on different occasions. Cheng was charged with two counts of second-degree terroristic threatening and four counts of third-degree assault.
One of the incidents occurred Dec. 23.
The victim recently reported the incidents. Police found and arrested Cheng. His bail was set at $11,000.
2 charged with driving car reported stolen
A 54-year-old man and a 38-year-old woman were charged yesterday with car theft after a patrol officer caught the couple in a Mililani shopping center after recognizing the man, police said.
Police arrested Saturnino F. Rellin and Teresa Canianes at 11:14 p.m. Tuesday. They were charged yesterday with unauthorized use of a vehicle. Rellin's bail was set at $15,000, and bail for Canianes was $11,000.
Police said an officer spotted Rellin while patrolling Mililani Marketplace and saw him driving a red Chevrolet. The officer, having recognized him from other incidents, ran a check on the license plates and found they did not match the car, police said.
The officer watched as the man parked the car in front a store and got out. He then saw the woman get in the car, drive to the side of the store and pick up the man, police said.
The officer then ran a check on the vehicle identification number and found it was stolen.