---
FAST FACTS HAWAII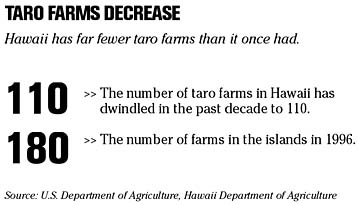 ---
HAWAII
New Matson ship begins service Hawaii shipper Matson Navigation Co. officially started its new dedicated Guam and Micronesia service yesterday with the deployment of one of its newest vessels, the MV Manulani.
The deployment is part of Matson's $365 million investment in vessel, container and terminal assets, which is designed to help it secure a larger piece of the growing Chinese export market. The company provides ocean transportation, intermodal and logistics services.
The MV Manulani will join the company's MV R.J. Pfeiffer in forming a five-ship rotation that will begin in Long Beach, Calif., and stop in Hawaii, Guam and two China ports before completing the 35-day, round-trip voyage. A Matson ship will arrive in Guam every Wednesday.
Hawaiian to add 4 more planes
Hawaiian Airlines
, which rejected the delivery of two Boeing 767-300s in bankruptcy, said yesterday it has signed letters of intent to acquire four 767s for a total of $31.8 million to increase the size of its trans-Pacific fleet to 18.
The company said it expects to bring the additional aircraft into service after performing necessary modification work and that the dates it will begin using the planes and their routes will be announced at a later date.
The four aircraft previously were operated by Delta Air Lines, which rejected the leases during its pending bankruptcy reorganization. Hawaiian Air, which emerged from Chapter 11 in June, said the aircraft will be overhauled and outfitted in its standard interior configuration, including 18 seats in first class and 242 seats in coach.
S&P raises Bank of Hawaii ratings
Standard & Poor's Ratings Services
yesterday raised its long-term counterparty credit rating on
Bank of Hawaii Corp.
to BBB+ from BBB based on "demonstrated strength of Bank of Hawaii's franchise coupled with the company's reduced credit risk profile and strong profitability."
S&P also raised the counterparty credit rating of the holding company's subsidiary, Bank of Hawaii, to A- from BBB+.
S&P noted that about 50 percent of the bank's loan portfolio is secured with residential real estate, which S&P said carries less risk than other types of assets. But S&P tempered its view because the bulk of BOH's operations lie in Hawaii's tourism economy, which is vulnerable to volatility.
NATION & WORLD
Officials search Japan Air offices Japan Airlines Corp. said today it was fully cooperating with an investigation by U.S. and European authorities into alleged price fixing with several other carriers in the air cargo industry. JAL offices at John F. Kennedy Airport in New York were searched yesterday by officials from the U.S. Department of Justice, while the company's cargo operations in Frankfurt, Germany, were searched by European antitrust authorities, said Steve Pearlman, a JAL spokesman in Tokyo.
GM says it will invest in 5 Michigan plants
PONTIAC, Mich. »
General Motors Corp.
said yesterday that it will hire nearly 300 workers and invest $545 million in five Michigan plants, which is good news for the automaker's home state, but still only a fraction of the 30,000 jobs GM is shedding nationally by 2008 in a broad restructuring.
GM's home state has lost an estimated 130,000 auto manufacturing jobs in the last five years. As a whole, the company has let go more than 27,000 workers since 2000 as it faced mounting competition and rising costs for health care and pensions.
A big chunk of the investment -- $163 million -- will go to GM's Pontiac Assembly Center, which makes the Chevrolet Silverado and GMC Sierra pickups, GM spokesman Dan Flores said. Production of the next generation of those pickups is scheduled to begin later this year.
Microsoft must answer EU antitrust charges
Microsoft Corp.
today must answer EU complaints that it has failed to comply with an antitrust ruling or it will face daily fines of up to $2.38 million.
The U.S. software giant said yesterday it would give a full written response to the European Commission's charges before the deadline. EU regulators must then judge if the company has done enough to answer its charges -- a decision that could take weeks.
Microsoft said it would also seek an oral hearing to contest the EU's refusal to grant access to documents the company claims it needs to defend itself. In March 2004, the EU levied a record $613 million fine against Microsoft and ordered the company to share technical data that would allow rivals to make their programs work with the Window's operating system.
---
[ HAWAII INC. ]
NEW JOBS
»
CB Richard Ellis Hawaii
has hired
Elise A. Liftin
as assistant vice president, asset services. Her new responsibilities will include supervising all of CBRE Hawaii's office and industrial asset management properties on Maui.
» Castle & Cooke Realty Inc. announces new hires: Cynthia McKay, sales administrator; Dean Minakami, senior project coordinator; Kevin Funasaki, project manager; and Juan Diego Ross, construction superintendent.
» First American Title Co. has hired Vern Heath as senior escrow officer. He has 15 years of experience in the real estate industry.
PROMOTIONS
»
Castle & Cooke Realty Inc.
has promoted
Sonya Martini
to director of business and development and administrative operations. Her previous position was office manager. She joined the company in 2002.
» Rider Hunt Levett and Bailey have announced the following promotions and appointments: Paul Brussow has been promoted to senior vice president. Kevin Mitchell has been promoted to associate principal. Joshua Au has been appointed project manager. Perry Nakaoka has been appointed senior project manager.
ON THE BOARD
» Hawaii Financial Services Association has elected its officers for 2006:
Bernadette Sakoda
, president;
Al Tanaka
, vice president;
Paul Tamashiro
, secretary;
Marvin Dang
, treasurer/executive secretary;
Roland Casamina
, immediate past president.