Our Picks for the Weekend
---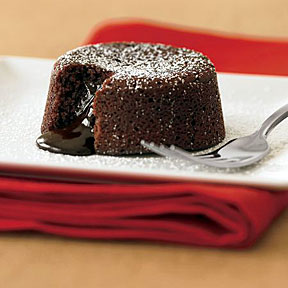 WILLIAMS-SONOMA
Short attention span eater
Even the most kitchen-challenged individual can impress their loved one this Valentine's Day with a dessert to remember.
Williams-Sonoma makes it possible with a Molten Chocolate Cake Mix that looks complex -- a combination of velvety chocolate cake and molten fudge center of premium bittersweet chocolate that rivals those served in the finest restaurants, yet is easy to prepare.
Everything but the ramekins (pastry dish for those who don't know kitchen speak) is included in a $24 kit (or two for $40) available at the front of the store in Ala Moana Center.
Just melt the chocolate and combine it with butter, water and the mix created by French pastry chef Jean-Yves Charon, and in 15 minutes you'll have a romantic treat that looks as if you slaved for hours.
Also worth trying is a $38 kit for making mini Triple Mousse Cakes, but there's no need to reveal all your talents all at once.
---
Gary sez...
The University of Hawaii's Asian Theatre program always excels with their Kennedy Theatre productions, and this weekend's opening of "Women Generals of the Yang Family" should be no different. Things should particularly pick up action-wise in the second act. Be sure to check out the performances of Jessica Jacob (who also does publicity for the UH Department of Theatre and Dance) as the widow Mu Guiying, Nicholas Logue as Xixia leader Wang Wen, and Dusty Behner as woman general Qiniang. See story on Page 6.
Joleen sez...
Who doesn't love that adorable -- but too curious -- monkey named George? The host of tales by Margret and H.A. Rey are such good, classic fun. Do you remember: George getting captured by The Man with the Yellow Hat; George eating a puzzle piece and landing in the hospital; George grabbing a balloon peddler's inventory and floating across the city; George riding a rocket ship and becoming the first monkey in space? The stories go on and on. Even though we can't imagine anything being better than the books, our family is excited to see George on the big screen. With Ron Howard producing, "Curious George" could become another family favorite.
Send questions, stories or other story ideas or comments to: Features, Honolulu Star-Bulletin, 500 Ala Moana Blvd., Suite 7-210, Honolulu, HI 96813 or e-mail
features@starbulletin.com
.
Please include your phone number.