---
FAST FACTS HAWAII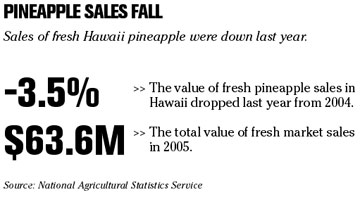 ---
HAWAII
Island Air adds 2 interisland routes
Regional carrier
Island Air
is expanding its interisland service with two new daily routes connecting Maui with Lanai and Kauai.
The airline will offer nonstop service between Kahului, Maui, and Lanai beginning April 2 to provide Lanai residents more travel options and to give guests of the Four Seasons Resorts a direct connection from Kahului.
On June 1, Island Air will begin a nonstop flight between Lihue, Kauai, and Kapalua, Maui.
One-way tickets for both routes will start as low as $69. Travelers who book on the Internet at www.islandair.com will receive a 10 percent discount on all fares.
Island Air offers 92 daily flights between Oahu, Maui, Molokai, Lanai, Kauai and the Big Island.
Matson to convert 1 of its ships
Matson Navigation Co. said yesterday it is sending out bids to begin conversion of one of its C-9 container ships, the MV Mokihana, to a combination roll on/roll off and container vessel to strengthen its position in Hawaii's vehicle-transport market.
The Alexander & Baldwin Inc. subsidiary, which competes with Horizon Lines and Pasha Hawaii Transport Lines, said the conversion is part of a $45 million project announced in June to increase frequency of service and capacity for Matson's auto customers.
A&B said last June it intended to convert two of its three C-9s to combination ships.
The new garage on the converted C-9 will carry up to 1,350 vehicles. The ship is expected to begin service in 2007, joining two other combination ships in Matson's fleet. Matson also has a chartered, dedicated roll on/roll off vessel Great Land, which it plans to return when the Mokihana is on line.
[HAWAII INC.]
NEW JOBS
»
Maryl Group Inc.
has appointed
Mark Kong
vice president of administration. He will be responsible for overseeing personnel, safety, and general administration on all islands. He has more than 12 years of construction experience.
» Central Pacific Bank has appointed Curtis W. Chinn executive vice president and chief credit officer. He will be responsible for overseeing all credit-related programs and overall credit quality for the bank. He replaces Douglas R. Weld, who resigned last year.
» Lahaina Store Grille & Oyster Bar has appointed Lawrence Klink executive chef and Kristine Fong sales director. Klink will oversee a staff of 40 food preparers. He most recently served as executive sous chef at the Sheraton Maui Resort. Fong will work closely with the company's general manager on sales efforts targeting Maui concierges and the visitor industry.
>> ResortQuest Hawaii has appointed Patrick Kozuma general manager of the ResortQuest Paki Maui Resort. He will be responsible for the management of the property and guest services. He has 29 years of Hawaii travel industry experience.
» EyeSight Hawaii has hired Elise Lew-Louie. She will be responsible for examining patients at both of its Honolulu and Maui locations. She has more than 15 years of experience in eye care.
» Aqua Hotels & Resorts has appointed Carolyn Watanabe director of revenue and reservations. She will be responsible for focusing on yield and revenue management to maximize the company's profit potential, and overseeing the staff and daily operations of the Waikiki office. She previously worked for Marc Resorts.
NATION
Las Vegas megaresort's cost rises
LAS VEGAS >>
MGM Mirage Inc.
, the world's second-largest casino company, said yesterday that its Project CityCenter megaresort in Las Vegas will cost $2 billion more to build than previously estimated.
The $7 billion price tag, an increase from the $5 billion estimated in September, reflects a push to make the resort more luxurious and is based on improved expectations of sales of condominium units, said Jim Murren, MGM Mirage president and chief financial officer.
The project now includes a $150 million to $200 million monorail and more than $100 million in walkways and roads, which together will link CityCenter with the company's other Strip properties such as Bellagio and New York-New York, Murren said.
Union says Delta pilots will strike
ATLANTA »
Delta Air Lines Inc.
pilots aren't mincing words anymore: The chairman of the union's executive committee said yesterday the pilots will strike if their contract is thrown out as part of the carrier's attempt to impose $325 million in concessions.
The chairman, Lee Moak, also told the Associated Press that the airline has informed the union that it believes the pilots' defined benefit pension plan will be terminated.
"If our contract is rejected, we will strike," Moak said in an interview, in his most definitive statement on the subject to date.
Business travel boosts Marriott's net income
Marriott International Inc.
, the largest U.S. hotel operator, said fourth-quarter profit rose 25 percent on an increase in business travel and higher rates. The earnings beat analysts' estimates.
Net income climbed to $237 million, or $1.07 a share, from $189 million, or 79 cents, a year earlier. Revenue rose 16 percent to $3.64 billion, Bethesda, Md.-based Marriott said yesterday in a statement. Marriott raised its 2006 profit forecast.
Revenue per available room gained 11 percent, driven by technology companies booking hotels in San Francisco and the suburbs of Boston and executive travel to Asia.
Cendant trial ends in hung jury again
HARTFORD, Conn. » For the second time, the fraud trial of Walter A. Forbes, the former chairman of the
Cendant Corp.
, ended in a mistrial after the jury announced yesterday that it had failed to reach a unanimous verdict in its 27th day of deliberations.
The mistrial occurs just as a similar accounting fraud prosecution of Enron is under way. In such complex cases, the jury can sift through hours of expert testimony on arcane financial procedures and the responsibilities of executives only to find itself unable to render a verdict.
All 6 Krispy Kremes in Houston will close
Krispy Kreme Doughnuts Inc.
, the second-largest U.S. doughnut chain, will close all six stores in Houston to end a dispute with a franchisee.
The closings are part of a legal settlement with store operator Lone Star Doughnuts Ltd., which sued the company last year saying Krispy Kreme refused to sell it ingredients. Krispy Kreme claimed it was owed $1 million by Lone Star. Krispy Kreme said it plans to reopen stores in Houston at an "appropriate time."