NFC-AFC PRO BOWL
Seahawks share Pats past
Quarterback Matt Hasselbeck and rookie linebacker Lofa Tatupu have known each other since childhood
A seven-year age difference is pretty big when you're a kid. But Seattle quarterback Matt Hasselbeck remembers the other time he shared an NFL locker room with Seahawks rookie linebacker Lofa Tatupu -- more than 20 years ago on the other side of the country.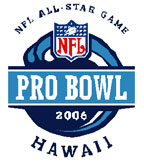 PRO BOWL
AFC vs. NFC
When: Sunday
Where: Aloha Stadium
Kickoff: 1 p.m.
TV: ESPN
Radio: KKEA 1420-AM
Hasselbeck and Tatupu, here representing the NFC champions in the Pro Bowl on Sunday, first met when they were children. Their fathers, tight end Don Hasselbeck and running back Mosi Tatupu, played together for the New England Patriots.
"Lofa's my youngest brother's age. When you're 8 it's not that cool to be hanging out with 4-year-olds, but I remember him," Hasselbeck said.
He has clearer memories of Lofa's father, the former Punahou star who once held the NFL record for most games played by a running back.
"He was the flea-flicker master," Hasselbeck said. "Whenever the Patriots were going to run a flea-flicker with Steve Grogan, they'd always give it to Mr. Tatupu and he'd flip it back. He was also the halfback-pass guy. Maybe that's why Lofa played quarterback in high school."
Even after Don Hasselbeck left the Patriots in 1983, the family kept a home in a small Massachusetts town near the Patriots base in Foxboro and the Tatupu family.
"(Tatupu's) from Plainville, I'm from Norfolk," Hasselbeck continued. "My younger brother Nathaniel, they would always play in their Pop Warner games against Lofa. Nathaniel got the better of him those times. There's a little bit of trash-talking that goes on between the families at times," he said with a smile.
"He's an athletic guy," Tatupu said of Nathaniel. "He's coming (for the Pro Bowl). I'm looking forward to seeing him."
Tatupu said he was blessed to grow up the son of an NFL player.
"It was great, all those guys to look up to. It's crazy now, to be in that same situation, going through what your dad went through and knowing how he felt."
Mosi Tatupu played in Super Bowl XX and the 1986 Pro Bowl. Lofa Tatupu matched those achievements as a rookie this season. Lofa, who was second in NFL defensive rookie of the year voting, said he and his father don't compare accomplishments.
"We don't talk too much about those things. I'm just grateful for the opportunity. I'm happy that he could come out and join me here," said Tatupu, who expected his father to arrive from the mainland yesterday afternoon. "We didn't get to spend much time together at the Super Bowl because it's a hectic week. Here and now, we're just ready to have fun.
"He'll be coming in today and showing me the sights."
Mosi Tatupu raised his family in the Boston area and continued to live there after his retirement from the Patriots in 1991.
Mosi's outstanding career at USC and NFL longevity didn't help Lofa when it came time for him to go to college five years ago. The Trojans passed. So did Hawaii.
"I was real excited (about UH). I thought I had an opportunity to come out and contribute to their squad and they told me no. I didn't suit their program," Tatupu said. "Over the years I've realized, hey, that's their livelihood and their job on the line, so if they feel that way about a player, that's the way they gotta go. I have no quarrels or qualms with that at all. You just gotta keep going on."
Tatupu did. He accepted a scholarship at I-AA Maine. After a season there, he transferred to USC and became the defensive centerpiece of two national championship teams. Tatupu left after 2004, a year early, for the NFL Draft.
Not everyone was convinced he was ready. But Hasselbeck said it didn't take long to see the Seahawks knew what they were doing when they picked him in the second round.
"I wasn't surprised that he had a great season. And he's a great kid and a really good player and we're really fortunate to have him," Hasselbeck said. "All the so-called experts were giving the Seahawks a hard time about drafting him so high. It really makes me happy when the draft experts are proved wrong. Lofa is probably a bigger example of that than anybody."
And proof that an NFL childhood doesn't guarantee an easy path to an NFL career.
"It's been a series of 'no, no, no' or 'you can't' and it just seems to work out for the better each time," he said. "I'm just thankful for all the people who have helped me along the way," Tatupu said.
As for losing in the Super Bowl last Sunday, Tatupu is looking ahead.
"It's already a new year," he said. "Congratulations to Pittsburgh and everything. They won it, they're the champs. We're looking forward to next year."