2 dead, 1 injured after car flips
Police cite speeding, which neighbors say is all too common on the rural roadway
Two people were pronounced dead and another person remains in critical condition after their car struck a utility pole on the Leeward Coast early yesterday.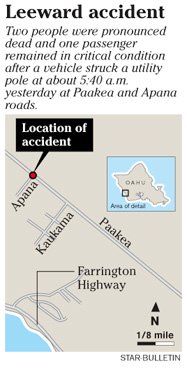 Police said a 19-year-old Waipahu woman was driving at a high rate of speed on Paakea Road in a white 2004 Nissan Maxima sedan at about 5:40 a.m. Also in the car were an unidentified female front-seat passenger and a 16-year-old Honolulu male rear-seat passenger.
Police said the vehicle went airborne over a rise in the roadway and struck a raised concrete curb at the corner of Paakea and Apana roads.
The vehicle flipped over on its left side and slid into a street sign, a fence and a utility pole, breaking the pole in half.
Police said the roof of the vehicle collapsed and crushed both the driver and front-seat passenger. They were pronounced dead at the scene at about 6:30 a.m. The names of the victims have yet to be released pending positive identification and notification of family members, according to the Department of the Medical Examiner.
Jacob Barrow, who lives in the area, said the rear-seat passenger was hanging outside the vehicle and yelling for help. Police said he was taken to the Queen's Medical Center in critical condition with internal injuries and a large laceration to his midtorso.
Both the driver and the front seat passenger were wearing seat belts at the time of the crash. The airbags did not deploy. Police said the rear-seat passenger was not wearing a seat belt.
Some area residents said the car was wrapped around the pole.
Speed is a major problem on the rural road, exacerbated by a significant dip on Paakea Road near Apana Road, according to area residents.
Resident James Antone said some speed over the dip and "go flying" in the air. Antone, who has lived in the neighborhood for more than 50 years, said at least a dozen accidents have occurred on the roadway due to speeding.
"This is a deadly road," said Antone, who heard a loud "boom" as he was getting ready to buy ice from a nearby store to prepare for a Super Bowl party. His wife, Lita, said she told him to wait for her when they heard the crash. She called 911.
"So many people speed on this road, it's not even funny," Lita Antone said, adding that she fears something might happen to her or a family member one day. "I want to move out. I'm scared already," she said.
The posted speed limit along Paakea Road is 25 mph. Lita Antone said some speeders hit 100 mph.
Apana Road resident Elsie Chang said the crash sounded like "tons of metal dropping from the sky."
Some area residents said street lighting and a sign warning motorists of the dip is needed. "There have been so many accidents here. It's awful," Chang said.
The crash knocked out power for 1,200 customers in the area. Power was restored to a majority of the customers within a half-hour, said Pepi Nieva, spokeswoman for Hawaiian Electric Co. Power for eight remaining customers was expected to be restored by last night.