SUPER BOWL XL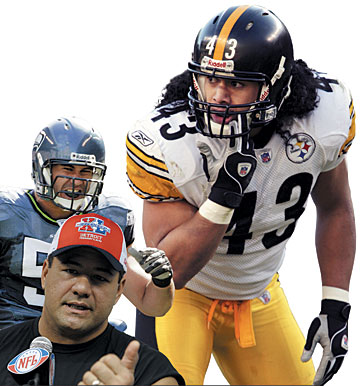 ASSOCIATED PRESS PHOTOS;
COLLAGE BY KIP AOKI /
KAOKI@STARBULLETIN.COM
Clockwise, from right: Pittsburgh's Troy Polamalu and Kimo von Oelhoffen will take on Seattle's Lofa Tatupu in today's Super Bowl.

Pacific Islanders will play big part in Super Bowl XL
DETROIT » When the Seattle Seahawks take on the Pittsburgh Steelers today in Super Bowl XL, the Red Raiders of Kahuku will have as many representatives in the game as the storied college program at the University of Southern California.
SUPER BOWL XL
PITTSBURGH STEELERS VS. SEATTLE SEAHAWKS
Kickoff: Today, 1:25 p.m.
TV: KITV;
Radio: KKEA 1420-AM
While Seattle linebacker Lofa Tatupu and Steelers safety Troy Polamalu will carry the torch for the 11-time college football champions, their respective teammates Itula Mili and Chris Kemoe'atu will do the same for the four-time Hawaii state football champs.
In the biggest game, on the biggest stage, the influence of players from Hawaii and throughout Polynesia is too strong to ignore.
"It just shows that we have a lot of good players, a lot of young talent there that comes out from that place," Mili said.
Need more proof?
There is Polamalu's teammate Kimo von Oelhoffen, the Steelers' starting defensive end who hails from Molokai and started his college career at the University of Hawaii before finishing at Boise State. And rookie defensive end Shaun Nua -- who may someday replace von Oelhoffen on the defensive live -- calls Pago Pago, American Samoa, home.
Across the sideline, Seattle backup offensive lineman and former UH standout Wayne Hunter will have his alma mater, Radford High, hoping that he gets a chance to get in the game.
"It feels good," said Hunter. "The islands -- all they're known for is palm trees and Waikiki -- so it's kind of good that we can get that football name out there and just try to get our culture more known throughout the U.S., especially all the way out here in Detroit."
"The bottom line," said von Oelhoffen, "is they're just good football players, regardless of whether they're Hawaiian or Polynesian."
Kahuku is especially well represented in the NFL, with six players who were on teams' rosters at various times this season -- among the most of any high school in the country. On opening day of the 2005 season, only Westlake High School in Atlanta had as many active players on NFL rosters, according to the NFL.
Other Red Raiders who spent time in the league this year were Toniu Fonoti of the Minnesota Vikings, Maake Kemoe'atu (Chris' brother) of the Baltimore Ravens, Aaron Francisco of the Arizona Cardinals and Chris Naeole of the Jacksonville Jaguars.
All strive to be where Mili and Chris Kemoe'atu are now.
Kahuku coach Siuaki Livai said this week that he did not have a chance to talk with his former players because of their busy schedules, but he knows one thing for sure: "We're going to have a winner on Sunday."
Regardless of where they are from, all of the Hawaii and Polynesian players speak of a special kinship, whether it's the way they wear their hair -- Polamalu is perhaps the most recognizable on game day -- or their love of ukulele music, Spam and other things that remind them of the islands.
"Sometimes, when we're together, we start just speaking pidgin and stuff like that and that's good, too," Mili said.
And the players all speak reverently of their role models growing up, players with Polynesian roots such as Jesse Sapolu, Junior Seau and most notably this week, Tatupu's father, Mosi, the former Punahou star who went on to Southern California and a 14-year career in the NFL.
Tatupu, who played in Super Bowl XX with the New England Patriots team that lost to the Chicago Bears 46-10, is now a coach and teacher at King Philip Regional High School in Wrentham, Mass.
What lessons did the father pass along?
"Just that success only comes one way -- that's through hard work," Lofa Tatupu said. "Just continue to try to improve on getting better and it'll happen."
The current crop of players from the Pacific now hope to carry on as role models.
"That gap that used to be there between making it from high school to college and college to NFL -- the bridge is starting to be there for a lot of young talent and they're starting to see that," said Mili. "By seeing players like myself, players that have gone before me, and are still here as well ... for my high school, when kids see that, they see that there's a possible bridge they can cross because they see us on the other side."
For players in Nua's home of Pago Pago, it's about more than just playing football, too.
"Parents are starting to understand that this could be one of the tools for (their children) to get an education," Nua said. "Every kid knows that that's an opportunity for them to get off the island and go look for education."
Growing up in Pago Pago, Nua remembered not having many opportunities to watch football.
According to the NFL, Super Bowl XL is being broadcast in 32 languages to 234 countries and territories, including American Samoa, Chuuk, Fiji, Johnston Atoll, Kosrae, the Marshall Islands, Micronesia, Palau, Papua New Guinea, Saipan and Wake Island, to name a few.
What will it mean when those regions see Polynesians playing prominent roles on both teams, particularly on defense with Lofa Tatupu and Polamalu?
"That's huge for our people," Nua said. "It's huge for the NFL, too. It makes me happy. It just motivates me more.
"If it motivates me, it should motivate every other Polynesian at home wondering if it's possible to make it. You know it's possible. It's a great thing."
---
Star-Bulletin reporter Dave Reardon contributed to this story.