---
FAST FACTS HAWAII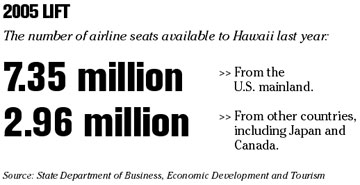 ---
NOT CUTTIN' IT
Flight attendants protest TSA decision on sharp objects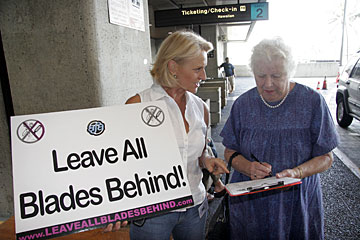 NATION
Jury selected in Enron fraud trial
HOUSTON » A jury of 12 Houston-area residents was selected yesterday for the trial of former
Enron Corp.
chiefs Kenneth Lay and Jeffrey Skilling, accused of orchestrating the massive fraud that came to symbolize an era of corporate scandals.
U.S. District Judge Sim Lake told jurors: "I can assure you this will be one of the most interesting and important cases ever tried."
Opening statements were scheduled this morning in the trial -- perhaps the premier criminal case to emerge from corporate scandals that began when Enron went under in 2001.
While thousands of Houston-area residents were laid off in the flame-out of the energy giant, the judge made clear yesterday that the jury box was not the place to avenge those who lost jobs or investments. Lay, 63, and Skilling, 52, appeared relaxed and ready as they arrived at a federal courthouse here, flanked by lawyer.
Continental flight attendants in deal
HOUSTON » Flight attendants for
Continental Airlines Inc.
have approved an agreement that calls for $72 million in labor concessions, according to the airline and the union.
Continental said it was told late Sunday that the deal was approved after flight attendants voted in Houston, Cleveland and Newark, N.J. Union leaders were expected to certify the results today. Continental has about 8,600 flight attendants.
The flight attendants were the last major group of Continental employees to approve concessions to the airline, which lost $68 million last year. The other groups, including pilots and mechanics, had already approved $418 million in concessions.
$135 million parachute for banker
CHARLOTTE, N.C. » Wallace D. Malone Jr., who became
Wachovia
's vice chairman just 15 months ago after selling it
SouthTrust Bank
, will receive a golden parachute worth about $135 million when he steps down from the company today.
The bulk of those retirement benefits was awarded to Malone, who is 69, during his long tenure as chief executive of SouthTrust, but the benefits were accepted by Wachovia's board as part of its $14 billion buyout in November 2004.
The retirement benefits come on top of the $473 million worth of Wachovia stock he now holds from the sale of SouthTrust, including a $10 million stock grant last year.
ATA gets OK to get out of bankruptcy
INDIANAPOLIS » A federal judge yesterday cleared the way for ATA Airlines and its parent company
ATA Holdings Corp.
, to emerge from bankruptcy after more than 14 months of federal financial protection.
The Indianapolis-based carrier is expected today to formally announce the date it will emerge after final paperwork is filed, said attorney James Carr, who represented ATA in federal bankruptcy court.
During the first 11 months of 2005, ATA lost $75.7 million on revenue of $1.02 billion. It has about 3,000 full-time employees, down from 7,000 in October 2004, SEC filings show.
WORLD
Japan jobs on offer at 13-year high
TOKYO » Everyone who wants a job in Japan can have one for the first time in 13 years.
The job-to-applicant ratio in December advanced to 1 from 0.99 in November, the statistics bureau said in Tokyo today, adding to evidence the nation's expansion will be sustained after more than a decade of sputtering growth. Spending by households headed by a salaried worker climbed 0.4 percent.
Today's figures confirm Prime Minister Junichiro Koizumi's assessment that private spending is driving expansion. Peter Morgan, chief economist at HSBC Securities Japan Ltd. said that from now on, Japan "should provide more of a role in driving global growth."
Fairmont Hotels buyer will pay $3.9B
TORONTO » A group of investors including Saudi Prince Alwaleed bin Talal has agreed to buy luxury hotel chain
Fairmont Hotels & Resorts Inc.
for about $3.3 billion in cash, trumping an earlier bid by billionaire investor Carl Icahn, the company said yesterday.
Including assumed debt, Fairmont said the value of the deal is about $3.9 billion.
The Toronto-based chain owns and operates 87 hotels with about 34,000 guest rooms in Canada, the United States, Mexico, Bermuda, Barbados, Britain, Monaco, Kenya and the United Arab Emirates. It also manages the Fairmont Orchid hotel on the Big Island.
Kingdom Hotels is owned by Saudi Prince Alwaleed bin Talal bin Abdulaziz Alsaud, a global investor listed by Forbes magazine as the world's fifth-richest person with a net worth of $23.7 billion. He also owns 23 percent of Toronto-based Four Seasons Hotels Inc.