| | |
| --- | --- |
| JAN. 27/28/29 | |
Know What Came Before
Enjoy today's hip-hop, but don't forget its roots, says Afrika Bambaataa
JUST A few months after hip-hop pioneer DJ Kool Herc graced Honolulu with his presence, local fans are being blessed with an appearance by another living legend.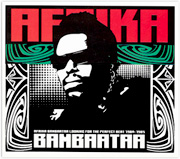 When Afrika Bambaataa gets on the decks at NextDoor this weekend, the triad will be two-thirds complete. Once Grandmaster Flash decides to play a few records in our fair city, all three of the main players in the genesis of hip-hop will have made an appearance in Hawaii.
And why is that important? For Bambaataa, it's simple. You can't fully appreciate the breadth of what's out there today without taking the time to understand what came before.
It's what he calls the fifth element of hip-hop -- knowledge of the culture and an awareness of the "true school," a balance between classic and cutting edge.
Afrika Bambaataa
Place: NextDoor, 43 N. Hotel St.

Time: 9 p.m. Saturday

Tickets: $25

Call: 548-NEXT
"WE AIN'T telling you got to get rid of all your pimps, players, hos and all them type records that they keep playing," Bambaataa said, while relaxing in a Waikiki hotel room. "If you play 50 Cent, we want to hear Common Sense. If you play Missy, we want to hear some (Soul) Sonic Force. We still want to hear the James Brown, the Kraftwerk, the Chemical Brothers, the breakbeat DJs, the rappers, the spoken word, the Last Poets. Play it all."
His biggest beef with mainstream music isn't the content. Instead, he worries that the next generation will forget the groundwork.
Will they understand that guns and drugs have always been part of the culture, all the way back to Bambaataa's days in the early '70s as a leader of New York's notorious Black Spades gang? Have they paid enough attention to realize his longevity isn't due to intimidation and violence, but because of the organization he started with ex-Black Spades members -- the Zulu Nation -- and its universal message of "peace, love, unity and having fun?"
Bambaataa hopes so. Once he's hooked up his laptop to the turntables at NextDoor, he expects to look up and see a bunch of people ready to party.
"We don't want them just looking at me, we want to know the island how it do," he said.
MUCH OF the buzz surrounding Bambaataa's disdain for what some call "hip-pop" is what he sees as collusion between mainstream radio and television. The popularity of Internet messaging and chat boards has only fueled the speed in which his ideas have spread around the globe.
"What I'm doing for this year ... is going all over and speaking to different people, like in Hungary, Poland and a couple of other places, telling everybody we're trying to raise gods and goddesses up to bring the balance back to hip-hop culture," he said.
To disregard the past is "an evil force," by his description. "All you hear is certain rap records or a certain time period to the present, and forget about all the years before that and forget about what was hip-hop really made from, from the true pioneers and true architects of the music."
Given a little more time to think, Bambaataa delves even deeper, explaining how different genres of music all need to remember their roots.
"Even the rock music," he said. "If you're playing Korn or Limp Bizkit, you still want to hear the Rolling Stones, the Beatles."
His appreciation for different styles of music is nothing new. When his electro-funk style became popular in the early '80s, Bambaataa was the first artist to bring hip-hop culture to Europe. Aerosmith and Run DMC get all the credit for melding rock and rap with 1986's "Walk This Way," but Bambaataa had already performed that kind of collaboration with punk rocker John Lydon on "World Destruction" in 1984.
"They never set the record straight," Bambaataa said. "But the first one was definitely the John Lydon and Afrika Bambaataa record."
ALTHOUGH HE'S approaching middle age, like many other baby boomers, Bambaataa refuses to go quietly and let people forget his accomplishments. "Planet Rock" remains one of the most popular club anthems, and any local DJ worth his salt has a copy on wax or burned to .mp3.
As he continues to travel the world and keep things funky, Bambaataa has also found time to get into the recording studio. Last year saw the release of "Dark Matter: Moving at the Speed of Light" with the Millennium of the Gods, and he also worked with Time Zone to release "Everyday People," a breakbeat album with remixes of the Sly and the Family Stone classic and Dionne Warwick's "Walk on By."
And like most rappers today, he's got a clothing line available on the Zulu Nation Web site (www.zulunation.com).
Just don't ask him about retirement.
"That's like telling Mick Jagger to ... not play no rock music," bellowed Bambaataa. "I'm still trying to bring peace, unity and self-respect to the people of planet Earth."