---
FAST FACTS HAWAII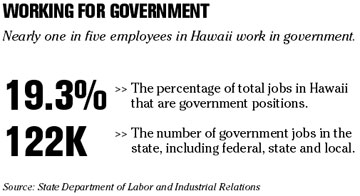 ---
HAWAII
Central Pacific raises dividend 11 percent
Central Pacific Financial Corp.
, which earlier this week reported a 47.4 percent increase in fourth-quarter earnings, announced yesterday it was increasing its dividend 11 percent to 21 cents a share from 19 cents a share.
The payout would raise the bank's dividend yield to about 2.3 percent. The dividend will be paid March 17 to shareholders as of Feb. 17.
Barnwell partnership gets $2.5M
Barnwell Industries Inc.
's 77.6 percent-owned land development partnership,
Kaupulehu Developments
, has received $2.5 million from the sale of the first of 80 single-family lots in North Kona under development by
WB KD Acquisition.
The property borders the ocean near Hualalai Resort at Kaupulehu.
WB KD Acquisition, which acquired the leasehold interest from Kaupulehu Developments in 2004, had an agreement to pay Kaupulehu Developments a percentage from the sale price of the lots as well as a minimum payment.
Barnwell received only 7 percent of its revenue in 2005 from land holdings. Its oil and natural gas operations in Alberta, Canada, generated 74 percent of sales last year.
A&B maintains quarterly dividend
Alexander & Baldwin Inc.
, the parent of Matson Navigation Co., announced yesterday it was keeping its quarterly dividend at 22.5 cents for the 33rd consecutive quarter.
The dividend, which represents a 1.7 percent yield, will be paid March 2 to shareholders as of Feb. 17. The company's stock has been trading near its all-time high of $55.40 reached last month.
NATION
Federated's profit outlook plunges
CINCINNATI »
Federated Department Stores Inc.
, still working through store conversions and other changes from its acquisition of former rival May Department Stores Co., yesterday slashed its profit outlook for the year and said sales at existing stores would be down in the first quarter.
The nation's biggest department store operator and the parent of Macy's and Bloomingdale's projected a loss of 5 cents to 15 cents per share in the quarter that ends April 30 on sales of $5.75 billion to $6 billion. That would be far off Wall Street expectations of profits of 70 cents a share.
Servers, Windows, boost Microsoft profit
SEATTLE » The successful launch of a new server product and robust demand for personal computers powered by its Windows operating system helped
Microsoft Corp.
post a 5 percent increase in fiscal second quarter profits.
For the three months ended Dec. 31, the Redmond-based software maker reported earnings of $3.65 billion, or 34 cents per share, up from $3.46 billion, or 32 cents per share, in the same period last year.
The results included a one-time tax benefit of $108 million, or 1 cent per share. Without the one-time benefit, Microsoft met the expectations of analysts polled by Thomson Financial, who were projecting earnings of 33 cents per share on revenue of $11.96 billion.
Microsoft said revenue rose 9 percent to $11.84 billion, up from $10.82 billion in the same period a year earlier.
WORLD
Sony turns around profit forecast
TOKYO »
Sony
, the struggling electronics giant, reported a surprising 17.5 percent increase in quarterly net profit yesterday and reversed its fiscal year forecast to a profit from a loss, leading some to wonder if the company was seeing the first glints of a turnaround.
Robust earnings at divisions like the cell phone maker Sony Ericsson and the music unit Sony BMG contributed to a net profit of $1.5 billion in the three months that ended on Dec. 31. But the biggest gains came in Sony's bread-and-butter electronics division, which accounts for 70 percent of the company's revenues. Sales in the electronics unit were lifted by flat-panel televisions and its PlayStation Portable.