| | |
| --- | --- |
| | Newswatch |
---
UH VETERAN SAYS GOODBYE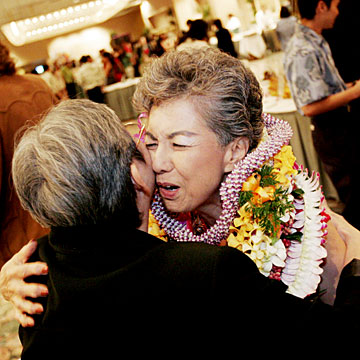 Panel seeks 'creative' funding for transit
Mayor Mufi Hannemann has formed a committee to look into and come up with recommendations for "creative" financing options other than taxes for the Honolulu's proposed mass transit system.
"While much of the funding to underwrite this project will come from public tax revenues and federal appropriations, we hope this committee can identify opportunities for private investment and participation and any other avenues that would broaden financial support for this rail system," Hannemann said in a news release.
Members of the Transit Finance Advisory Committee include Walter Dods, former chairman and chief executive officer of First Hawaiian Bank; Mark Fukunaga, chairman and chief executive officer of Servco Pacific; Joseph J. Kim, chairman of Equinox Holdings; Constance Lau, president of American Savings Bank; Dee Jay Mailer, chief executive officer of the Kamehameha Schools; Sir Deryck Maughan, managing director of KKR, chairman KKR Asia and Hannemann's brother-in-law; and Donald M. Takaki, chairman and chief executive officer of Island Movers and Bank of Hawaii board member.
The city is currently undertaking a study of four mass-transit alternatives that also include rail transit. The analysis of transit alternatives is expected to be completed by November so the City Council can choose one option by the end of the year before a one-half percent general excise tax surcharge is levied starting Jan. 1.
Woman sentenced to prison for 'ice'
A federal judge sentenced a 33-year-old woman to 6 1/2 years in prison yesterday for distributing methamphetamine, the U.S. Attorney's Office said in a news release.
Judith Esmena, 33, pleaded guilty to two counts of distributing the drug after making six sales to an undercover Honolulu police officer, according to the news release.
She was arrested in March 2005 and an additional 250 grams of methamphetamine was found in her car.
As part of the investigation, more than $300,000 worth of drug-related cash was seized from her house, safe deposit boxes and bank accounts and forfeited.
Bus stops shifting around Ala Moana
Construction work at Ala Moana Center will require the temporary relocation of several bus stops on Kona Street starting Feb. 2.
Three bus stops will move slightly Ewa on Kona Street. They are:
» Bus Stop No. 1: (City/Waikiki Bus Stops) Routes 6UH, 8, 17, 18, 19, 20 and 58.
» Bus Stop No. 2: (Central/Leeward Bus Stops) Routes C, 50, 40A, 43, 52, 53 and 62.
» Bus Stop No. 3: (Windward Bus Stops) Routes 55, 56, 57, 57A, 65, 88A.
The bus stop for routes No. 5 (Ala Moana-Manoa) and No. 6 (Pauoa Valley-Westbound) will move to the Ewa-mauka corner of the intersection of Kapiolani Boulevard and Keeaumoku Street, in front of the Pacific Guardian Tower.
For more information, call TheBus at 848-5555 or visit www.TheBus.org, where a map is also available.
Isle Marine killed in accident in Iraq
CAMP LEJEUNE, N.C. » A man from Hawaii was one of two Marines killed in a vehicle accident about 45 miles west of Baghdad, Iraq, the Defense Department said yesterday.
Both Marines were assigned to the Anti-Terrorism Battalion, 4th Marine Expeditionary Brigade, at Camp Lejeune. The accident was being investigated and other details weren't released.
The Marines were identified as Pvt. Lewis T. D. Calapini, 21, of Waipahu, and Lance Cpl. Joshua A. Scott, 24, of Tunnel Hill, Ga. They died Monday.
Calapini attended Waipahu High School from 2000 to 2002.
Jellyfish sting 100 people in Waikiki
Fewer box jellyfish were sighted at Waikiki and Ala Moana Beach today than yesterday, according to the cityís Ocean Safety Division.
By 8 a.m. today 20 jellyfish were found in Waikiki and five were found at Ala Moana. Warning signs were posted in both areas.
Nearly 100 people were stung in Waikiki yesterday and five people were stung at Ala Moana, according to Ocean Safety.
Officials closed the beach at Hanauma Bay yesterday after 20 jellyfish were spotted before 8 a.m.
Hanauma Bay is normally closed on Tuesdays. Jellyfish come into Waikiki, Ala Moana and some west and north shore beaches about 10 days after a full moon.
Officials expect the jellyfish influx to be nearly over by tomorrow.





| | |
| --- | --- |
| | Police, Fire, Courts |
---
HONOLULU
Help sought in finding bank robbery suspect
Police are asking for help in finding a suspect in yesterday morning's robbery of the Kapahulu branch of Central Pacific Bank.
Police said a man, described as in his 30s, walked into the bank at 909 Kapahulu Ave. about 10:50 a.m.
He handed the teller a demand note and fled with an undisclosed amount of money, police said.
The man did not show a weapon.
The suspect is described as 5 feet 4 inches tall, with a slim build, weighing about 160 pounds, with dark hair.
He was wearing a black jacket, gray pants and a visor, color unknown.
Anyone with information is asked to call CrimeStoppers at 955-8300 or *CRIME on a cell phone.
Free cell calls are provided by Cingular, Nextel Hawaii, T-Mobile and Verizon Wireless Hawaii.
Woman arrested in stolen check cashing
Police arrested a 20-year-old woman after she allegedly cashed a stolen $1,400 check from her former place of employment.
Police said the suspect had been recently terminated from Sugar Cane Realty in Waianae when she allegedly stole the check and cashed it. She was arrested yesterday for investigation of second-degree forgery and then released pending an investigation.

Man, woman arrested for robbery in Manoa
Police arrested a man and a woman yesterday in connection with a burglary/robbery case in Manoa last month.
The incident took place at about 12:15 a.m. on Dec. 16. 2005 when a 63-year-old man found another man in his home, police said. The homeowner and the intruder struggled before the intruder fled with some of the manís property, police said.
Police later found drugs and identification belonging to a woman who allegedly had been with the intruder and had left her things in the victimís house near a rear window where glass louvers had been removed.
Police identified a 41-year-old man and a 38-year-old woman as suspects in the case and arrested them yesterday for investigation of second-degree robbery and drug offenses.
NEIGHBOR ISLANDS
Big Isle boy charged in burglary, drug case
Big Island police arrested and charged a male juvenile Monday suspected in recent burglaries in the Kona area.
He was charged with three counts of burglary and promoting a dangerous drug.
A homeowner reported to Kona police that he saw the boy running from his home 5:15 p.m. Saturday, police said.
Patrol officers checked the neighborhood and found and arrested the boy, who had property from the home and two other residences, along with 2.1 grams of psilocybin, a compound derived from a type of mushroom, which is a hallucinogen.
The juvenile was transferred to the Hawaii Youth Correctional Facility on Oahu.
Police said the Prosecutor's Office is looking into the possibility of prosecuting the juvenile in Circuit Court as an adult because of the nature and circumstances of the investigation.
Anyone with information on this case is asked to call the Juvenile Aid Section at 326-4646, ext. 230, or the non-emergency police number at 935-3311.
EAST OAHU
2 tourists rescued after watercraft fails
Fire rescue crews pulled to safety a man and woman in their 20s who had been riding on a personal watercraft yesterday in the Portlock area.
When fire personnel arrived shortly after 6:39 p.m., the New York man and the female visitor from Japan were found inside the China Walls area at least a quarter-mile offshore, said fire Capt. Kenison Tejada.
Friends of the two called the Fire Department when they failed to return on time.
The man was found in the water and was trying to swim to shore, while the woman remained on the watercraft.
Tejada said the man had gotten knocked off the watercraft and could not restart it. The two were subjected to the surf, he said.
The two were brought to shore uninjured.