| | |
| --- | --- |
| | Island Mele |
---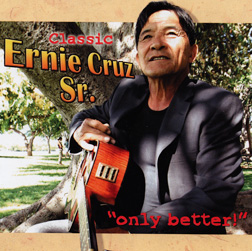 "Classic 'Only Better' "
Ernie Cruz Sr.
(Cenco)
It's been years since a local musician last released anything that could be described as pure, unpretentious country music. Warren Johnson did it big time in 1988 with "Never Been Loved," and Jim Ed Norman and Nani Lim Yap honored the musical traditions of the paniolo with "Na Mele Paniolo: Songs of the Hawaiian Cowboy" in 1997. The extreme rarity of country music recordings mad here makes this album by the patriarch of the musical Cruz family welcome indeed. First, because Cruz is a legitimate country singer and, second, because he sings with such a natural authenticity, his choice of other artists' hits make the album worth hearing.
Cruz's first song, "Welcome to My World," is basic barroom stuff, but other selections like "Life's Railway to Heaven," "I Don't Need a Thing at All" and "All My Friends Are Gonna Be Strangers," provide the payoff.
Few artists do well redoing well-known major hits, but while Cruz isn't the first to put a country spin on "Save the Last Dance for Me," it earns a passing grade. The biggest surprise though is his acoustic rendition of "Johnny B. Goode." With son John Cruz on lead guitar, the song rocks, and the impromptu laughs and ad libs make this back-porch treatment of Chuck Berry's musical signature worth hearing.
---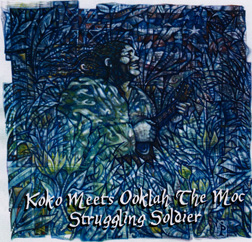 "Struggling Soldier"
Koko Meets Ooklah The Moc
(Ghetto Circus)
No, this isn't a concept album imagining an encounter between the local roots reggae band and the world's best known female gorilla. Koko is a previously unknown local reggae singer and lyricist who teamed up with the band to record his first full length album. Koko (born Cody Nemet) names Ooklah's Ryan "Jah Gumby" Murakami as his "true mentor," and the group is credited with doing the "musical interpretation" of Koko's original songs; Murakami and vocalist Kali Navales also helped out with the lyrics of two of the songs.
All this is good news for fans of roots reggae. Ooklah has solid credentials as unpretentious reggae musicians, Koko meshes perfectly with Navales on lead vocals, and his ukulele licks add a welcome hint of Hawaii to his tales of "tribulation & personal sufferation." And give the vocalists bonus points for not lapsing into heavy Jamaican accents!
---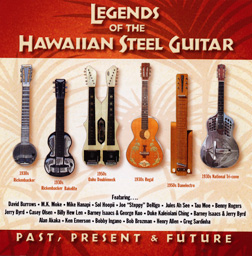 "Legends of the Hawaiian
Steel Guitar"
Various artists
(HanaOla)
The label's anthologies can almost always be recommended without reservation for their state-of-the-art restoration of vintage recordings, along with detailed historical annotation. This one, although superior to most of the anthologies released by other labels, falls below HanaOla's usual standards.
Steel guitar fans on a budget should take note that most of the unquestionably significant recordings have been previously reissued in 1999 on the label's anthology, "History of the Hawaiian Steel Guitar 1927-1950." The other recordings that fill out the album are a hodge-podge. While Barney Isaacs and Jerry Byrd are accurately described as "legends," that accolade seems premature for others.
The other reason for caution is the liner notes. Harry B. Soria Jr., annotator of the '99 album, wrote a detailed history of the steel guitar, the artists, and the tunings they used on the recordings. On "Legends," Aloha Joe provides much less information, particularly the selections that Soria didn't write about, although he does take the time to mention his popular online radio show and Web site.
John Berger
, who has covered the local entertainment scene since 1972, writes reviews of recordings produced by Hawaii artists. See the Star-Bulletin's Today section on Fridays for the latest reviews. Reach John Berger at
jberger@starbulletin.com
.