The Bloomberg /
Star-Bulletin Index
---
Hoku jumps 14%
Hoku Scientific Inc.
, which has posted its fourth straight profitable quarter, rose 14.2 percent in a holiday-shortened week to lead the way in the Bloomberg Honolulu Star-Bulletin index. The developer of fuel-cell technologies closed yesterday at $9.92, its highest level in more than two months.
Barnwell Industries Inc., coming off of two straight years of 100 percent-plus returns, gained 4.9 percent to $23.34.
Cyanotech Corp., which needs to get its stock to $1 or higher to avoid being delisted from the Nasdaq SmallCap Market, rose 1.3 percent to 64.2 cents.
The Bloomberg / Star-Bulletin Index is a price-weighted index designed to measure the performance of Hawaii-based companies. The index was developed with a base value of 100 as of December 31, 1999. A chart of the index which shows the weekly performance of its members is published weekly in the Honolulu Star-Bulletin.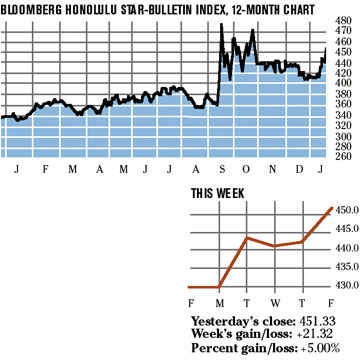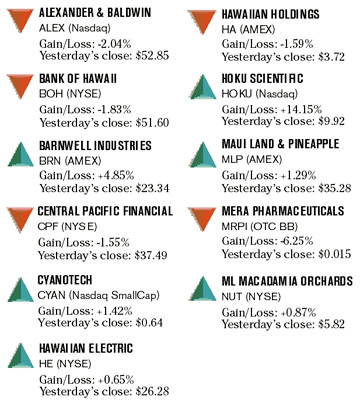 SOURCE: BLOOMBERG NEWS / STAR-BULLETIN GRAPHIC