---
FAST FACTS HAWAII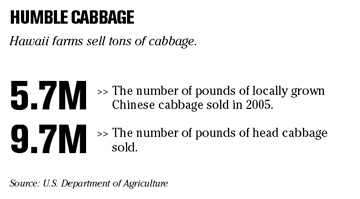 ---
HAWAII
Roundtable elects Carey leader
David Carey, head of local hotel company
Outrigger Enterprises
, has been elected chairman of the Hawaii Business Roundtable and will serve for the next 18 months.
Carey said improving public education and sustaining economic development will continue to be key priorities for the nonprofit, which is comprised of the CEOs of 50 major companies in the state. He succeeds Don Horner, president and chief executive of First Hawaiian Bank.
NATION
Ex-AIG chief can see critical report
NEW YORK » A state judge here has ruled that Maurice R. Greenberg, the former chairman and chief executive of the insurance giant
American International Group
, has the right to see an extensive internal report about the accounting issues that led to his ouster.
While the ruling by Justice Charles E. Ramos of state Supreme Court in Manhattan was not a significant legal victory, Greenberg's lawyers are expected to use the report to build their defense against the New York attorney general, Eliot Spitzer.
Spitzer sued Greenberg, AIG and another former top executive in May, accusing them of embellishing AIG's financial results and misleading regulators. Greenberg was forced out in March.
Google shares post biggest drop ever, erasing billions
Shares of
Google Inc.
had their biggest drop ever after the company was sued by the U.S. Justice Department to hand over information on Web searches and as concern mounted that sales growth may slow.
Google, which more than doubled last year, fell 8.5 percent as earnings shortfalls drove U.S. stocks to their largest decline in two years. The stock dropped 14 percent in the past three days and the company's market capitalization has tumbled $20 billion, more than the entire value of Amazon.com Inc.
Shares of Mountain View, Calif.-based Google began the decline Wednesday after Yahoo! Inc.'s revenue gains from search missed analysts' estimates and two analysts recommended selling Google stock. The results from Yahoo, No. 2 in Internet search behind Google, sparked concerns that growth is slowing. A suit by the Justice Department yesterday added to concerns that some users may slow their online searching.
Shares of Google dropped $36.99 to $399.46 in Nasdaq Stock Market composite trading, closing below $400 for the first time in two months.
Morgan Stanley exploring deal with BlackRock
Morgan Stanley
, eager to expand its asset-management unit, may buy or form a new company with bond investor
BlackRock Inc.
to become the largest money manager among U.S. securities firms, according to a person with direct knowledge of the talks.
Morgan Stanley has discussed acquiring a majority stake in New York-based BlackRock, the third-largest U.S. bond manager, the person said. They've also explored merging their investment businesses into a new venture controlled by Morgan Stanley, the world's second-largest securities firm by market value.
Ameriquest reaches $325 million settlement
LOS ANGELES » The parent company of mortgage lender Ameriquest has agreed to pay $325 million to settle investigations into its practices by attorneys general in several states, a person familiar with the terms of the agreement said late yesterday.
Under the terms of the settlement, ACC Capital Holdings Corp., owner of Ameriquest Mortgage Co., agreed to pay $295 million toward restitution to consumers and $30 million to cover legal fees and other costs, said the person, who asked not be identified because terms of the agreement have not been formally announced. ACC did not admit to any wrongdoing as part of the deal, the person said.
Ameriquest issued a statement confirming a settlement, but without releasing the terms.
Judge urges Northwest unions to make deals
NEW YORK » U.S. Bankruptcy Judge Allan Gropper turned up the pressure on the pilots and flight attendants unions at
Northwest Airlines
yesterday, urging them to reach concessionary deals with management to ensure the airline's survival.
"I look on Northwest as a very troubled airline," Gropper said after listening to four full days of testimony about the carrier's precarious financial condition. It has been losing $4 million to $5 million a day in recent months, and its financial expert said it must spend up to $11 billion to replace the oldest fleet in the airline industry.
WORLD
Iran pulling accounts from Europe
TEHRAN, Iran » A defiant Iran announced yesterday it has begun pulling its foreign currency accounts out of European banks to protect its assets from possible U.N. sanctions over its nuclear program.
As analysts estimated the amount of those funds at up to $50 billion, Iran also called for a reduction in OPEC oil production -- raising the possibility that the country would use oil in its standoff with the West. Iran pumps about 4 million barrels of oil a day, making it the second largest producer in OPEC after Saudi Arabia.
Underlining his challenging stance, Iran's hard-line president, Mahmoud Ahmadinejad, held a meeting in Damascus, Syria, on Friday with leaders from the Palestinian militant groups Hamas and Islamic Jihad.
The two governments expressed support for Iran's right to the peaceful exploitation of nuclear power and criticized what they called the "selective and double-standard policy practiced by some international powers in this regard."
Volkswagen chairman steps down
FRANKFURT, Germany » A high-stakes boardroom battle at
Volkswagen
ended in a truce yesterday, as Ferdinand K. Piech, the company's chairman and an heir to the
Porsche
fortune, agreed to step down next year in return for two Porsche executives gaining seats on the board.
Piech, a powerful figure who was once Volkswagen's chief executive, has been accused by shareholders and other board members of a conflict of interest since Porsche, the sports-car maker controlled by his family, acquired 18.5 percent of Volkswagen's shares last fall.
The dispute laid bare the web of interlocking ties among German companies, at times made all the closer by family holdings.