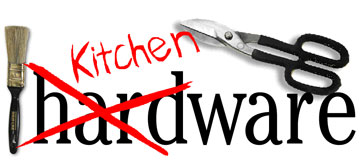 Hardware stores often offer better alternatives for kitchen utensils, and the prices can be far less expensive
YEARS AGO, I FOUND a great way to relax after a hectic day as a Seattle banker.
On many weekdays after work, I strolled around the neighborhood hardware store for relaxation. Yeah. Tim Taylor from that old sitcom "Home Improvement" would have hooted and growled for me as I checked out crescent wrenches and hefted power routers. Macho stuff like that.
But wait. Tim might not have approved. Hardware stores are for men. Real Men. Fancy boutiques and kitchen stores are where Real Women unwind. Mars and Venus. And I'm definitely not Mars.
I do enjoy kitchen stores with their cool little graters and bundt pans and cookie-dough squirters, but hardware stores are way cooler, and I've discovered some super kitchen stuff lining aisles marked Plumbing, Drywall and Painting.
Today, I offer a tour of the hardware store in search of tools that can be turned into kitchenware. Most are from my neighborhood store, City Mill in Hawaii Kai, but similar items and prices may be found at almost any hardware store.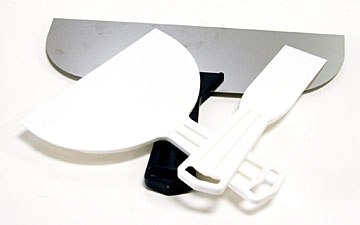 CRAIG T. KOJIMA / CKOJIMA@STARBULLETIN.COM
In the paint department, look for scrapers and putty knives to use as kitchen scrapers -- they make quick work of spilled flour or messy bits of dough.
Paint scraper or dough scraper?
A hardware-store guy once gave me a plastic, half-moon-shaped spatula with his store logo on it and for years I've rounded up flour and sticky dough globs from my counters with that paint scraper. You may not find exactly the same thing today, but 99 cents will get you a 6-inch plastic broadknife (or a 69-cent 1-1/2 inch putty knife) to do the same job. Or upgrade to a small ($2.99) metal broadknife or a gorgeous 10-inch flex-metal broadknife/trimmer ($7.69) and do the work the way Tim Taylor would.
Welding torch or creme brulee torch?
Cook's Illustrated magazine recently tested a petite kitchen torch against a hardware store torch for caramelizing sugar on creme brulee. The small butane torch's "puny flame" did the job slowly; the hardware store torch's powerful flame "caramelized the sugar quickly and easily."
If you find the BernzOMatic Solid Brass Torch Kit pictured at right ($14.99 with a good-sized tank of butane fuel) too intimidating, hardware stores carry many smaller, self-igniting torches to crown your custard or brown your meringue to perfection. Comparison shop -- you'll probably end up with the hardware alternative.
Flower pots or cake bakers?
Clay flower pots range from teeny (39 cents) to huge ($7.99). Puffy, golden breads and cakes may be baked in these, wrapped up and tied with big bows for sharing with friends. Stick with unglazed pots to be safe, as some glazes contain lead, or use Release nonstick foil to line the pot for baking.
For hundreds of recipes online, search for "flower pot baking." City Mill offers a wide range of pot sizes, but tends to run a bit short at this time of year. The hardware clerk said there'd been a run on pots recently. "For making Halloween 'dirt cakes' for kids, and for stacking to make Christmas trees." A new supply will come in soon.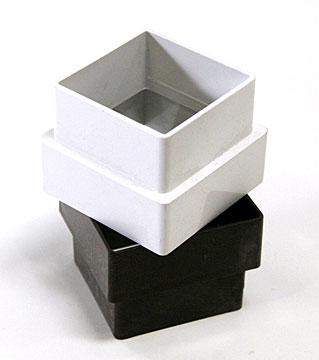 CRAIG T. KOJIMA / CKOJIMA@STARBULLETIN.COM
Gutter "diverters -- just like PVC pipe -- can be used as molds to make professional-looking "stacks" of food.
PVC piping or molds?
Have you watched chefs "plate" servings of salad mixtures, chopped seafood layers or rice stacks using expensive metal kitchen store ring molds? No? That's because they generally use sections of inexpensive PVC pipe instead.
If you're not a Mars with a dedicated pipe-cutting tool in your toolbox, your hardware store's plumbing department can cut a section of pipe into several molds, each costing mere pennies.
To avoid the cutting issue altogether, PVC couplers begin at 39 cents and are just a few inches long to begin with. Some have a small ridge around the inside, but it doesn't interfere with stacking.
For rectangular molds, try "diverters" sold for gutters and downspouts.
Trowels or spatulas?
"Tool Time" Tim would growl in delight at the huge assortment of trowels hardware stores stock. Trowels for slathering on grout. Trowels for shoveling and smoothing cement. Trowels for serving slices of chocolate-haupia pies and streusel coffee cake.
What's a nice 10-by-5-inch Philadelphia-style brick trowel ($4.99) doing in a kitchen? The same as the smaller, $2.99 "pointing trowel" pictured here. Doubling as high-quality metal servers and scoopers. And angled flat-edged trowels make sturdy spatulas. The trowel pictured above has a comfortable, L-shaped wooden handle.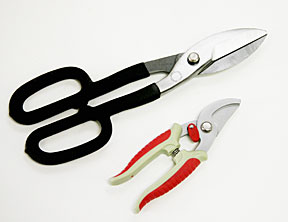 CRAIG T. KOJIMA / CKOJIMA@STARBULLETIN.COM
Tin snips or garden shears fill in easily for more expensive kitchen scissors. Tin snips can be used to cut up a chicken or to snap crab legs.
Tin snips or kitchen shears?
Every cook needs at least one exceptional, heavy-duty, all-purpose pair of kitchen scissors. The kind that makes short work of dismembering a whole, 99-cents-a-pound chicken and transforming it into $1.89-a-pound pieces. Or for cutting the bird in half so it will marinate, roast or grill more quickly.
Hardware store shears are worth checking out. A sturdy, 10-inch stainless steel pair of tin snips (these cut metal; they'll crack that crab leg) can be bought for $5.99.
Too macho? Head for the garden aisle for a variety of clippers, trimmers and vine pruners from $4.99. Small, foldable garden saws are handy for tackling bones. Power saws and hedge clippers are not recommended for this.
Paint brushes or kitchen basters?
This one's easy if you've ever purchased a basting brush at a real kitchenware store only to find an identical hardware-store brush later at half the price.
Large brushes are good for slathering hickory sauce on barbecue ribs; petite sizes for painting egg-wash on puff pastry delicacies.
And don't overlook inexpensive sets of tiny brushes for decorating sugar cookies, gilding icing borders or coloring marzipan fruits.
---
Good stuff cooking in hardware store aisles
TODAY'S hardware stores are excellent sources of kitchen and cooking needs.
Pictured above are items found at City Mill in Hawaii Kai:
» A beautiful acacia hardwood serving tray ($24) that reverses into a lap tray.
» Bright, flexible and funky "large locker take-out boxes" ($12.99).
» Heat Beater multicolored silicon squares serve as hotpads, handle grips or potholders, guaranteed safe to temperatures up to 675 degrees ($4.99).
» The latest in citrus peelers ($2.49) and paper towel holders ($5.99).
» The smallest of a terrific selection of beechwood stackable organizer boxes, including cutlery caddies and utensil drawer trays (this 3-by-6 tray costs $3.95).
» Starter sets for your mesclun, lettuce and papaya salads -- prices and seed varieties vary.
Also available are such treasures as hand-woven willow baskets with washable liners and a $9.95 Sunbeam "Crock of Tools" -- nine sturdy whisks, ladles, turners, etc., in a white ceramic pot.
Memo holders. Stainless-steel stepcans. Shelf and drawer expanders, liners and organizers. Trendy wooden stemware racks ($16.99). A Tuna and Veggie Press and Strainer for squeezing the liquid out of small cans, $2.49.
Bamboo skewers. Jar openers. Funnels. Stove burners and shields. Folding wooden dish racks (a bargain at $12.99).
Cleaners, scrubbers, brushes, soap dishes and dispensers, dishwashing gloves. Everything for the kitchen but the kitchen sink.
Wait. This is a hardware store. Check the next aisle. You will find a selection of kitchen sinks.
---
E. Shan Correa