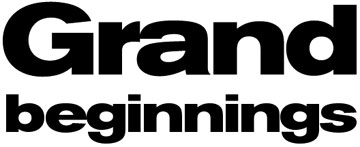 The new year marks a time of beginnings, for retailers as well as individuals. In just one week, Chanel reopened its newly renovated Ala Moana Center fashion and fine jewelry boutiques, Salvatore Ferragamo reopened its Royal Hawaiian Shopping Center boutique, and Vera Wang's first lifestyle boutique opened at Halekulani. Here's a peek:
---
Ferragamo honors its shoe-making legacy
SALVATORE FERRAGAMO Monday night reopened the doors to its two-story Waikiki boutique, complete with a small gallery space dedicated to "A Love Affair with Shoes." On view is a collection of history-making Ferragamo shoes, video footage and photos of the celebrities who wore them, straight from the archives of the Salvatore Ferragamo Museum in Florence, Italy. The house founder is pictured with a collection of shoe lasts bearing the names of the celebrities -- including Marilyn Monroe, Carmen Miranda, Sofia Loren, Rita Hayworth and Audrey Hepburn -- on whose feet they were based.
Local fishermen may be intrigued by the Invisible Sandal, an award-winning original from the designer, made in 1947 of gold leather and nylon sugi, or fishing line, that forms a seemingly transparent vamp across the top of the foot, as if there were nothing to hold the foot in place.
Monroe's black pumps are on view, as well as a replica of a 1930s platform shoe. Ferragamo is credited with the invention of both the platform and the wedge, two mainstays in today's shoe biz.
Original hand-written receipts included in the exhibition reflect the price of luxury circa 1950 -- when the handcrafted shoes were created for about $38.95 -- compared with today, with contemporary models on the shelves running $330 to $395.
Among the contemporary models are the Adama, a raffia and bamboo pump featuring the house's signature gancini or "little lock" design, priced at $395, as well as a ruched Amaltea ballet flat with resin detail, for $360.
The exhibition will continue through the end of the year.
In addition to the classic leather goods, clothing and accessories for men, women and children -- including sunglass frames threaded with leather cord ($340) -- Ferragamo is celebrating the opening with limited-edition GancioLogo handbags ($295 to $790), small leather goods, shoes and ties created exclusively for the Honolulu market.
The denim-blue canvas GancioLogo handbags are trimmed in bronze/gold nubuck leather and feature the gancio, an omega-shaped design meaning "little hook" in Italian. Also exclusive for Hawaii are hibiscus handbag charms, silk foulards and, for men, silk-wave pattern ties.
The party pupu, catered by Halekulani, proved to be so ono that one of the models could not resist snacking in between posing for photographs, dashing that standing rumor that models don't eat.