---
[ FAST FACTS HAWAII ]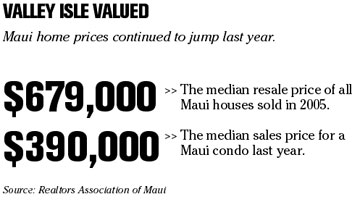 ---
BACK TO TOP


|


HAWAII
OfficeMax Express will replace Hopaco
OfficeMax
, one of the nation's largest office-supply retailers, will open its first express store in Honolulu next week.
The 4,000-square-foot OfficeMax Express store, which is replacing the downtown Honolulu Hopaco store in the Davies Pacific Center, will stock the most commonly used office supplies.
The chain operates similar small-scale outlets in Seattle and Chicago among its 950 stores nationwide. This week it announced plan to close 110 of its stores and open 70 others this year, but said it had not decided where.
At the Honolulu outlet, a monthlong grand-opening celebration begins Sunday, featuring shopping sprees, poster giveaways and complimentary coffee for customers until 10 a.m. daily. Each business day of the grand opening, OfficeMax will present one customer with a $2,000 OfficeMax Gift Card.
HAWAII INC.
NEW JOBS
»
Aqua Hotels & Resorts
has appointed
Elizabeth Churchill
marketing and guest services vice president. She will be responsible for strategic marketing and media planning, Web site administration and management, guest services and customer care and development of new project acquisitions. She previously served as the executive director for the Hawaii State Consortium for Integrative Healthcare.
» Bank of Hawaii has appointed two new vice presidents. Thomas M. Slover has been hired as vice president and manager of the Deposit Maintenance Center. He previously served as branch manager at Territorial Savings Bank. Sonia I. Topenio has been promoted to vice president and Lihue branch manager. She will be responsible for overseeing sales activity and client relationships. She previously served as Kauai District service manager.
» ResortQuest Hawaii has appointed Reid Yoshida rooms division manager of the Waikiki Beach Hotel. He will be responsible for overseeing front office services, housekeeping and the food and beverage department. He has 13 years of experience in the travel industry.
» American Savings Bank has hired Edda Chilson as the McCully-King branch manager. She will be responsible for overseeing daily operations and business development at both the McCully-King and McCully-Young branches. She has more than 25 years experience in the banking industry.
NATION
Biotech farms sprout worldwide
Last year set records for the growth of genetically engineered crops, as more farmers in Europe and the developing world embraced biotechnology, an industry-supported group reported yesterday.
Yet anti-biotech activists and other observers still complain that the industry isn't helping alleviate world hunger as it has long promised. None of the commercially available genetically engineered crops last year were nutritionally enhanced. Much of the output is for animal feed.
Some 8.5 million farmers in 21 countries grew engineered crops on 222 million acres last year, an 11 percent increase over 2004, according to a report released by the International Service for the Acquisition of Agri-Biotech Applications.
Nearly 8 million of those people were considered subsistence farmers, the report concluded.
The report was paid for by two philanthropic groups, the Rockefeller Foundation and Italy's Fondazione Bussolera Branca.
United CEO seeks $15M in stock
CHICAGO »
United Airlines
CEO Glenn Tilton could receive stock and options worth $15 million, base pay of more than $600,000 annually and a bonus that could double his salary when the carrier emerges from bankruptcy next month, according to company documents.
Tilton would get 545,000 restricted shares and 822,000 options, or just more than 1 percent of the $1.9 billion in equity United intends to issue, if a bankruptcy judge approves.
Overall, United plans to set aside 8 percent of the equity it plans to issue -- at a value of around $152 million -- for about 400 salaried and management employees. The compensation awards were disclosed in UAL filings yesterday with the court and elucidated by company spokeswoman Jean Medina.
The proposed incentive plan for senior managers and directors of the nation's No. 2 airline will be a touchy issue as a Chicago bankruptcy court starts hearings Jan. 18 about United's plan for leaving more than three years in bankruptcy court.
Visa, MasterCard meet to talk security
Two longtime rivals in the credit card business are working together to create a private group that would set new industrywide security standards as early as the middle of this year, a
MasterCard
executive said yesterday.
Security officials from Visa USA and MasterCard International began quietly meeting early last year to discuss the best way to improve data security. But the high-profile disclosure of a security breach at CardSystems Solutions, a tiny payment processor that left 40 million cardholder accounts exposed to fraud, has given the effort a new push.
WORLD
Macau's arrivals hit 18.7 million in 2005
HONG KONG » Visitor arrivals to Macau jumped 12 percent in 2005 to 18.7 million, official figures show, as the Chinese territory's casinos and other tourist attractions continued to draw big crowds.
Still, growth in tourism slowed from the headlong pace of 2004, when visitor arrivals surged 40 percent to 16.7 million, according to the numbers announced by Macau's government yesterday.
In other news ...
»
Hollinger International Inc.
sold the bulk of its remaining Canadian papers yesterday to
Glacier Ventures International Corp.
for $104.5 million. Vancouver-based Glacier will indirectly acquire Hollinger International's 87 percent stake in the Hollinger Canadian Newspapers partnership as well as Eco Log Environmental Risk Information Services Ltd., KCN Capital News Co. and some real estate.