SONY OPEN GOLF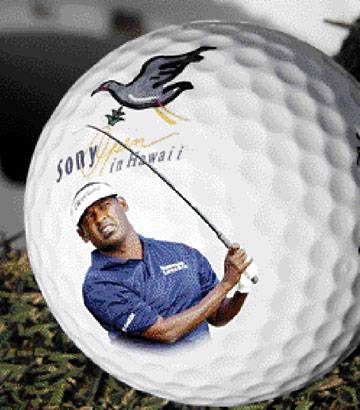 PHOTO ILLUSTRATION BY KIP AOKI & RICHARD WALKER / STAR-BULLETIN
Wind talkers
Most of the rest of the PGA Tour may get a taste of Hawaii's trade winds this week
WHEN THE WIND whips at Waialae, be prepared to go out of the red and into the black.
Granted, the scores may not soar as they did last week at the long and winding Plantation Course, but don't be searching for too many low numbers on the leaderboard because there may not be many.
Breezy conditions left the 144 pros preparing for tomorrow's $5.1 million Sony Open in Hawaii scratching their heads and scribbling in their notebooks during yesterday's practice round. The trick with the wind is it rarely blows the same from day to day, forcing golfers and their caddies to adjust on the fly.
If you're looking for a possible winner, take more than a passing glance at any of the 22 golfers who played last week at the Mercedes Championships. Since the winners-only tournament formed a partnership with the Sony in 1999, the winner here played on Maui the previous week five out of seven times.
The two exceptions were Paul Azinger in 2000 and Jerry Kelly in 2002. Not that the courses are alike; they're opposites. But getting four rounds of competitive golf under your belt gives you a decided edge over the competition. And the competition will be fierce this year, wind or no wind.
First of all, defending champion Vijay Singh is coming off a disappointing loss to three-time Mercedes champion Stuart Appleby in a one-hole playoff. He had another tough finish at the Mercedes in 2005 and turned it into a one-shot win over Ernie Els here the following week. It was his first victory at Waialae and solidified him as the top player in the world.
He is currently ranked No. 2 to Tiger Woods. Two other golfers in the top 10 join him this week in past United Airlines Hawaiian Open winner Jim Furyk at No. 7 and Australian Adam Scott, who moved up a notch to No. 8 in the latest rankings.
Appleby, as expected, made the biggest move from No. 30 to 21 worldwide. He said last week one of his long-range goals is to be ranked among the top 10 golfers in the world. If he could play all his tournaments at the Plantation, even Woods would have a hard time holding him off.
The problem is, Appleby hasn't had nearly as much success at the PGA Tour's other venues, leaving him on the outside looking in at the world's best as he prepares for this week's first full-field tour event of 2006. A good finish at this week's Sony couldn't hurt. And there is precedence for Appleby to do well here.
Last year, Appleby didn't attempt the Hawaii daily double because his wife was only three days removed from delivering their first child in Australia. Appleby didn't make the cut the last time he played here in 2004, but he finished sixth to Els in 2003, tied for 37th in 2001 and second to Azinger in 2000, seven strokes off the pace.
Singh, on the other hand, would like nothing better than to remove the bitter taste of Maui with a successful title defense. It sets up an interesting matchup between Singh and Appleby, who are paired with Jonathan Kaye the first two days.
Unfortunately for the talented twosome, they are not alone. Appleby and Singh are among 144 golfers vying for the $918,000 first prize. Included in the field are past Sony Open champions Kelly, Azinger, Brad Faxon and Jeff Sluman.
There are also a slew of other golfers who have had success at Waialae, including 2003 U.S. Open winner Furyk, John Huston, John Cook and Corey Pavin.
Add just-turned-pro Michelle Wie to the mix, Ryder Cup captain Tom Lehman and the talented golfers who took part in the Mercedes and you have a deep field for the first full-fledged event of the season.
"I didn't play last year (at the Sony) because I was back for the baby," Appleby said, when asked if the Sony was usually on his schedule.
"I have actually played that quite a lot. That's been one of my consistent events. Normally I've played that from year one, which is 1996.
"My schedule is probably mapped out for the next three to six months. I don't usually go in areas of tournaments where I haven't really played. I have a rhythm that I set. Last year, I couldn't fly, so I had to sort of stay, stay, stay. The weeks ticked off.
"I don't think last year was a disadvantage by any means, no. I still played a lot of golf at the end of the year. But if I can start throwing in a tournament every four like this (Mercedes), the way I'm feeling and playing ..."
Who knows? Maybe back-to-back wins for Appleby to start the 2006 season is a real possibility.
Wie won't win, but her chances of making the cut diminish if the wind is up. Two years ago, she missed the cut by one in the calm. Last year, that number jumped to seven as the trades wreaked havoc.
Should the winds blow again all four days, more than likely, it will be as close as last week's Mercedes with a playoff a distinct possibility.
---
Just The Facts
Vijay Singh will defend his title beginning tomorrow after finishing second in the Mercedes Championships at Kapalua last week.
What: The PGA Tour's first full-fledged field of 144 this year.
When: Tomorrow through Sunday.
Where: Waialae Country Club, 7,060 yards, par-70 (35-35).
Time: 7 a.m., tomorrow and Friday; 7:30 a.m., Saturday; 8:30 a.m., Sunday.
Prize money: $5.1 million, with the winner earning $918,000.
Defending champion: Vijay Singh.
Tickets: Daily admission tomorrow through Sunday $15.
TV: ESPN, 1:30 to 4 p.m., tomorrow; 3 to 5:30 p.m., Friday; 2 to 5:30 p.m., Saturday; 2:30 to 5 p.m., Sunday.
Parking: Free at Hunakai Park, Kahala Park and across the street from Kapiolani Community College on Diamond Head Road.
Shuttle bus service: Complimentary shuttle from free parking area at Hunakai Park, Kahala Park and across from Kapiolani Community College. E Noa will provide shuttle service ($2 one way) every 30 minutes from Waikiki to the golf course -- stops include the Hilton Hawaiian Village Tapa Tower, Outrigger Islander Waikiki, Duke Kahanamoku Statue, Waikiki Beach across the zoo and the Waikiki Aquarium. Call 591-2561 for more information.
City bus: Regular city bus service will be available. Call TheBus information department at 848-5555 or visit thebus.org for routes and times.
Tomorrow's Tee times
First tee
7:15 a.m.:
Rory Sabbatini, Frank Lickliter II, Arron Oberholser
7:24: Paul Azinger, Craig Barlow, Bo Van Pelt
7:34: Craig Stadler, Harrison Frazar, Joey Snyder III
7:43: Robert Gamez, Woody Austin, Jeff Sluman
7:53: Brad Faxon, David Toms, David Duval
8:02: Carl Pettersson, Olin Browne, Tim Petrovic
8:12: Brent Geiberger, Stewart Cink, Shaun Micheel
8:21: Jeff Brehaut, Stephen Leaney, Tag Ridings
8:31: Will MacKenzie, Vance Veazey, Thaworn Wiratchant
8:40: Henrik Bjornstad, Daisuke Maruyama, Kevin Hayashi
8:50: Kris Cox, Bubba Dickerson, Steve Schneiter
8:59: Jon Mills, Alex Aragon, Beau Yokomoto
11:45: Jesper Parnevik, Corey Pavin, Richard S. Johnson
11:54: Todd Fischer, Dean Wilson, John Riegger
12:04 p.m.: Aaron Baddeley, Mathew Goggin, Jerry Smith
12:13: Stuart Appleby, Vijay Singh, Jonathan Kaye
12:23: Mark Calcavecchia, Peter Jacobsen, Craig Perks
12:32: Bart Bryant, Vaughn Taylor, Adam Scott
12:42: Tommy Armour III, Chris Riley, D.J. Trahan
12:514: Shigeki Maruyama, Charles Warren, Troy Matteson
1:01: Jeff Gove, D.A. Points, David Ishii
1:10: Ron Whittaker, John Engler Jr., Jeremy Tucker
1:20: Jimmy Walker, Charley Hoffman, Charlie Wi
1:29: Shane Bertsch, J.B. Holmes, Kiyoshi Miyazato
10th tee
7:15 a.m.:
Joe Ogilvie, Greg Chalmers, Patrick Sheehan
7:24: Tom Byrum, Alex Cejka, Arjun Atwal
7:34: John Cook, Jeff Maggert, Brett Quigley
7:43: Kenny Perry, Todd Hamilton, Chad Campbell
7:53: Heath Slocum, Sean O'Hair, Tom Lehman
8:02: Peter Lonard, Loren Roberts, Rich Beem
8:12: Jason Gore, Jim Furyk, Mike Weir
8:21: John Huston, Daniel Chopra, Ryan Moore
8:31: Roger Tambellini, Nathan Green, Parker McLachlin
8:40: Chris Couch, Camilo Villegas, Michelle Wie
8:50: Bill Haas, Bubba Watson, Brad Elder
8:59: Nick Watney, David Branshaw, Brandan Kop
11:45: Jerry Kelly, Pat Perez, Hidemichi Tanaka
11:54: Charles Howell III, Jay Haas, Michael Allen
12:04 p.m.: Tom Pernice Jr., Steve Lowery, James Driscoll
12:13: K.J. Choi, Jason Bohn, Steve Jones
12:23: Lucas Glover, Wes Short Jr., Ryan Palmer
12:32: Fred Funk, Carlos Franco, Billy Mayfair
12:42: Joe Durant, Paul Goydos, Ryuji Imada
12:51: Dudley Hart, Justin Rose, Thomas Levet
1:01: David McKenzie, Jason Schultz, Shiv Kapur
1:10: Steven Bowditch, Robert Garrigus, Tadahiro Takayama
1:20: Hunter Mahan, Eric Axley, Kaname Yokoo
1:29: Nicholas Thompson, Jeff Overton, Yusaku Miyazato
Top 2005 Finishers
PLAYER
SCORE
EARNINGS
1.
Vijay Singh
269
$864,000
2.
Ernie Els
270
$518,400
3.
Charles Howell III
271
$278,400
Shigeki Maruyama
271
$278,400
5.
Stewart Cink
272
$182,400
Brett Quigley
272
$182,400