DISPATCHES FROM THE PHILIPPINES
Journey continued what sakadas began
Day 7 - Jan. 10
AS WITH my previous visits to Japan, China and Korea, part of our mission to the Philippines included strengthening Hawaii's role in the Asia-Pacific region. This afternoon I returned to Manila from Dagupan City in Pangasinan Province to meet with U.S. Embassy Charge d'Affaires Paul Jones.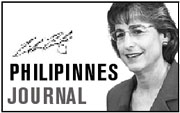 Editor's note: Gov. Linda Lingle is touring the Philippines in celebration of the 100th anniversary of Filipino immigration to Hawaii. She is writing a daily journal of her trip for the Star-Bulletin.
A small group from our delegation joined me in discussing issues facing the Philippines and the important role Hawaii can continue to play in strengthening these relations.
Joined by Maj. Gen. Robert Lee, state adjutant general, we discussed the continuing military partnership between the United States and the Philippines and offered Hawaii's ongoing assistance.
It also was encouraging to hear the charge d'affaires offer the embassy's assistance to Hawaii companies that want to export products to the Philippines. Alma Caberto, president of the Filipino Chamber of Commerce of Hawaii, and Elias Beniga, chairman of the Hawaii Filipino Centennial Commission Celebration, shared with him the Filipino community's efforts to strengthen business ties, including a Hawaii-Philippines trade expo planned for December in Honolulu as part of the year-end activities marking the end of the centennial celebration.
Everywhere we went on this trip we found a Hawaii connection. At the U.S. Embassy in Manila, we found four: Tracey Bets of Kona, whose family is originally from Niihau and Kekaha, Kauai; Reichel Ogata of Honolulu; Jon Lindborg of Pukalani, Maui; and Joann Donavan of Honolulu and her husband, Frank.
Our next stop was the Philippine Women's University for the Symposium on Issues on Women Empowerment. Wherever I travel, I make it a point to meet with women leaders to discuss the challenges and opportunities women face in different parts of the world, and how we can learn from one another in our personal careers as well as to create stronger communities.
It was inspiring to hear the women's stories of overcoming obstacles and cultural barriers to achieve their dreams. And it was heartening to find common threads that cross cultural and geographic barriers. I'm glad women from Hawaii, who were not part of our delegation but who were in Manila, also participated in this forum, including Connie Lau, CEO of American Savings Bank, and Patti Lyons and Geri Marrulo of the Consuelo Foundation.
AS I PREPARE to leave the Philippines, I can say that I have gained a better understanding of the essence of the Filipino culture and the people of the Philippines.
For the past seven days our senses, minds and hearts have been immersed in the Philippines, and we have been enriched by the hospitality and genuine kindness of the Filipino people. It has been an adventure that none in our delegation want to end, including myself.
As governor and honorary chairwoman of the Filipino Centennial Celebration Commission, I set out to represent our delegation and all the people of Hawaii.
But I soon found myself being led by the Filipinos in our delegation. Some were very familiar with the cities and towns we visited, having grown up here and made frequent return visits. They wanted to show me the places they lived, and to experience their culture, food and heritage.
Others had never been to the Philippines, and I hope this experience has given them an even greater sense of pride in being Filipino, especially among the young Filipinos who were part of the delegation.
Working in partnership with our gracious hosts who helped coordinate every detail of this mission, we have extended and fortified the bridges that the sakadas laid as a foundation a century ago. Because of them, and their hardworking children, grandchildren and great grandchildren, Hawaii is a better place.
From appearing on the TV show "Wowowee" to meeting with President Gloria Macapagal Arroyo, this has been a trip of a lifetime. I leave the Philippines tonight with great pride that our entire delegation represented all the people of Hawaii on this important centennial mission to strengthen the bonds of friendship and to ensure continued cooperation between the people of Hawaii and the Philippines.
Salamat po!