---
[ FAST FACTS HAWAII ]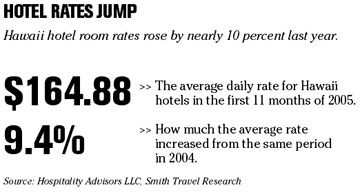 ---
BACK TO TOP


|


HAWAII
Maui median price was $679,000 in '05
While the median price of condominiums and single-family homes stayed high on Maui last month, the number of house sales declined, according to statistics released yesterday.
More than half the buyers on Maui paid more than $725,000 for a single-family home in December, up 22 percent from $594,500 the year earlier, according to the Realtors Association of Maui. Condo prices rose nearly 20 percent to $425,000 in December 2005 from $355,000 in December 2004.
Single-family home sales declined 27 percent to 80 in December 2005. One hundred-thirty-eight condominiums changed hands in December 2005, up 30.2 percent from December 2004.
In all of last year, more than half of the buyers in Maui paid more than $679,000 for a single-family home, up 23 percent from $550,000 in 2004. House sales in 2005 also increased, rising 7 percent to 1,317 from the 1,226 sales in 2004.
The median price paid for a condominium rose 26 percent in 2005 to $390,000 from the year-ago $310,000. Condominium sales rose 3 percent last year to 2,000.
KAILUA SHOPPING PLAZA SELLS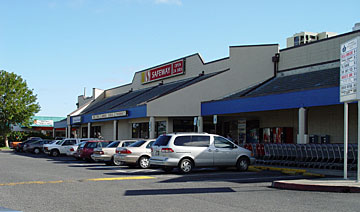 NATION
Apple sells 100 iPods a minute
Apple Computer Inc.
introduced its first computers with
Intel Corp.
processors yesterday and took the wraps off new software for photos, movies and other home entertainment.
But the biggest news from the Macworld Conference and Expo in San Francisco was not necessarily what Apple is doing, but just how well it has already done. Chairman Steve Jobs announced that the company had sold an astounding 14 million iPods in the fourth quarter -- or more than 100 a minute.
As a result, Jobs said, Apple's retail stores, once considered by many Wall Street analysts as a folly, generated more than $1 billion during the quarter for the first time, pushing the company's overall revenues up 63 percent to a record $5.7 billion.
In all, Apple has sold 42 million iPods to date, Jobs said.
WORLD
Oracle to hire 1,400 in India
BOMBAY, India » U.S. business-software maker
Oracle Corp.
plans to add 1,400 employees to its sales, consulting and support operations in India as it focuses on expanding business among small and mid-sized companies in the country's towns and rural areas, a company executive said yesterday.
Oracle already operates in six Indian cities and it plans to set up shop in nine more in the next eight months as it adds to its existing Indian work force of 8,600, said Derek Williams, the company's executive vice president for Asia-Pacific.
"This expansion can give us a whole wave of growth," Williams told reporters in Bombay where Oracle is hosting a two-day conference on the future of information technology. The conference began yesterday.