DISPATCHES FROM THE PHILIPPINES
Aloha improves health care in Philippines
Day 5 -- Jan. 7
One of the highlights of our centennial mission has been a visit to Gov. Roque B. Alban Sr. Memorial Hospital, which has strong ties to Hawaii thanks to the caring doctors of Aloha Medical Mission and Sirmata Vision 2004.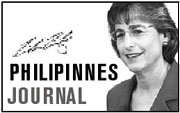 Editor's note: Gov. Linda Lingle is touring the Philippines in celebration of the 100th anniversary of Filipino immigration to Hawaii. She is writing a daily journal of her trip for the Star-Bulletin.
I was familiar with the work of Aloha Medical Mission, but it wasn't until we arrived at this hospital that I gained a clearer picture of just how much these doctors are helping people in the Philippines.
Over the years, Aloha Medical Mission and Sirmata have arranged for donations of medical equipment and supplies to Philippine hospitals that otherwise would not have access to such lifesaving equipment.
Dr. Rogelio Balbag, Ilocos Norte's provisional health administrator, showed us a CT scanner that was donated by Kapiolani Medical Center. It is the only CT scanner in the northern area of the Philippines. In addition, our delegation got to see anesthesiology equipment, hospital beds, and other vital equipment -- all donated by Hawaii's medical community. We also saw one of two ambulances that were donated to the hospital. On the door of the ambulance was the word "Aloha." Two more ambulances donated from Hawaii are on their way to the Philippines.
I was moved when I met Marites Ulep, who benefited from the generosity of Aloha Medical Mission. She was severely disfigured as a result of a thermal burn in 1999. Aloha Medical Mission arranged for Marites to be flown to Queen's Medical Center in 2004, where she received three reconstructive surgeries under the care of Dr. Don Parsa, chief of plastic surgery at Queen's.
It was inspiring to see that this young woman is leading a normal life thanks to the cooperative partnership between medical communities in Hawaii and the Philippines. I think many in our delegation have a greater appreciation for the work of Aloha Medical Mission after meeting Marites, and a new appreciation for the generosity of our fellow Hawaii residents.
Following the visit to the hospital, we traveled to the village of San Nicolas, where our delegation was treated to a Barangay Fiesta.
The entire village turned out to welcome us, and they put on quite a celebration. We dined on a huge feast under mango trees, enjoying traditional dishes such as adobo, roast pork and pancit. We were able to browse booths with local crafts and food products as well as see demonstrations of how traditional wooden furniture is made. We saw children in traditional costumes, and women dressed in beautiful colorful dresses.
San Nicolas is famous for its dapil, or traditional sugar cane milling, which was used when Illocanos were recruited to work as sakadas in Hawaii. We were treated to a demonstration of this centuries-old process, in which sugar cane stalks are fed into a wooden mill powered by a water buffalo, known locally as a carabao.
The juice that is extracted is used for molasses, wine and vinegar. A few members of our delegation commented that they remembered feeding the sugar cane into the dapil when they grew up nearby, so this brought back fond memories for them.
It was wonderful to see the local costumes and the pride the Illocanos have in their culture. And it was equally pleasing to see the Illocanos in our delegation reconnect with their roots, and for some relive their childhood growing up in the Ilocos region.