---
[ FAST FACTS HAWAII ]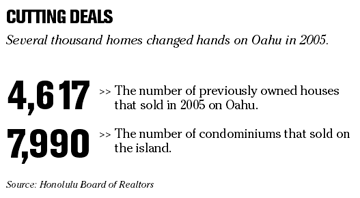 ---
BACK TO TOP


|


HAWAII
Aloha Air nearing deal over pension dispute
Aloha Airlines
appeared to receive a jolt of good news yesterday from an attorney who represents the bankrupt carrier, but it may be premature to pop the champagne.
Aloha attorney Paul Singerman told U.S. Bankruptcy Judge Robert Faris yesterday that Aloha had reached a tentative agreement with the Pension Benefit Guaranty Corp., the federal agency that would have to fulfill pension obligations that Aloha would walk away from under its reorganization plan.
The pension agency has objected to this proposal and could tie the matter up in court, so an agreement with the agency is essential to Aloha. But according to observers of yesterday's hearing, Singerman said that Aloha still has unresolved issues with the airline's white knight investor Yucaipa Cos.
Aloha confirmed that it would be wrong to place much importance on Singerman's report of peace with the federal agency.
"We're not going to comment on a tentative agreement," said Stu Glauberman, an Aloha spokesman. Singerman did not return calls.
nation
MLK link to apes called an accident
Human error is to blame for an offensive link at Wal-Mart's Web site that recommended a film about Martin Luther King Jr. to potential buyers of a "Planet of the Apes" DVD, the world's largest retailer said yesterday.
The mistake resulted from a well-intentioned effort to promote a DVD about the black leader, said Carter Cast, president of walmart.com, the online shopping arm of Wal-Mart Stores Inc.
A business manager had grouped "Martin Luther King: I Have a Dream" with three other black-themed movies and assigned the package an overly broad category of DVD boxed sets, Cast said.
So when an online visitor looked at a listing for the boxed DVD set "Planet of the Apes: The Complete TV Series," the black-themed movies appeared under "similar items."
Cast said the display juxtaposition may have existed for the past year.
Wal-Mart removed the feature from its Web site Thursday after learning of the juxtaposition from reporters. Wal-Mart apologized and shut down indefinitely its entire online system for referring shoppers to other movies.
Firms eager to sponsor Mardi Gras
NEW ORLEANS » With the city in dire financial shape because of Hurricane Katrina, companies are lining up for the opportunity to become the first-ever corporate sponsors of New Orleans' Mardi Gras celebration.
At least 20 companies are offering to pay $2 million each to help cover the police and cleanup costs for next month's parades and parties, according to MediaBuys LLC, the firm hired to search for underwriters. The city, which had to lay off half its employees after the storm, plans to select four main sponsors.
"We're very fortunate the interest level has been very, very high ... almost to the point of being difficult to handle," said Ken Rose, a MediaBuys vice president.
Such sponsorships are a radical change for what is billed as the nation's biggest free party. Private groups have always put on the parades, and a city ordinance bars commercial advertising on the parade floats. Not even the beads thrown to crowds can carry corporate logos.