10 TO WATCH IN '06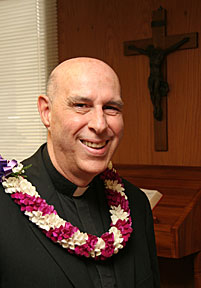 Larry Silva
Bishop works to energize isle Catholics
Five months after taking the reins of Hawaii's largest church, Catholic Bishop Larry Silva announced initiatives last week that signal he is shifting the island diocese into higher gear.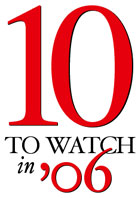 The Star-Bulletin's list of predicted movers and shakers for 2006.
Silva said he will implement strategic planning to use assets of the diocese where they are needed, such as new churches and schools for the burgeoning population of West Oahu.
He chose as his second-in-command an energetic parish priest with a reputation as an organizer and mileage as public spokesman on issues of morals and ethics.
He revealed his spiritual as well as practical side by establishing a commission to promote Father Damien DeVeuster and Mother Marianne Cope, both in the process of being named saints by the Vatican. Rather than leave the marketing of the Hawaii saints to the religious orders to which they belonged, the bishop proposes developing pilgrimages to Kalaupapa, where the two served leprosy patients in the 19th century, and working to ensure a future Catholic presence in the Molokai peninsula.
Besides being spiritual leader of Hawaii's 220,000 Catholics, the bishop is chief executive of a corporation with acres of real estate holding 66 parishes, schools, residences and social agencies. The Hawaii-born Silva worked 30 years as a priest in California before being named bishop by Pope Benedict XVI.
"We have areas that are really growing, churches that are overloaded," said the Rev. Marc Alexander, who will become vicar general Feb. 1. "He wants to look at the total assets, not just looking at consolidate and share." Alexander implemented the partnership of two parishes under one pastor, Sacred Heart Church at Punahou and Pius X Church in Manoa.
The diocese and separate religious organizations might own considerable real property, but they are faced with a dwindling number of priests. The bishop, 56, and Alexander, 47, are among the "younger" clergymen.
"The bishop's view is that we have a treasure trove of people committed to the faith, vibrant ministries in place," Alexander said. "We are the largest church in the islands, with 65,000 people in churches weekend after weekend, and the largest private school system. We're not planning out of shortage or crisis."