10 TO WATCH IN '06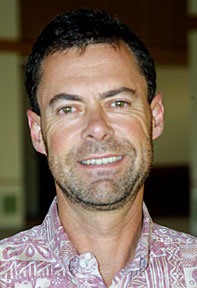 Timothy Dick
Superferry buoyed by founder's drive
Timothy Dick, venture capital expert and founder of Hawaii Superferry, wants nothing less than to change Hawaii's economy when the company's ship powers up next year, making it possible to "drive" from Honolulu to Maui or the Big Island.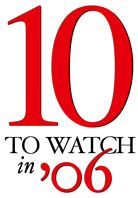 The Star-Bulletin's list of predicted movers and shakers for 2006.
Supporters of the Hawaii Superferry -- which has registered "H-4" as a trade name to liken its role to part of an interstate highway system -- say it will forever change the state's dependence on air transportation for interisland passenger travel, cutting costs for businesses and residents and opening up alternatives within the visitor industry.
The idea for the Superferry came about in 2001, after Dick saw the latest generation of large, high-speed roll-on/roll-off catamaran ferries operating between Spain and the island of Majorca in the Mediterranean Sea.
On a subsequent trip to Hawaii, Dick, whose roots are in electrical engineering, was stunned to learn that there was not a similar interisland ferry operating in the islands. Dick harnessed the talents of longtime Hawaii airline executive John Garibaldi and waterfront-management veteran Terry White to assist him with his vision and a new dream was born.
Though there were tremendous hurdles from start-up capital to getting the support of the state administration and Legislature, Dick, a Stanford University MBA, hung in there and made the concept work, said John Garibaldi, president and chief executive officer of Hawaii Superferry.
"It took someone that wasn't tied to the way things worked in the past to bring the idea from blank paper to the table," he said. "This project has excited a whole state."
Hawaii Superferry passed another milestone in February 2004 when it secured a $140 million federally-guaranteed loan from ABN Amro Bank and $71 million in equity financing from an investor group led by the private equity firm J.F. Lehman & Co.
When the first two ships are in service by 2009, the company is expected to employ as many as 300 people. In addition, the Hawaii Department of Business, Economic Development & Tourism has estimated that the venture will create over 600 more jobs outside the company, ranging from maintenance personnel to caterers to truck drivers to agricultural workers helped by faster and lower cost transportation.