Lanai railing cited in 3-year-old's death
The boy's father says he is angry that Hilton managers have offered no assurances of change
A NEW YORK family vacationing in Waikiki said their youngest child "squeezed through the railing" of their hotel balcony Sunday and fell eight stories to his death.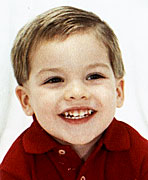 Sammy Shpigler
Samuel Shpigler, 3, of Montebello, N.Y., who family members said woke up every morning with happy grins, ready to play with his little red cars, was pronounced dead at the foot of the Alii Tower at Hilton Hawaiian Village at about 4:35 p.m. Sunday.
"All I want is my baby boy back. I want my Sammy back," David Shpigler said yesterday as he tearfully described his son as "such a happy, good boy with a big heart. He loved to say the word 'pickle.'"
An autopsy will be performed today. The Honolulu Police Department is investigating but believes it was an accident.
Shpigler said Sammy and his 4 1/2-year-old sister and 6-year-old brother were playing on the balcony when "Sammy just slipped through the railing and fell to his death."
"My 4- and 6-year-olds saw it," Shpigler said. "My 6-year-old blames himself, that he should have grabbed him. He'll be a mess now because he blames himself."
He said Sammy's 4-year-old sister "misses her baby brother. But it hasn't really sunk in yet for her." His 14-year-old daughter "is trying to hold us all together," he said.
Shpigler said he and his wife, Lauren, are angry that the general manager of Hilton Hawaiian Village "has made no assurances to me that he will do something about the railings."
"If a 3 1/2-year-old boy who is not exactly skinny can slip through those railings, what is to prevent a 2-year-old or a 1-year-old?" he asked. "He has to do something so that no one else has to go through what my wife and I have gone through this past 24 hours.
"They need to protect lives. If they made the right corporate decisions, my boy would be alive right now. He was such a happy boy."
A Hilton Hawaiian Village spokeswoman said, "The investigation is being handled by the authorities, and we have nothing further to say."
Young also declined to characterize the construction of the railing or to describe how wide the spaces in the railing are because "that is also part of the investigation."
Sammy's maternal grandmother, Janet Vergare of Loudonville, N.Y. , who was with the family on vacation, said in a written statement, "This is the worst tragedy that we have ever experienced."
She described Sammy as "a bright, happy and extremely smart child with a wonderful sense of humor."
David Shpigler said that hours before the accident, Sammy proudly climbed to the top of Diamond Head under his own steam.
"They were here on holiday in paradise having the time of their lives, and no one expects a tragedy like this to happen," said Jessica Lani Rich, president and executive director of the Visitor Aloha Society of Hawaii, which assists tourists.
Shpigler is president of the Shpigler Group, a management consulting firm based in Nyack, N.Y., that specializes in the technology sector.
Asked when the family plans to go home, Shpigler said, "I don't know. We have to wait for Sammy."