3-year-old dies in balcony fall
Police do not expect to charge the parents, who were in the Hilton hotel room at the time
A 3-year-old boy died yesterday after falling from an eighth-floor balcony at the Hilton Hawaiian Village, police said.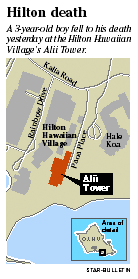 Witnesses told police the boy was playing unattended on the balcony in the hotel's Alii Tower about 4:35 p.m. when he fell onto a sidewalk near a one-lane side street.
It's unclear whether the toddler slipped through or fell over the balcony's handrails, which are about 6 inches wide.
The boy's parents were in the hotel room when he fell. Police were talking to the parents last night, but did not expect to pursue charges. They did not believe foul play was involved.
The boy was pronounced dead at the scene, an Emergency Medical Services dispatcher said.
His identity had not been released last night, and police would not say where his family was from.
The executive director of the Visitor Aloha Society of Hawaii, Jessica Lani Rich, was assisting the family of the victim last night, an official with the organization said.
A call to the Hilton Hawaiian's on-duty manager was not returned last night. Hilton officials at the scene declined comment.
In February, a 2-year-old girl was critically injured after falling from the fourth floor of a Nuuanu apartment building.
She suffered internal injuries, but recovered.
In 2004, there were two fatal high-rise falls on Oahu involving toddlers. In November 2004, a 3-year-old boy died when he fell eight floors from the balcony at a Moiliili apartment.
Four months earlier, a 2-year-old boy died after falling from the 14th floor of a University Avenue apartment.
After the fatal falls, the state Health Department's Injury Prevention and Control Program urged parents to watch children on lanais and keep furniture that children can stack or climb on away from the balcony.
There did not appear to be furniture on any of the eighth-floor balconies at the Alii Tower.
In 2002, the latest year for which statistics are available, 95 children ages 14 and under died from accidental falls, according to the National SAFE KIDS Campaign.
More than 2 million children ages 14 and under were treated in emergency rooms for fall-related injuries.