THE PHILIPPINES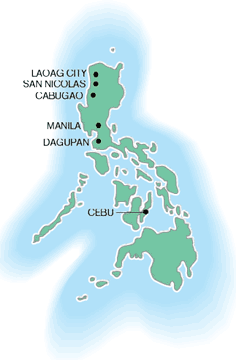 Family ties buoy trip to Philippines as Lingle aims to strengthen relations
Ask Gov. Linda Lingle about her upcoming trip to the Philippines and she recalls fond memories of when she first came to Hawaii and rented a room from a Filipino family on Molokai.
On Assignment

Star-Bulletin reporter Craig Gima is on assignment in the Philippines, where Gov. Linda Lingle is leading an official visit to celebrate the 100th anniversary of Filipino immigration to Hawaii.
During graduation season, the whole community would come together to throw a party, she said.
"They start bringing in all the woks. They're bringing all the utensils. They bring in the different ingredients. They start the pancit cooking and you can smell the adobo is going," Lingle said.
Families couldn't afford to cater or do it all by themselves, Lingle said, so they worked together as a community.
The governor leaves today on an eight-day visit that will celebrate that community spirit and hospitality and the contributions Filipinos have made to Hawaii over the last 100 years, she said.
"They have so much pride to take me to the Philippines," Lingle said. "It's not like I'm taking them, it's like they're taking me. Yeah, I'm the leader of the delegation because I happen to be the governor, but they want this opportunity to show me the country that so many of them came from."
During the visit, Lingle and state and county officials will visit with President Gloria Macapagal-Arroyo and with governors and mayors of sister provinces and cities. She will also help with the unveiling of a stamp commemorating the centennial of Filipino immigration to Hawaii, witness the signing of agreements between the University of Hawaii and universities in the Philippines and promote business, tourism and cultural ties.
The visit is also an emotional one for Filipinos in the group, some of whom have never been to the Philippines since they or their parents immigrated.
State Sen. Lorraine Inouye said her great grand-uncle Marciano Bello was one of the original 15 sakadas who came to the Big Island in 1906.
She's hoping to make connections with long-lost relatives.
Who's Going on the Trip to the Philippines
Governor's Office
» Gov. Linda Lingle
» Vivian Aiona, wife of Lt. Gov. James "Duke" Aiona (paying her own way)
» Bob Awana, chief of staff
» Lenny Klompus, senior adviser communications
» Francis Lum, chief of protocol
» Russell Pang, chief of media relations
» George Kaya, Lingle's Maui liaison (paying his own way)
» Two members of Lingle's security detail
State Officials
» Maj. Gen. Robert Lee and Maj. Geronimo Mateo, state Department of Defense
» Sandra Lee Kunimoto, chairwoman, Department of Agriculture
» Nelson Befitel, director of Department of Labor and Industrial Relations
» Marsha Wienert, state tourism liaison
» Stan Shiraki, deputy director of Department of Budget and Finance (paying his own way)
» Rick Manayan, Department of Business, Economic Development and Tourism
» Andrew Hashimoto, dean and director, UH College of Tropical Agriculture and Human Resources
» Dennis Kawaharada, Kapiolani Community College
Legislature
» Rep. Felipe Jun Abinsay
» Rep. Dennis Arakaki
» Rep. Lynn Finnegan
» Rep. Michael Magaoay
» Rep. Mark Moses
» Rep. Kymberly Pine
» Sen. Lorraine Inouye
» Sen. Norman Sakamoto (paying his own way)
» Sen. Gordon Trimble (paying his own way)
Neighbor Islands
» Kauai Mayor Bryan Baptiste
» Big Island Councilmembers Peter Hoffman (paying his own way), Gary Safarik and Angel Pilago
Footing the bill
The state and four counties are spending an estimated $75,000 of taxpayers' money for the trip to the Philippines. The governor's office has raised an additional $122,000 to help defray costs. Many of the delegates going on the trip paid a $200 fee, for a total of $27,000, which will also help offset costs.

Here are the major sponsors of the trip:

» Kauai Lagoons LLC
» KC Rainbow Development
» Dole Foods
» Marriott Hotels
» Hilton Hotels
» Chaney Brooks
» Ironworkers Union
» Philippine National Bank
» Mortgage Financing of Hawaii
» Fortune Business Company
» Somar Investments LLC
» House of Finance
» Fidelity National Title
» Steve Callo, CPA
» Laborers Union
Among those going on the trip are Lingle's former landlords Felix and Cresencia Befitel, parents of state Department of Labor and Industrial Relations Director Nelson Befitel, who is also traveling with the governor.
The 178 members of the delegation include 12 officials from the administration, two representatives from the University of Hawaii, nine legislators, three Hawaii County Council members and Kauai Mayor Bryan Baptiste and an aide, plus 18 Hawaii entertainers, including American Idol star Jasmine Trias and dancers from Tihati's Polynesian Review.
The state and counties are spending an estimated $75,000 on airfare, ground transportation and hotel accommodations for elected and other government officials.
An additional $149,000 was raised from 15 corporate sponsors and from a $200 delegation fee, which will pay for Trias and the dancers, and help defray the costs of a state-sponsored dinner in Ilocos Norte and other expenses.
Also going are members of the Filipino Chamber of Commerce, who are putting on a trade exposition and symposium in Manila.
Lingle said she is excited about an agreement between Kapiolani Community College and universities in Ilocos Sur and Pangasinan to help improve the curriculum at their nursing schools and for faculty exchanges.
The agreement may ease the nursing shortage in Hawaii by making it easier for nurses from the Philippines to pass their licensing exams should they decide to immigrate here, Lingle said.
Another agreement between the College of Tropical Agriculture at the University of Hawaii at Manoa and the University of the Philippines at Los Banos will formalize research ties between the two schools. UH-Manoa graduates are among the faculty at Los Banos and have been working jointly with the college on corn breeding and fruit fly eradication projects, said Andrew Hashimoto, dean of the UH-Manoa College of Tropical Agriculture and Human Resources.
Lingle also wants to highlight the contributions Hawaii Filipinos have made to improving life in the Philippines and in Hawaii, citing the Aloha Medical Mission as one example.
Doctors and nurses with the mission volunteer to spend their vacations helping people in the Philippines and other countries with medical care.
The governor will visit a hospital in Ilocos Sur, which has benefited through donations of equipment, medicine and volunteers from Hawaii.
She will also visit a children's shelter in Pangasinan, which is supported by Hawaii donations and volunteers.
Another highlight of the visit will be the unveiling of a marker at Port Salumague in Ilocos Sur, where the first 15 sakadas, or contract plantation workers, boarded a boat for Hawaii in 1906.
The tour is also aimed at strengthening sister state and sister city ties between Hawaii and the Philippines.
The governor acknowledged that those relationships may not lead to immediate benefits for Hawaii, but that's not the main reason for those ties, she said.
"They take them very seriously. It's a relation. It's family. We're united, and you don't unite and have family just because of what you can get from each other, but what you can give to each other," she said.
Hawaii is uniquely suited to a kind of personal diplomacy in Asia and the Pacific, Lingle said.
"No other state can even come close to the role we can play in this part of the world because we're trusted. We're understood. We understand this part of the world and we have respect for each other," she said.
"People from Hawaii just have a lot of relationships that are important for the entire country."