---
[ FAST FACTS HAWAII ]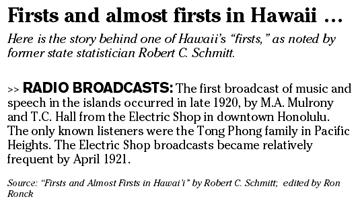 ---
BACK TO TOP


|


Be it not resolved ...
Make a list of resolutions, check it umpteen times for about two weeks and then chuck the whole thing as an exercise in foolish futility. That's what happens for many as a new year rolls around, and vows to eat and drink less, lose weight and tackle the job search capitulate.
As a result, many people have opted not to chart such resolutions, according to a telephone survey of 1,012 Americans. Only 45 percent said they make such resolutions for a new year, down from 88 percent who said they did so in a 2001 poll on the topic by General Nutrition Centers Inc., said Stephen M. Shapiro, a business consultant in Boston.
Only 8 percent said they always achieve their resolutions in the new year. And the trend decreases with age, as only 32 percent of people over age 54 still set such goals, compared to 57 percent in the 18-24 age group.
Shapiro suggests setting a goal targeted toward joy and success instead of correcting a flaw. "Why not set goals that can lead to your own, individual happiness, instead of just conforming to the often misguided, if well-meaning, expectations of others?" he said.
Beware retirement myths
Some surveys suggest that nearly half of Americans aren't saving anything now for retirement. With the first baby boomers turning 60 in 2006, there are a few retirement myths people ought to take into account, says Wayne Starr, a financial planner in Springfield, Mo.
» Lower living expenses. Possibly true for some people, but don't forget the trend of "boomerang kids," those offspring who, for whatever reason, are living again with their aging parents.
» Income for only 15 or 20 years after retirement. Boomers are expected to live longer than any previous generation, at least until age 85, Starr notes.
» A lower tax bracket. "If you have significant retirement assets, your income may not drop that much after you retire," he said.
New tricks boost careers most
What's the best contribution you can make to your career? A new skill ranks at the top, according to a survey of 150 senior executives. Nearly a third, 31 percent, said they would acquire a new professional skill if they had a job-related goal for 2006. Nearly a fifth said they would spend less time at work.
Thirteen percent said they'd work to improve the relationship with their boss or co-workers.
The poll was conducted by Accountemps, a financial temp-staffing company based in Menlo Park, Calif. To help yourself, the firm suggests considering expanding your technical knowledge by learning a new software for your job or attaining a professional certification.
Also, improve your "soft" skills, such as public speaking, becoming a strong, concise communicator or directing teams better.
CEOs left jobs in droves last year
As businesses across the nation begin to close the books on 2005, more will do so under new corporate leadership than ever before.
Challenger, Gray & Christmas, the New York outplacement and workplace research firm, released its monthly chief executive turnover report last month. The results: 2005 is set to be one of the most tumultuous years on record for corporate leadership turnover, with the number of CEOs leaving or being forced to leave their posts at least double last year.
A total of 118 top executives left U.S.-based companies last month. That brings the total CEO departures in 2005 so far to 1,228, compared to 663 in 2004.
Of those who left, 36 retired, two died, one was fired, and another was listed as "ousted." Another 26 resigned.